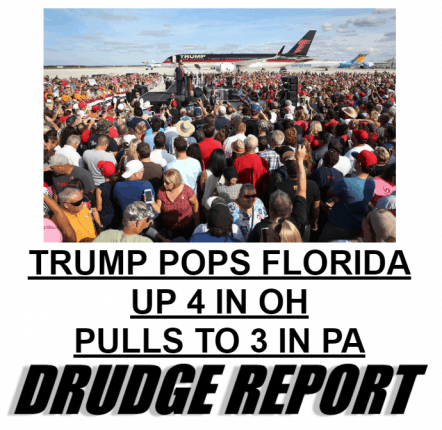 The Clinton Campaign is up by a few points in most polls, and mainstream media reports include the fact that waves of illegal immigrants have been hired by their campaign to be the "ground game" in many battle ground states.
But is that the whole story?  Is election 2016 all-but-over, so you and your friends can just stay home and skip the voting?
Past and modern elections demonstrate the fact that while polls are useful, elections are all about turnout and actual balloting.
Before the Brexit vote in England last summer, only one poll proved to be accurate in predicting that the British would vote to leave the European Union.
In a modern American example, on election day 2004, exit polls showed Democrat John Kerry ahead of George Bush by 53 to 47 percent.  Bush won that voting handily.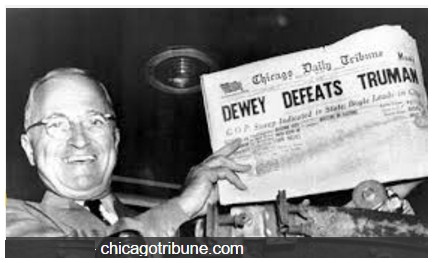 The photo above of a newspaper being held up by a beaming then-president-elect Harry S. Truman – featuring a headline that incorrectly proclaimed on election night that Thomas E. Dewey had defeated Truman – is an epic example of how wrong polls and the media can be.
The Trump Effect?
"The wildcard is that Trump supporters are very enthusiastic," says CNBC.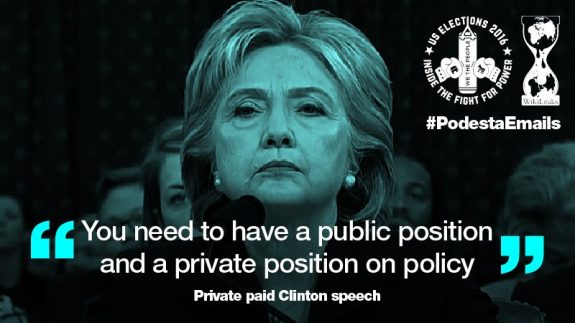 Niall Stanage at Washington, DC's The Hill writes on how the "enthusiasm gap" is evident for Democratic nominee Hillary Clinton and her running-mate, Tim Kaine are seeing far smaller crowds at their rallies when they don't bring a pop-star with them.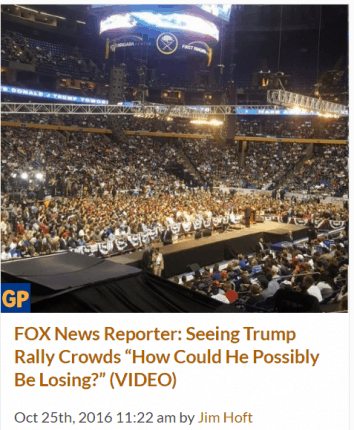 What some observers, such as Democratic pollster Pat Caddell, point to are the massive amounts of anti-Trump advertising combined with an overwhelmingly hostile media, and yet Trump is still within the margin of error.  Caddell has said there could be a "big surprise" come election day.  Late-breaking, undecided voters often opt for the outsider. Trump has been counted out from the start, but each time he was deemed as lost by the mainstream media and his rivals, he and his supporters have come roaring back.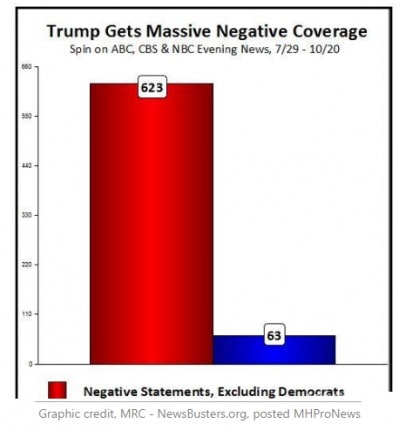 The chart above from NewsBusters underscores Caddell's point, as 91% of the main networks' coverage on Trump has been negative.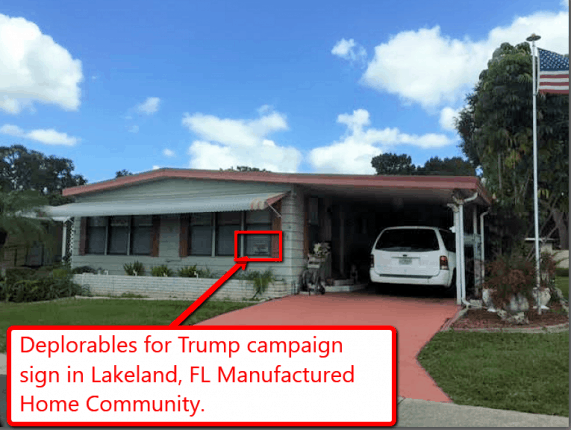 There are experts that point to the wave of populism in England, France, Germany and that is clearly evident in the United States too.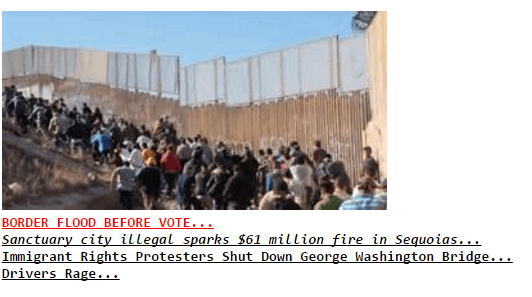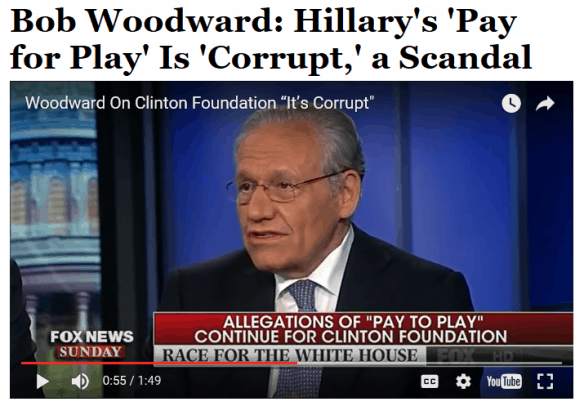 Bestselling author Ann Coulter has described as Clinton's advantage as being the mainstream media, while Donald Trump's advantages are the issues that resonate with voters, who by a 69 to 31 margin, believe the nation is going in the wrong direction, and are looking for a change that will shake things up.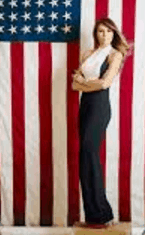 So while the drip-drip-drip of Hillary Clinton's scandals is being drowned out on mainstream news by what First Lady-hopeful Melania Trump has called "boy talk," the alternative media still promotes news that those who catch only mainstream coverage may miss.
ICYMI – Melania Trump "forgives" her husband for a hot-mic moment that took place over a decade ago, noting that a number of the Trump accusers who have popped up have already been debunked.
Media reports suggest some of the accusers may have ties to the Clinton Campaign. In the aftermath of two Democratic operatives being exposed and terminated in the wake of an undercover video sting, it would be no surprise (see The Presidential Campaign Mask is Off).
And most polls show the battle ground states are within the margin of error.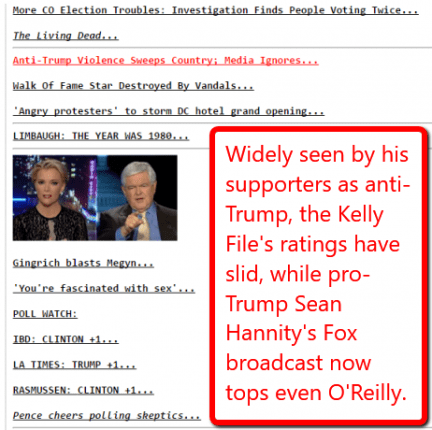 Faux Followers?
The progressive publication, The Atlantic, reported that Hillary Clinton's Twitter account reportedly has a million fake followers.
Meanwhile, the pro-Trump Drudge Report, Breitbart and The Gateway Pundit, are part of what Clinton has dubbed the "Alt-Right" media. Drudge now tops a billion page views monthly. Breitbart has hit 200 million page views, dwarfing many mainstream media sites.
While there are devoted Twitter and Facebook followers of both candidates, on the Trump side, are those who are pushing out the stories that the mainstream media often downplays.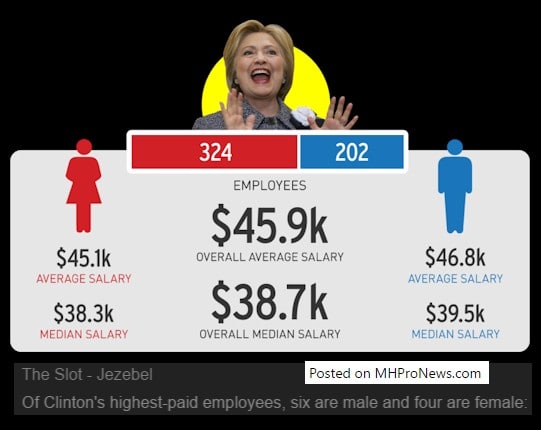 As the news about,
ObamaCare premium spiking 25% or more hits just before the election,
troubling reports like the FBI fiasco being leaked by agents on the case, who felt the investigation was politically mishandled,
or that Clinton's campaign and foundation pays women less than men seep through,
…will it be enough to tilt the election towards Trump-Pence on November 8th?
Early voting numbers are close, and point to record numbers of early ballots being cast.
All elections are about turnout and actual voting.  In close races, the late breaking voters often favor the outsider, which in this race is clearly Donald Trump.
A special report will be planned soon on a woman's perspective of the battle between Clinton and Trump.
"We Provide, You Decide." ©.
(Editor's Note: In endorsing Donald Trump and Mike Pence, the publisher makes it clear that this in no way should be assumed to be the views of any advertiser, client, other writers or sponsor. MHProNews' publisher endorsed Trump, because in his view on the issues facing the industry and the nation, Trump looks better for economic growth and supports policies favorable to the MH Industry and business in general.)
(Image credits are as shown above.)

Submitted by L. A. 'Tony' Kovach to the Daily Business News, on MHProNews.com.