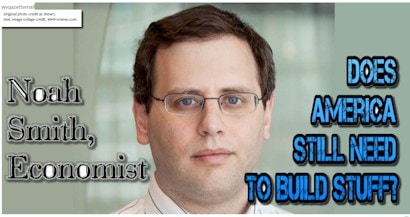 "In general, modern-day economists tend to ignore old schools of economic thought," writes Noah Smith, a Bloomberg View columnist who has served as an associate professor of economics at Stony Brook University.
"For example, many economists now love to poke fun at the physiocrats," asserts Smith. Those economists "believed that only agriculture created national wealth. Their idea, coming on the eve of the Industrial Revolution, was spectacularly ill-timed. Today, with manufacturing and services accounting for the overwhelming majority of every advanced economy, it's clear that the physiocrats' thesis was incorrect."
"Information technology," along with "Human skills and knowledge, networks, brand value, technological secrets and other intangible assets are now of key importance to many of the most lucrative industries," said Smith.
"First of all," Smith outlines his case, "physical things are more essential to a baseline standard of living. While internet-based leisure activities may be more and more central to middle-class life, the poor still struggle to get things like housing, heating and transportation."
Here's where, likely unwittingly, Smith opens the door to points routinely made on MHProNews and MHLivingNews.com.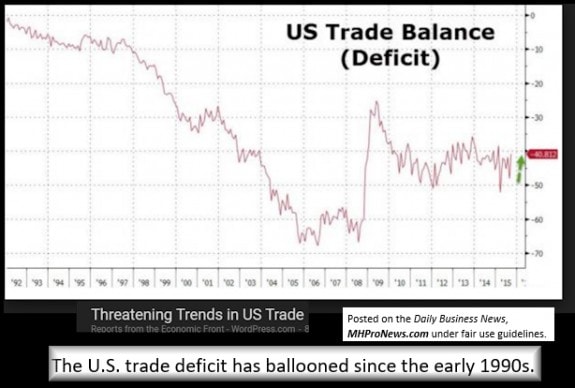 Smith continues. "If governments let physical infrastructure like buses and trains decay, the middle classes will still be able to surf the internet in peace, but poor people will struggle to work."
"Meanwhile," the economist says, "unless governments address the falling productivity of the home-building industry and take steps to provide cheap, plentiful energy to cities, it will be the lower socioeconomic classes that suffer disproportionately…we should think about the production of the physical goods the poor need most."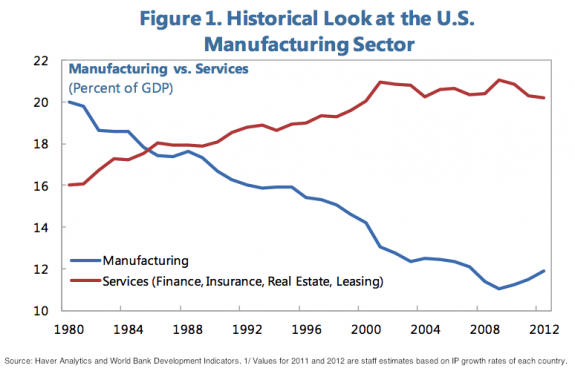 "Second, physical goods act as a form of insurance," Smith said. "Digital goods rely on the infrastructure of the internet, and that infrastructure could fail… Ensuring a robust physical economy will help make a nation less vulnerable to sudden impoverishment by sabotage of the global digital infrastructure."
"Third, the intangible economy may be running into the wall of urban political economy. Knowledge-based industries require a lot of smart people to be concentrated in cities," Smith said. "But because local homeowners tend to control local politics, they often oppose building enough housing to accommodate the increasing number of knowledge workers who need to cluster together. When this happens, it's usually the poor who get pushed out of town to the forgotten fringes of the local economy."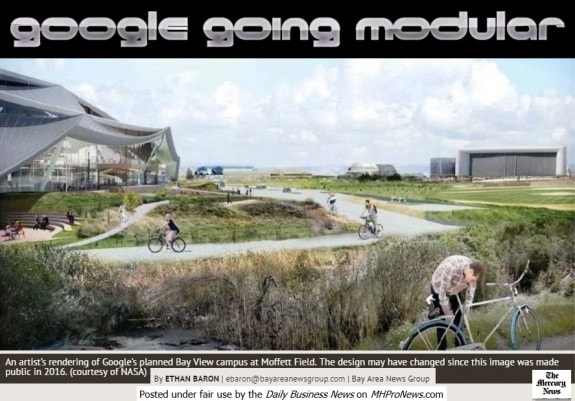 "Fourth, physical goods are a lot easier to export. Though service exports have risen, most trade is still of the material variety. For a country such as the U.S. with a long-standing structural trade deficit," Smith asserts that "focusing more on the physical economy in the present may be a way to avoid a painful adjustment in the future."
Examining Commonalities
Among the several points that Smith laid out that find echoes in previous and pending reports published here or on our sister site:
references to causes of rising housing prices in cities,
the Trump Administration's call for improving infrastructure,
enhanced economic and national security from building more domestically,
the job value of durable good production at home, vs. importing them from abroad.
While some have long questioned the wisdom of shifting our production capacity to previously hostile or still rival nations such as China, Vietnam or others, this administration – and economist Smith – are pointing to the need for producing more in America as benefits to the working class and national economic security.
Nowhere does Smith mention Trumponomics in his column, but what is certain is that there are echoes of it to be found there.

As the president pushes apprenticeships and more "Made in America," Noah's thoughtful article is worthy of consideration in the national discussion.  In the manufactured, modular and prefab home building sectors, his points may be particularly relevant. ## (News, analysis.)
Recent economically related articles:
Economic Freedom, Millennial Considers Founders Through Lens of Ron Paul, Walter Williams, Milton Freidman
America, Manufactured Housing & Debate Over Minimum Wage$
(Image credits are as shown above, and when created by third parties, are provided under fair use guidelines.)

Submitted by Soheyla Kovach to the Daily Business News on MHProNews.com.