The need for affordable housing is growing across the country, but some places are more affected than others.
Cities like San Francisco – home to tech powerhouse companies such as Google, Facebook, and others – have headquarters which have seen an influx of new residents.  There's not enough affordable housing for all, per executives at those companies.
Here on the Daily Business News, readers recall Google's new plan to build 300 units of modular housing.
Now, internet giant Facebook has now announced plans to build 1,500 new homes, an entire "village" that will become like an epicenter for many Facebook employees. (1)
That village will be located in Menlo Park, what was formerly known as Menlo Science and Technology Park, and will be known as Willow Campus.
Unlike Google's modular home project, the working plan would make the Willow Campus homes available to employees of Facebook, and others seeking affordable housing.
 "Working with the community, our goal for the Willow Campus is to create an integrated, mixed-use village," John Tenanes, Facebook's vice president of global facilities and real estate, wrote in a blog post. "Our hope is to create a physical space that supports our community and builds on our existing programs." (2)
The 'Facebook Village' is expected to have a total of 1500 homes – but that's not all you'll find there. They are also planning to build:
a business center, with 1.75 million square feet,
there will also be 125,000 square feet of retail space,
that retail area will include a grocery store,
a pharmacy,
and "

additional community-facing retail

" according to the announcement from Facebook.
"The problem with Silicon Valley is you don't have enough supply to keep up with the demand," said Sam Khater, deputy chief economist at real estate research firm CoreLogic. (2)
While no announcement has been made as to the mode of construction, given Google's move to modular, it would not be a surprise to see Facebook follow that lead, and use some type of prefabricated or modular building method.
"Anything that can help us to move forward with a greater knowledge of how we can produce housing more effectively is something we're interested in," said John Igoe, director of design and construction at Google, per Fox Business. (1).
This move may signal that Facebook and others into a broader role in the trillion dollar housing industry they may find irresistible.  Will this announcement be followed later into a more direct role in housing, beyond their campus needs? ## (News, Analysis.)
(Related: Amazon manager turns to factory building, see that story, linked here.)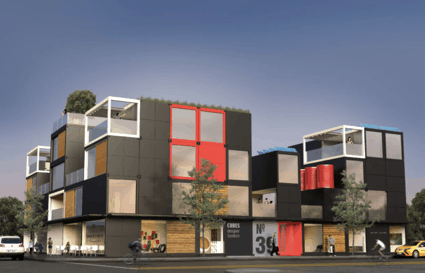 Footnotes & Sources:
(Image credits are as shown above, and when provided by third parties, are shared under fair use guidelines.)
Submitted by Julia Granowicz to the Daily Business News for MHProNews.com.