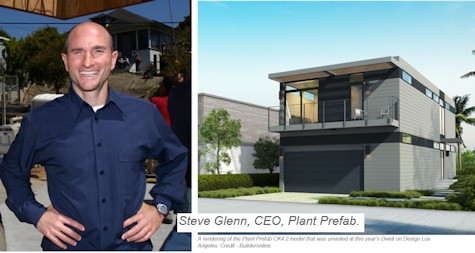 LivingHomes founder Steve Glenn established his prefab modular building operation in 2006, says BuilderOnline.  Initially using other producers of factory built homes to supply their needs, as housing has recovered, Glenn's operation was increasingly being squeezed by those producers.
"They're taking more time to get back with bids and engineering, and in some cases they've turned us down for projects because they were too busy," Glenn told Builder. "They [other factory-builders] are really set up to do standard, non-customized, lower cost, non-sustainable homes."
If that sounds like it was spoken by someone into customized, green building, you'd be correct.
With manufactured and lower cost modular homes being the bread and butter of his previous suppliers, Glenn did an "end around," by opening his own facility, said Construction Dive.
Known as Plant Prefab, Glenn's fledgling production center has fewer than 20 employees at its 61,000-square foot factory in Rialto, California.
Glenn, CEO of Plant, expects that number to rise by year's end, as project load rises.  They also expect to do projects for others seeking factory built product, not just their own clients.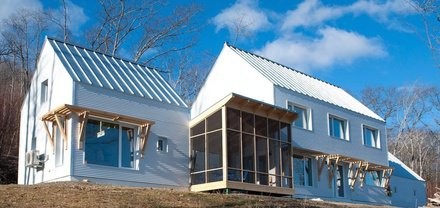 With some 40 homes under contract, the company appears well poised with enough orders for a market where modular-infill home sales in urban areas makes sense.
The operation prides itself on LEED certified homes. LivingHomes has reported 18 homes certified as LEED Platinum and one LEED Gold. ##
(Image credits as shown)

Submitted by L. A. 'Tony' Kovach to the Daily Business News, MHProNews.