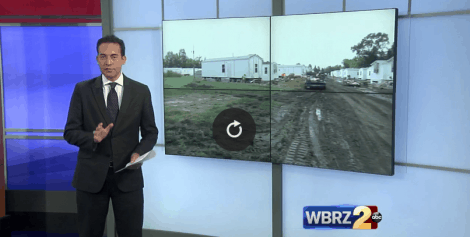 In an update to our reports on the massive flooding in Louisiana and FEMAs response with manufactured housing units (MHUs), WBRZ2 out of Baton Rouge reports on new communities being set up, one in this photo, off Blount Road near the airport.
Their report indicates that "dozens" of locations in the area are sprouting manufactured home communities, which they refer to as "mobile home parks" (sic).
A worker at the community being established was quoted, saying: "After the first two or three trailers (sic) started coming… it became a little more quicker."
The property has been vacant for years.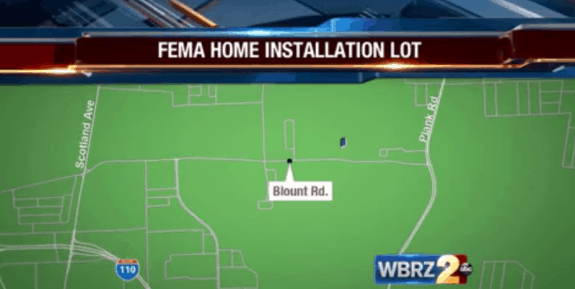 The location was also used post-Katrina for FEMA travel trailers.
FEMA reports there are some 63,000 applications for housing solutions. There are also other options that federal and state officials are providing, including ones that allow residents to shelter in place and repair their damaged houses as they live in them.  ##
(Editor's note – the report is laced with incorrect terminology, which articles and videos like the one linked here can be used to inform the uninformed. Please review and share links like these on MHLivingNews.com often. Note 2, "Sic" defined by Google as – (sic) used in brackets after a copied or quoted word that appears odd or erroneous to show that the word is quoted exactly as it stands in the original,)
(Image and video credits, ABC – WBRZ 2)

Submitted by L. A. "Tony" Kovach to the Daily Business News, MHProNews.