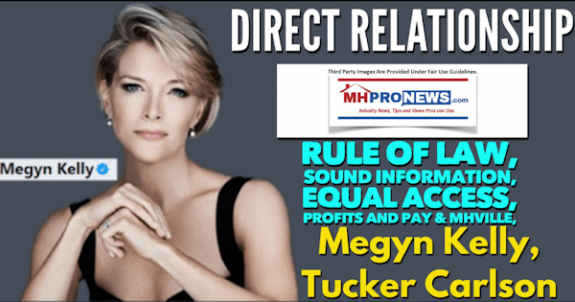 "A group of protesters gathered outside the Northwest D.C. home of Fox News host Tucker Carlson on Nov. 7," is how the left-of-center Washington Post and related video reported it.
The front door of right-of-center Fox News host Carlson's home was cracked yesterday by purported AntiFa type protesters. In response to the matter, a stream of commentary across the divide has flowed. Here's what NBC's Megyn Kelley had to say.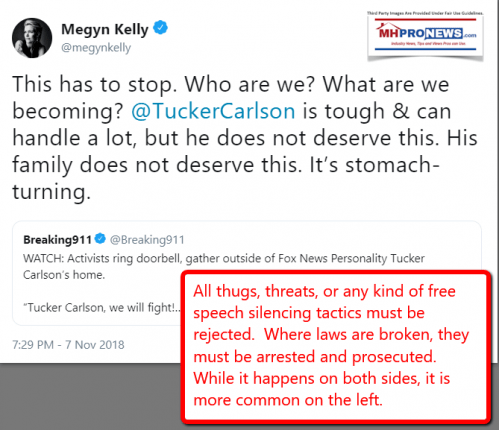 There are legitimate disagreements on issues that people can have. But aren't people's home's sacred?  Is it OK to have leftist agitators forcing people they disagree with out of public restaurants, where they are enjoying a quiet meal?  The WaPo video above makes that tie-in too, showing a brief clip of Ted Cruz being confronted with angry protestors at a restaurant.
Think it doesn't matter to MHVille?
Think again. Because some of the same types of agitators and protesters have gathered to disrupt businesses and professionals in our industry. Imagine if your business – or you personally – were the target of this kind of disruptive, intimidating action.
Expose! Why Has Warren Buffett/BH Funded Anti-MHC Activists, MHAction? Why Fund Attacks on ELS, Frank Rolfe, Blackstone Group?
To make the point for manufactured home professionals, ICYMI or need a refresher, see the above and below.
MH Communities, Owners, MH Independents Alert – NMHOA and MHAction Next Steps? – Part 1
Notice that the common thread here is that these cases are routinely left-wing, anti-Trump activists.
Senator Rand Paul (KY-R) was attacked and injured outside of his home by a neighbor.  Louisiana Representative Steve Scalise was shot and almost killed while playing baseball with others from Congress.  Someone also was arrested mailing what looked like pipe-bombs to various Democratic backers, political figures and pro-leftist CNN.  All of that is tragic, on either side of the political aisle.  But the reality is that it is more common – and specifically organized on the left.  On the right, the early indication is that no-explosions purported pipe-bomb mailer was that he acted alone.
The 45th President condemned it all, on both sides of the aisle. But the expected House Financial Services Chair Maxine Waters (CA-D), was encouraging people to push back at conservatives in public places.  Waters isn't alone.  Senator Cory Booker (NJ-D), a potential presidential candidate, encouraged people to go up to Capital Hill and get into the opposition party's faces.  That's a clear, bright line distinction.
So too is the notion that to date, there are not reported ties between conservative billionaires and violent protesters.  By contrast, Warren Buffett, George Soros and other billionaires have per Open Secrets and other sources provided money to foundations that in turn paid groups that organized such AntiFa style tactics.
RBG's Fall and the Midterms
Supreme Court Justice Ruther Bader Ginsburg (RBG), a progressive or leftist judge, has reportedly taken a fall and has suffered injuries.  Certainly, everyone should wish her well and pray for her recovery.  But it is a stark reminder of just how important the GOP holding onto the Senate, and expanding their margin is.  If another Supreme Court opening occurs in the next 24 months, President Trump could get another pick in his first term of office.
Those Errant Public Opinion Polls
Florida News Network's Larry Spillman raised the topic this morning about several polls that showed Mayor Andrew Gillum (D-gubernatorial candidate) and Senator Bill Nelson (FL-D) several points ahead, just days before the election. Spillman asked a polling expert, how did the polls get it so wrong? The polling expert answered that this way, "Polls are based on assumptions." Polling uses statistical models based upon turnouts.  'Flawed baselines, amplify flawed results,' said Spillman.
On Monday evening, well before polls closed, Fox News stunningly announced the House was going to be won by Democrats. That was based upon exit polls, and other research.  While it was 'accurate,' did making the announcement hours before polls closed in western states cause how many voters to just go home?  Would Jon Tester (MT-D), for example, have won in Montana? Per Helenair yesterday, with 562 of 669 precincts reporting, Democratic Senator "Tester had amassed 234,025 votes, or 50 percent of those cast, to [Matt} Rosendale's 222,544 votes, or 47 percent."
In Indiana, some sources claim that backers associated with Senator Joe Donnelly (IN-D), who lost to Republican Mike Braun, provided campaign support to a Libertarian candidate in that state.  While Braun won anyway, had the totals been closer, that kind of trickery – which may be legal – is nevertheless an indication of how the left often 'plays the game.'
Ballots and Bread Box
"There's a direct relationship between the ballot box and the bread box." –
Walter Reuther, (1 September 1907 – 10 May 1970)
was an American labor leader and president of the United Auto Workers, WikiQuote.
"Give Us the Ballot, We Will Transform…"
– Martin Luther King, Jr.
"Every man must decide whether he will walk in the light of creative altruism [i.e., unselfishness] or in the darkness of destructive selfishness."
– Martin Luther King, Jr.
The good news is that with a media that researchers say is biased some 90 to 92 percent against President Trump, the GOP still picked up seats in the Senate.  A split Congress is better than an entirely hostile one.
Massive Money
Media
Manipulation
Threats and intimidation were part of the run-up to 2018, and have picked up immediately afterwards, with this incident at Tucker Carlson's home.
MHProNews reported that 7 of the top 10 U.S. billionaires are pro-Democratic.  So are others, like Tom Stayer, and George Soros.  Democrats often decry 'dark money' in politics, but they have the lion's share of it. In fact, that is part of the Democratic game.  Point fingers at your opponent, and accuse them of racism, fascism, making false statements, or whatever, while they are the ones who are using strong arm tactics.
Tim Williams of 21st Mortgage wasn't wrong when he said that the "progressive agenda" is a threat to MHVille.  Its just that Williams himself backed a progressive, as has Clayton, MHI, and Berkshire Hathaway's Warren Buffett.
As Marty Lavin has said,
pay more attention to what people do than what they say, and
Follow the money.
The industry's investors and independents did okay on Tuesday.  There is clear evidence that good information, and strong leadership can pay off.  The positive economic track record is there for the 21 months since the president took office.  To win in 2020, to free the industry from the corrosive and costly effects of billionaire leftists, their media allies, and their thugs, the battle has begun.
Thanks for staying tuned, but more important, get involved. That's "News through the lens of manufactured homes, and factory-built housing," © where "We Provide, You Decide." © ## (News, analysis, and commentary.)
(Related Reports are further below. Third-party images and content are provided under fair use guidelines.)
1) To sign up in seconds for our MH Industry leading emailed news updates, click here.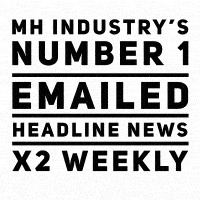 2) To pro-vide a News Tips and/or Commentary, click the link to the left. Please note if comments are on-or-off the record, thank you.
3) Marketing, Web, Video, Consulting, Recruiting and Training Re-sources
Submitted by Soheyla Kovach to the Daily Business News for MHProNews.com. Soheyla is a managing member of LifeStyle Factory Homes, LLC, the parent company to MHProNews, and MHLivingNews.com.
Related Reports

:
Facts & Analysis – Senator Elizabeth Warren re: Manufactured Housing Institute Memo to MHI Members, 10-3-2018
Key Clayton/MHI/BO Bets Spanked, First Look at Winners & Losers