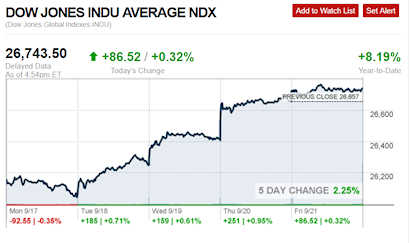 Facts are facts. The Washington Post (WaPo) is owned by Jeff Bezos, a pro-Obama, pro-Clinton Democratic supporter. In May 2016, as President Barack Obama's presidency was moving towards its close, WaPo reported, "But we have not seen a major shift in [antitrust] enforcement under Obama." Slate is another left leaning media source. In an article entitled, "Yes, there is an antitrust case against Amazon," they said "The Obama administration probably wouldn't have either, and neither would a [Secretary] Clinton…"  There are signals that President Trump will be different, and that will be a key part of our market focus this evening.
If you're new, already hooked on our new spotlight feature – or are ready to get the MH professional fever – our headline report is found further below, after the newsmaker bullets and major indexes closing tickers.
The evolving Daily Business News market report sets the manufactured home industry's stocks in the broader context of the overall markets.  Headlines – at home and abroad – often move the markets.  So, this is an example of "News through the lens of manufactured homes, and factory-built housing." ©
Part of this unique evening feature provides headlines – from both sides of the left-right media divide – which saves busy readers time, while underscoring topics that may be moving investors, which in turn move the markets.
Readers say this is also a useful quick-review tool that saves researchers time in getting a handle of the manufactured housing industry, through the lens of publicly-traded stocks connected with the manufactured home industry.
This is an exclusive evening or nightly example of MH "Industry News, Tips and Views, Pros Can Use." © It is fascinating to see just how similar, and different, these two lists of headlines can be.
Want to know more about the left-right media divide from third party research?  ICYMI – for those not familiar with the "Full Measure," 'left-center-right' media chart, please click here.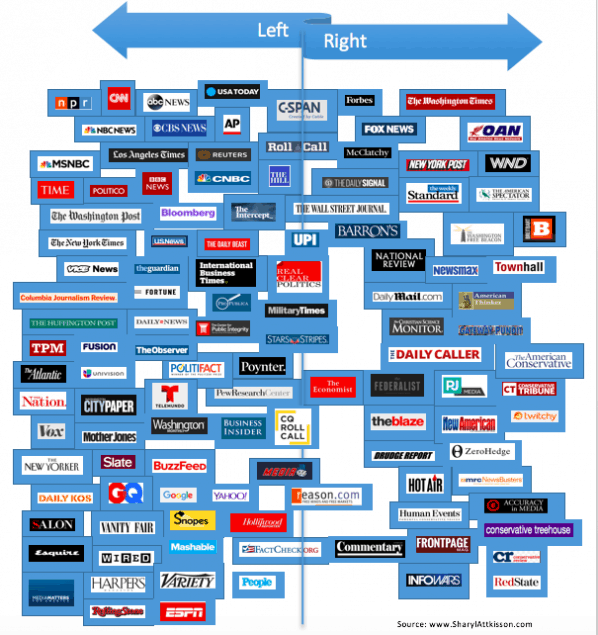 Select bullets from CNN Money…
Pot company CEO expects American market to open up
The trade war reaches Procter & Gamble — and into the medicine cabinet
Google still lets third-party apps scan your Gmail data
General Electric's turbine troubles raise more red flags
Google discussed promoting pro-immigration search results
China just blocked Amazon's streaming service Twitch
GoPro shoots for a comeback
The disappearing White House press briefings explained
Satellite captures space junk for the first time
Credit freezes have been made free after the Equifax hack
Trump administration makes it easier to fight for tariff exemptions
Retirement planning mistakes you probably don't realize you're making
The CEO of one of India's biggest banks is being forced out
President Trump helps out Fox's Sean Hannity before rally
AT&T brings Trump back into Justice Department's antitrust case
Disney CEO Bob Iger says there will be a 'Star Wars' slowdown
Team Trump says NBC News edited Holt's exclusive interview. Here's the truth
Farrow in, Moonves out: #MeToo reshapes list of Hollywood's most powerful
Gap challenges Lululemon with a men's athleisure line
How maggots made two brothers millions
What trade war? Dow hits record high
Prosecutors weigh charges against JD.com founder Richard Liu
Blind Brexit? Businesses have a new nightmare
Jack Ma: The trade war has 'destroyed' my promise to create 1 million US jobs
Comcast-Fox battle for Sky could end in a one-day auction on Saturday
Investors can stay smart even with all this noise
How can I get downside risk protection with robo-advisors?
Aston Martin thinks it's worth as much as Ferrari
China's app for everything jumps in IPO
Apple's latest iPhones are the best yet. But do you need them?
Mark Cuban to donate $10 million after workplace investigation
China strikes back by going after America's energy companies
Walmart is where the trade war comes home
China says it will 'never go down the path' of devaluing its currency again
Delta and American raise fees for checked bags
Companies where tomorrow's graduates want to work
European regulators are looking at how Amazon uses data
Select Bullets from Fox Business…
Google discussed altering site's searches to change Trump's travel ban results
China cutting import tariffs amid US trade war: Report
Dow rises, helps record run continue
Find out which demographic group makes the most money
Amazon takes a new, unique approach to catch package thieves
Brick-and-mortar retail stores are rising from the dead
Shares of Thor plummet as RV maker's sales fall
Your Social Security checks are about to get bigger
Ticketmaster denies colluding with scalpers to boost profits
Home prices, salaries in the best places America has to offer
Browns fans get free beer after team finally snaps losing streak
Varney: Brett Kavanaugh is being treated unfairly
Would a New Marijuana Tax Crush Canada's Pot Stocks?
Big drugmakers probed over possible kickbacks
FanDuel sports book to pay out $82K bet despite system glitch
IRS warns some retirees at risk of tax penalty: What to know
Next tax cut will help middle class save for retirement, college: Grover Norquist
How the financial crisis shaped Americans' saving habits
Nissan recalls cars, SUVs due to risk of fire
Hurricane Florence poses mental health issues for 'years ahead': HHS Secretary
Biopharmaceutical company fined for misleading investors
Iran's domestic car market stalls as nuclear deal falters
Ford Motor told to pay Thai customers for transmission woes
Today's markets and stocks, at the closing bell…

Manufactured Housing Composite Value (MHCV)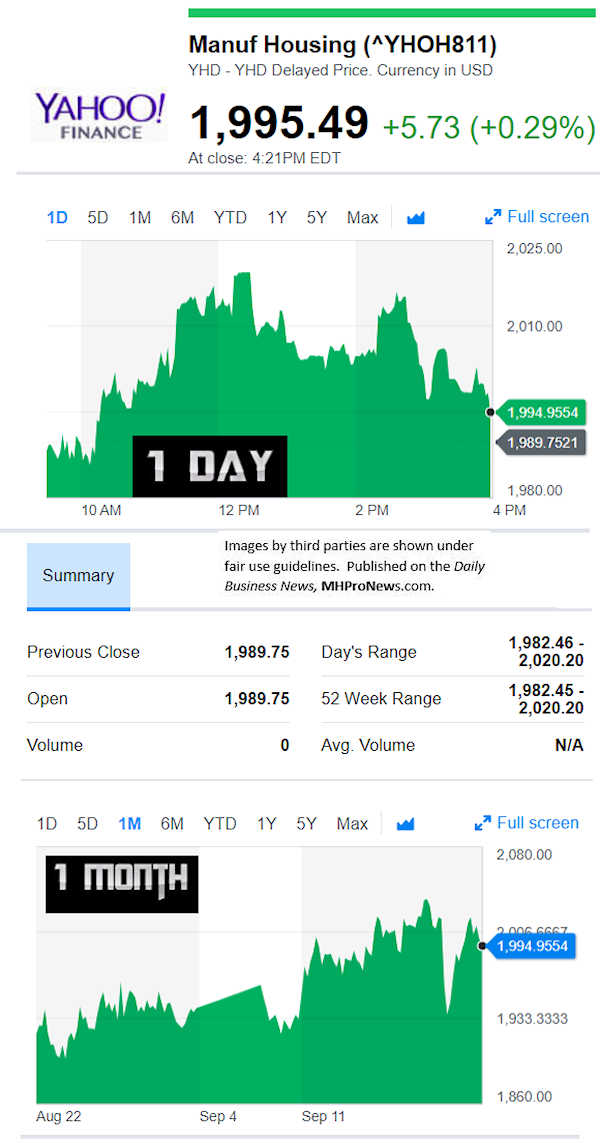 Today's Big Movers
For all the scores and highlights on tracked manufactured home connected stocks today, see the Bloomberg graphic, posted below.
Today's MH Market Spotlight Report –
Google, AntiTrust, MHVille
Why does this report matter to MHVille?  Several reasons.  Let's tick them off before diving in.
The issue of monopoly has arguably harmed manufactured housing for several years. That's true from the tech giants, and from operations such as Warren Buffett led Berkshire Hathaway's manufactured housing units.
Google, social media, and others in media have significant impact on how people learn about manufactured homes. Skewed results will impact perceptions, and thus sales.
Leaders from the tech giants are increasingly getting involved in affordable housing, because they are sitting on piles of cash.
With that brief backdrop, the news about Google could in hindsight prove to be part of the tipping point that will move the Trump Administration toward more antitrust action.
The news about this particular issue has been unevenly reported in the mainstream media, but leaked internal reports indicate that Google had discussions last year to modify search results involving the then proposed Trump travel ban.  That was part of a mosaic that includes allegations that Google had a cozy relationship with the Obama Administration.  In April of 2016, the Daily Mail reported that meetings between executives from Google at the White House "took place at least 427 times."
So while this specific issue involved the travel ban, it should be seen as part of concerns over a broader pattern of pro-left wing, anti-Trump activity.
As a reminder that tees up the videos that follow, raw video from Google anti-Trump travel ban protests last year are in the video posted below.

Fox Business issued this report on this leaked memo.
Fox News' Tucker Carlson issued this report.
Google denies that they ever initiated this discussion.  But isn't the fact that there was a discussion about skewing search results over a political issue by one of the richest and most powerful companies in the world.
An August 2, 2018 report by the Guardian said that: "Google [is] 'working on censored search engine' for China…" If they are willing to do it for China, what's to keep them from doing it in the U.S.? 
DuckDuckGo.com anyone?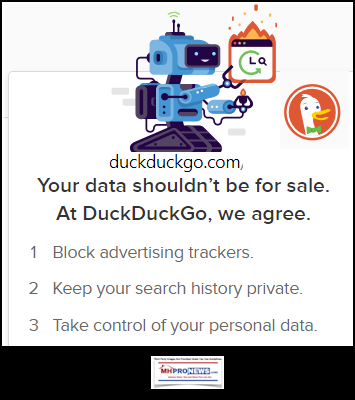 Related Reports

:
Facebook, Marketing & News – Manufactured Housing Pros, Sarah Miller, 'Citizens Against Monopoly' Sound the Alarm
Breakup "Massive Power" of Giants, "Subvert Our Democratic Process" Says Senator Cruz, & MH CEO's Call for "Fully Competitive Housing Access"
Bloomberg Closing Ticker for MHProNews…
NOTE: The chart below includes the Canadian stock, ECN, which purchased Triad Financial Services.
NOTE: The chart below covers a number of stocks NOT reflected in the Yahoo MHCV, shown above.
NOTE: Drew changed its name and trading symbol at the end of 2016 to Lippert (LCII).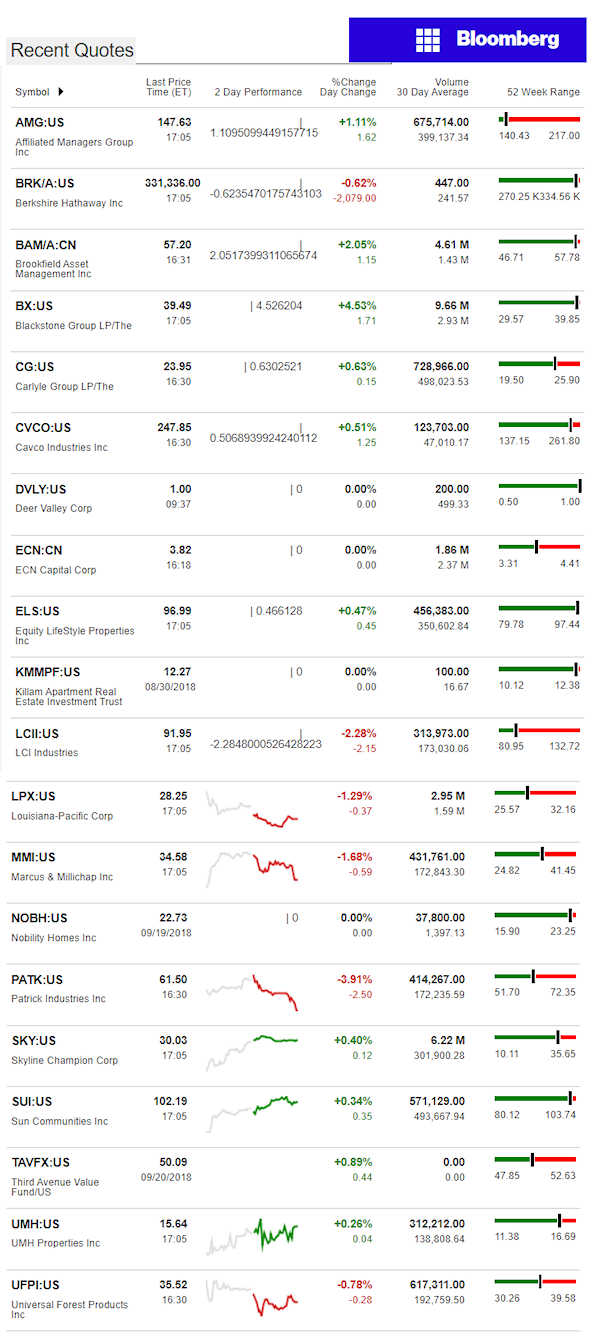 Berkshire Hathaway is the parent company to Clayton Homes, 21st Mortgage, Vanderbilt Mortgage and other factory built housing industry suppliers.
LCI Industries, Patrick, UFPI and LP all supply manufactured housing.
AMG, CG and TAVFX have investments in manufactured housing related businesses.
Your link to industry praise for our coverage, is found here.
For the examples of our kudos linked above…plus well over 1,000 positive, public comments, we say – "Thank You for your vote of confidence."
"We Provide, You Decide." © ## (News, analysis and commentary.)
(Image credits and information are as shown above, and when provided by third parties, are shared under fair use guidelines.)
Submitted by Soheyla Kovach to the Daily Business News for MHProNews.com.