Darren Krolewski, Executive Vice President at DataComp/JLT Associates tells MHProNews that they've released their most recent market reports.
The 2017 reports cover several states; to see those covered and their release, please click the link here.
About JLT Reports
JLT Market Reports was founded by John Turzer in 1995, and is viewed by many as the industry standard for market and rent survey research in the Manufactured Home Community Industry.
In 2014, JLT & Associates merged its resources with DataComp and MHVillage.
JLT is now headquartered, along with it's sister operations, at 2600 5 Mile Rd NE, Grand Rapids, MI 49525.
DataComp/JLT has provided an example of some of their summary data – in the case below, for the 2016 Michigan market, see that sample below.
Sample MI Market Report Findings and Observations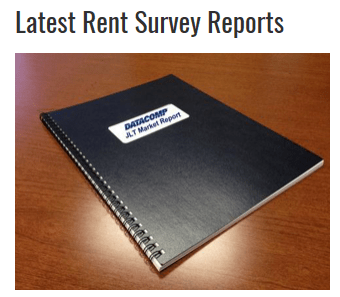 The 2016 sample report for Michigan communities says that occupancy of All Ages Communities shows significant increases for the second consecutive year.
This occurred after an extended period of previous decline. Occupancy rates among Michigan "All Ages" manufactured home communities stabilized in 2014 and began trending upward significantly for the first time in 2015.
That positive trend continued into 2016, as All Ages Communities recorded the highest occupancy rates since 2008, and the largest occupancy increases in recent history.
As regular Daily Business News readers know, much of that has been driven by larger portfolio operations, which are buying rental units.  See a report, shown in the screen capture below and linked here.
As of February 2016, the average occupancy rate for Michigan All Ages manufactured home communities was 77%, a 2.7% increase over 2015.
JLT called that "reflective of the strong demand for the affordable housing within the Michigan market. Despite this positive growth, Michigan continues to trend significantly lower than the 86% national average for All Ages communities."
Occupancy has also increased in Michigan "55+" communities, stated JLT. "As of February 2016, the average occupancy rate is 81%, up 1.3% over February 2015. This represents the largest increase since 2014 and a reversal of a notable occupancy decline experienced among Michigan 55+ communities in 2015. Currently, the national average for 55+ communities is 94%. "
The teaser summary from Krolewski further stated that "As of February 2016, Michigan ranks 16th for average occupancy in All Ages manufactured home communities out of the 16 regions in which JLT Market Reports are published. Of the 14 regions that include 55+ communities, Michigan ranks 13th for average occupancy among this segment."
The manufactured home data, listing and analysis firm also said that site fees – a.k.a. "lot rents" – have continued to grow for the 16th consecutive year.
"In February 2016, the average adjusted rent in Michigan All Ages communities increased by 1.3% to $387, less than the average annual compounded increase of 2% in this market. The national average adjusted rent for All Ages communities is currently $436," their summary statement said.
"The average adjusted rent among Michigan 55+ communities in February 2016 increased slightly by .3% to $389. In contrast, the national average adjusted rent for 55+ communities is currently $469," adding that "Michigan manufactured home community rents ranked 11th out of 16 regions tracked by Datacomp for All Ages communities as of February 2016, and 13th out of 14 regions for 55+ communities."
The detailed JLT reports can come bound, as in the example shown in the photo, and/or electronically. Numerous operators and those doing due diligence and market research have found these reports to be useful and time saving over creating a similar report themselves. For more details on their latest report, see their press release to MHProNews, please click the link here.##
(Image credits, when provided by third parties, are shown under fair use guidelines.)

Submitted by Soheyla Kovach to the Daily Business News on MHProNews.com.