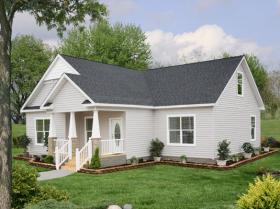 Following a story MHProNews last published March 18, 2015, regarding Buncombe County, North Carolina officials considering lifting a ban on manufactured homes (MH) in all residential areas of the county, over a dozen residents spoke opposing it at a Board of Commissioners meeting April 7.
Although the topic was not officially on the agenda, opposition speakers frequently referenced the recent article published by The Seattle Times that castigates Warren Buffett and Clayton Homes for taking advantage of consumers of manufactured homes by allegedly charging them exorbitant interest rates and seizing their homes if they miss a payment. They also mentioned that MH depreciates as soon as homes leave the lot, much like an automobile, and that loss of value as affordable housing would not serve people who would lose their investment.
However, a recent study of 185 MH in Michigan, as MHProNews noted in a post April 28, 2015, reveals well maintained and properly sited MH appreciates and depreciates at about the same rate as neighboring site-built homes.
Since the topic was not on the agenda, commissioners did not respond, according to what mountainx tells MHProNews. In subsequent conversation, however, Commissioner Joe Belcher, who worked for Clayton Homes for 28 years, strongly defended new MH as energy efficient, environmentally sound affordable housing, and that people should have the right to choose MH as an option.
Noting that people would be amazed at the quality of new MH, Belcher said he is not trying to force MH on the county, but to allow people to use their own property the way they see fit. He also made a strong case for the efficiency of the construction process itself, in that it produces almost no waste, as opposed to site-built homes where they may fill a dumpster repeatedly with unused materials.
Board of Commissioners Chair David Gantt said, "Is it a good thing for the people that (purchase these homes) if they can't sell it and get their money back. We don't want anybody to get into a situation where they're worse off than they were before. The way I would look at it is: Is it truly affordable, and is it something the public wants? From what we've heard so far, (people) like things the way they are."
Belcher said most people think of mobile homes sited on leased property, as in a community, while he is referring to people who own their own land. He said, "I know for sure" that if a manufactured home is "placed on a person's own property, and part of the loan requires a deed to that property, then they tie the two together. Therefore, that loan is comparable to a stick-built home." Stay tuned.##
(Photo credit: Manufactured Homes of Raleigh, NC)

Article submitted by Matthew J. Silver to Daily Business News-MHProNews.