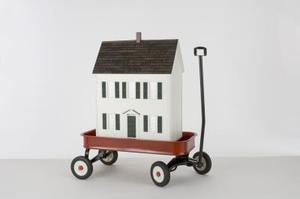 While many studies have shown that homeownership continues to be a large part of the American Dream, the Joint Center for Housing Studies at Harvard University reports in 2013 home purchases fell for the ninth consecutive year, and homeownership has dropped to 65 percent, the lowest rate in 20 years. Incomes are stagnating, housing values are rising, credit is tight in the wake of the housing crisis and rents are rising in response to demand for rental units.
Although the chronicle-indpendent notes that manufactured housing (MH) has less than a squeaky-clean, all-American, apple-pie image, its price points are appealing, and people like L. A. "Tony" Kovach, publisher of MHProNews and MHLivingNews, who recoils at the words "trailer" and "mobile home," are determined to bring manufactured homes into the mainstream as the quality and affordable housing alternative.
Since the federal government began regulating design and construction of MH in 1976 with periodic upgrades, quality and safety have increased substantially, and homes often are more energy efficient than site-built homes, with strong wind resistance and increased insulation. Newer ones offer sunken tubs, granite countertops, high-ceiling domed entryways and other appealing features found in more upscale traditional homes. The Census Bureau says the average price for a single-family home in 2013 was $324,000, while an MH average price is $64,000. Even attached garages and covered porches are available with MH, and still considerably less than a stick-built home.
Paul Bradley, president of Resident Owned Communities (ROC), an organization based in New Hampshire that assists residents of manufactured home communities in buying their communities to form co-operatives, sees MH as the future of affordable housing. "The subsidy pie is fixed, and the need is growing," says Bradley of the current affordable housing stock — which is made up mostly of subsidized apartments. "People will start to look at low-cost production options, it has to happen eventually." ROC USA has helped finance 51 MHCs outside the state to the tune of $90 million, and more inside NH.
Today's factory-built homes do not necessarily look like single-and-multi-section units that people associate them with. Bill Matchneer, one-time manager of the manufactured housing division at HUD, and former senior counsel with the Consumer Financial Protection Bureau (CFPB), says, "I see the modern manufactured home as equivalent to a typical site-built home, at about half the cost. We're not talking about a mansion, but people would be surprised."
Marty Lavin, who owns manufactured home communities in New York, says many MH consumers will sacrifice interior quality to obtain more square footage, like substituting solid wood cabinets and doors for particle board in order to increase overall space. "If your financial circumstances are such that you can't afford a $500,000 home on a quarter acre, a $100,000 home can satisfy your dream. That's a great thing for many people," says Lavin.
Many worry about depreciation of manufactured homes, but Datacomp Appraisal Systems completed a study recently of 185 MH in Michigan, comparing the average sale price and resale price, and discovered they are subject to the same factors as other homes. "The appreciation in value of manufactured homes comes back to the old real estate axiom — location, location, location," read the study. "When properly sited and maintained, manufactured homes will appreciate at the same rate as other homes in surrounding neighborhoods."
Lavin says with rising home prices and stagnating wages, manufactured homes may be the ticket to the American Dream. ##
(Image credit: sfgate-manufactured home delivery)

Article submitted by Matthew J. Silver to Daily Business News-MHProNews.