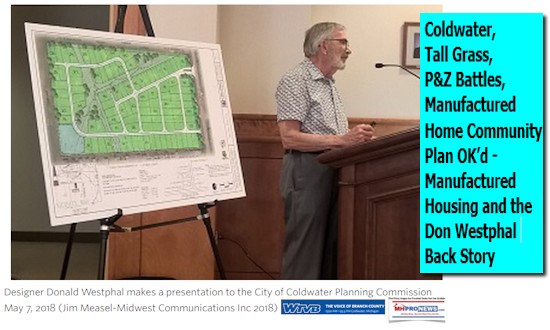 "The Coldwater Planning Commission voted unanimously to recommend the City Council approve rezoning 20.6 acres from the township R-3 to the city's AA — Agriculture Residential – for a 102 lot manufactured home subdivision," said the Daily Reporter.
Leading the charge was Don Westphal.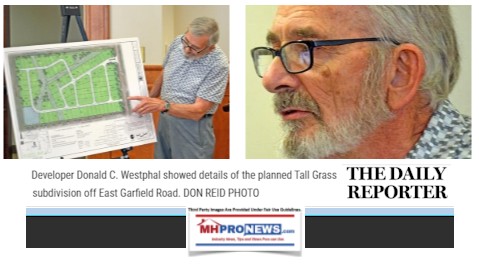 "The petitioners from Farrell-Roeh of Littleton, Colorado want to rezone the land from Coldwater Township R-3 Medium Density Residential Zoning to City of Coldwater Double-A One Family Agricultural Residential Zoning," said WTVBAM.
"Planner Dean Walrack said this was the only match between land zoning categories that the township had zoned and put on its master plan for the manufacture[d] homes," wrote Don Reid for the Daily Reporter.
This planning and zoning skirmish was done, but it was just one of many for Westphal.
"I received a Bachelor of Science degree in Landscape architecture from Michigan State University and a Master of Landscape Architecture degree from the University of Illinois," Westphal told MHProNews.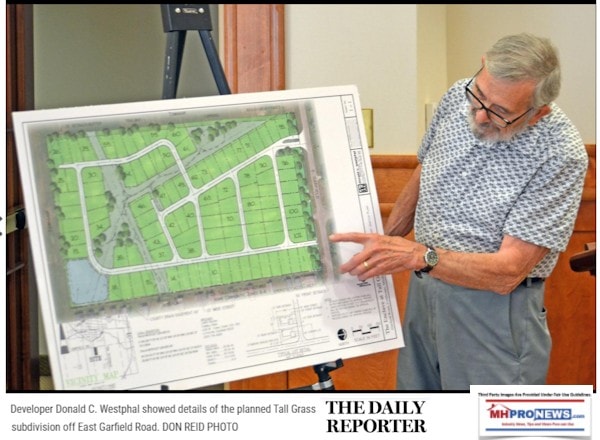 "I was accepted into Graduate School late in the spring of 1963 and was unable to find suitable married housing. We purchased a 36X8′ Brentwood mobile home in Muskegon Michigan, welded a hitch on a farm semi and towed it to the Glover Street Trailer Park in Urbana, Illinois. Our little home was perfect for students, but the 17 site trailer park was less than ideal. Rent then was $25.00 per month, and we ended up not having to pay the site fee, in exchange for keeping the washer and dryer in the laundry building clean and placing the mail in each mail slot daily," Westphal said.
The well-known and award-winning Manufactured Housing Institute (MHI) member explained how he got into the industry.
"While doing some research for a term paper on mobile homes, I found references to the Mobile Homes Manufacturers Association in Chicago and paid them a visit. I met Dick Beitler and Herb Behrend there and was hired as one of two consultants to their Land Development Division which was offering site planning services to developers as a way to improve the design of mobile home parks," Westphal said.
"The industry was trying to improve its image way back in the 60's. I ended up writing my master's thesis on Manufactured Housing and as they say, "the rest is history." I continued as a consultant to MHMA designing communities for several years and taught sessions on planning at several MHMA Site Development Seminars in the late 60's and early 70's. Interestingly, Danny Ghorbani joined the staff at MHMA a year or two after I started consulting with MHMA," Westphal stated to MHProNews.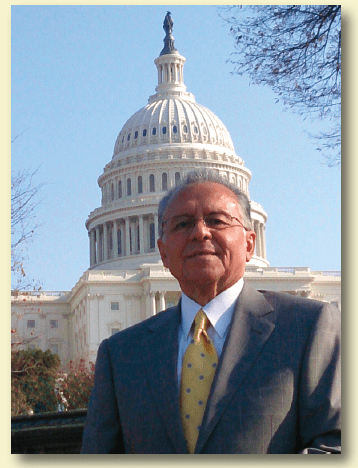 Ghorbani is an engineer by training, who worked for the precursor to what today is called the Manufactured Housing Institute (MHI).
The award-winning Ghorbani later left MHI, and working with independent producers, founded the association that is known today as the Manufactured Housing Association for Regulatory Reform (MHARR).
He retired a few years ago, but is still an advisor to MHARR.  Ghorbani himself was involved in community planning.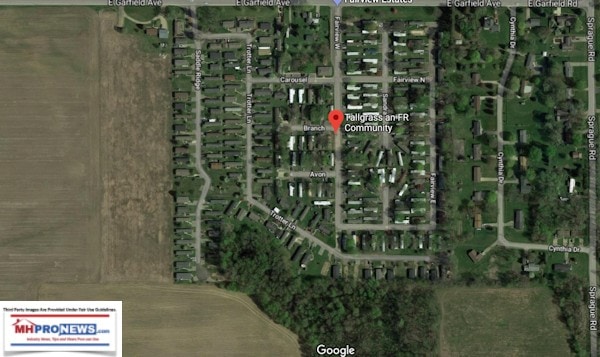 It's all part of the backstory to the Tall Grass expansion approval, in Coldwater, MI.
Coldwater's Tall Grass – Step Back, Regroup
"A previous proposal to develop 9.6 acres was rejected by the planning commission at which point the developers increased the size to move forward. Donald C. Westphal, a partner and designer who lives in a similar development at Grass Lake, said the units "look like regular housing," wrote Reid.
"There are no single wide units but all will be at least 1,568 square foot homes and can be built with two car garages," said Reid. "There are no basements but "are built solid, modern designs," per his report in the local paper.
"He [Westphal] explained the homes would be owned by purchasers and placed on leased lots which are a minimum 5,000 square feet. Larry Nelson, from Farrell- Roeh company of Colorado, said as a husband and wife team, they purchased the Tall Grass park for $2.852 million in May 2014 from bankruptcy court. They spent or will spend, by the end of the year, another $480,000 in upgrades and improvements," per the Daily Reporter.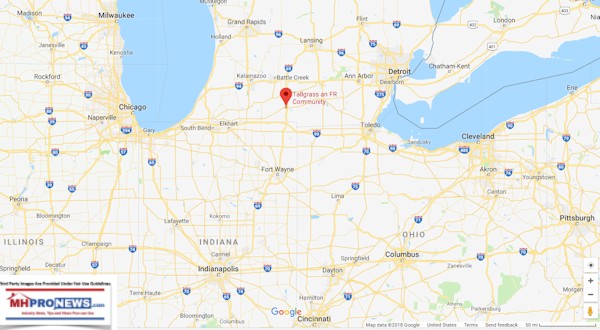 The Colorado-based company has 11 similar properties, many in the Midwest, with the Reid adding, "The developers bought two parcels totaling 20.6 acres for $203,324 and will invest another $2.3 million to develop the 102 lots."
But as hundreds of industry professionals who've sat in such meetings know, there is routinely push-back from locals.
This Coldwater case was no exception.
MHC Rentals
Melvetta Swick told the commission she was upset because "riff raff" from Tall Grass had thrown trash from around dumpsters, which she claimed ended up in her yard. In response, Nelson promised to increase the size of the dumpsters and monitor that concern. He explained there is a strict policy of who can buy; monitored by a committee as well as background checks completed.
Nelson also said that even when homes are rented, "renters are qualified."
When Farrell-Roeh took over Tall Grass there were only 177 occupied lots.  The satellite view reflects vacancies.  That occupancy increased to 226, in a year or 95 percent of physical capacity. He explained that the company has averaged 6.4 evictions for the last three years.
As MHProNews has previously reported, many firms are buying new manufactured homes for rental purposes. Farrell-Roeh has done so too at Tall Grass, reportedly purchasing 94 new manufactured homes.  Those are provided on a two year lease.
Counting the homes, there has been a total investment since Farrell-Roeh's purchase of $6.8 million.
Westphal stated that for security reasons, there will be only one entrance to the entire development. The community will have planted screening from Garfield.
The site plan was approved, subject to the City Council approval of rezoning and adoption of certain local standards, including storm water retention requirements.
A previous proposal to develop 9.6 acres was rejected by the planning commission at which point the developers increased the size to move forward. Westphal, a partner and designer who lives in a similar development at Grass Lake, said the units "look like regular housing," according to Reid.
There are no single wide units but all will be at least 1,568 square foot homes and can be built with two car garages. There are no basements but "are built solid, modern designs."
More from the Don…
Westphal told MHProNews in an interview linked here that, "For years I have said that the Manufactured Housing Industry has succeeded in spite of itself. Fragmentation of the industry segments has resulted in a serious lack of consumer confidence. Many in the industry have neglected the needs of our customers who could ultimately be our best salespersons. Too many of us blame government or our regulators for the sorry state of the industry. I believe that if the industry spent more of its resources in conveying the value of our product to the public and taking care of our customers, we would have a base of support that would help us to overcome the regulatory and finance issues we face today. Think about it, potentially 20,000,000 sales people for our products and way of life."
As the quotes above indicate, Westphal is well acquainted with planning and zoning, design and more.
The addition of garages to manufactured homes in land-lease communities and on private property is becoming more popular every year. Manufactured home owners are looking for the same convenience and security available to site-built home owners. Unfortunately, many of the efforts to marry site-built garages to manufactured homes fall short of the generally-accepted appearance standards for garage/home integrations.
There is plenty to unpack from each of these P&Z – planning and zoning – stories from across the country.  But a common thread is that there is resistance, at least initially, that must be overcome.
"The one issue that will prohibit affordable housing in the future – not only manufactured homes, but site-built – is local zoning and covenants." – Jay Hamilton, executive director of the Georgia Manufactured Housing Association Armed with facts, figures and studies, he explained that manufactured homes were as well or better built, more fire resistant, more wind resistant – and far more affordable – than their site-built counterparts.
There is also a reason to wonder why, if the homes planned for this project look residential, then what is the purpose behind MHI's so-called "new class of homes" that they've been promoting for about 2 years?
Another point this case makes is that rentals are a big part of what's driving occupancy in dozens and dozens of manufactured home communities nationally. What that implies is that there are more rentals than homes being sold at retail being shipped into properties.
Each of these are warning signs for forward thinkers, but they are also opportunities in disguise.
Until the root or foundational issues are addressed, the problem of NIMBY can be expected to continue.  Westphal's comments, linked above on what's necessary to advance the industry, suggest parallel issues to consider.  "We Provide, You Decide."  ## (News, analysis and commentary.)
(Third party images and content are provided under fair use guidelines.)
Related Reports: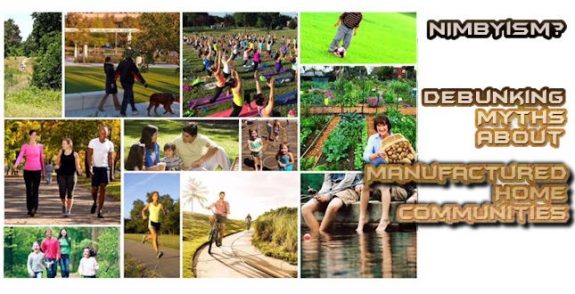 Hundreds of New Manufactured Home Communities Opened, But How Many Have Closed? Industry Research Result$
Manufactured Housing Association for Regulatory Reform Demands Clarification on "New Class" of HUD Code Manufactured Home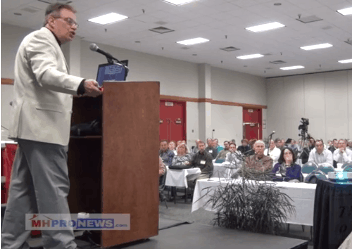 By L.A. "Tony" Kovach – for MHProNews.com.
Tony is the multiple award-winning managing member of LifeStyle Factory Homes, LLC, the parent company to MHProNews, and MHLivingNews.com.
Office 863-213-4090 |Connect on LinkedIn:
http://www.linkedin.com/in/latonykovach
Click here to sign up in 5 seconds for the manufactured home industry's leading – and still growing – emailed headline news updates.