"The residents of Irons Acres are ready for a fight," said Maria Counts for Coastal Point, about events unfolding in Sussex County, DE.
Counts says that the 26 home sites have 21 homes on them. Angry residents are complaining about a manufactured home that they believe was placed in their neighborhood improperly by Oakwood Homes.
According to Mahany Law, whose website describes itself as "America's Financial Fraud and Whistleblower Lawyers," "Oakwood Homes" is a brand among the "Companies in the Vanderbilt * Clayton 21st Constellation."
"If this is a microcosm of what is going on in the county as a whole, we have a lot of issues," stated an Irons Acres property owner, Charles Campbell.
Per the Coastal Point, "Campbell said that while he was out of town earlier this year, he received a call that a trailer home [SIC] was being moved onto the vacant lot on his street. Having been told previously that the lot would have a single-family home constructed on it, he called the County to ask about permitting."


Campbell said that "Oakwood Homes had been made aware of the permitting issue on Sept. 13."
Nevertheless, per Counts' report, "[Oakwood Homes] knew that there was a problem, and [they] just kept on going. These people have basically done just whatever they want to do."
"They specifically wrote these ordinances to protect people's homes and their values by not allowing trailers [SIC] in certain places," Campbell said.
The county requirements reportedly include a restriction that a manufactured home be on at least .75 acres, and the site in question was less than the requirement.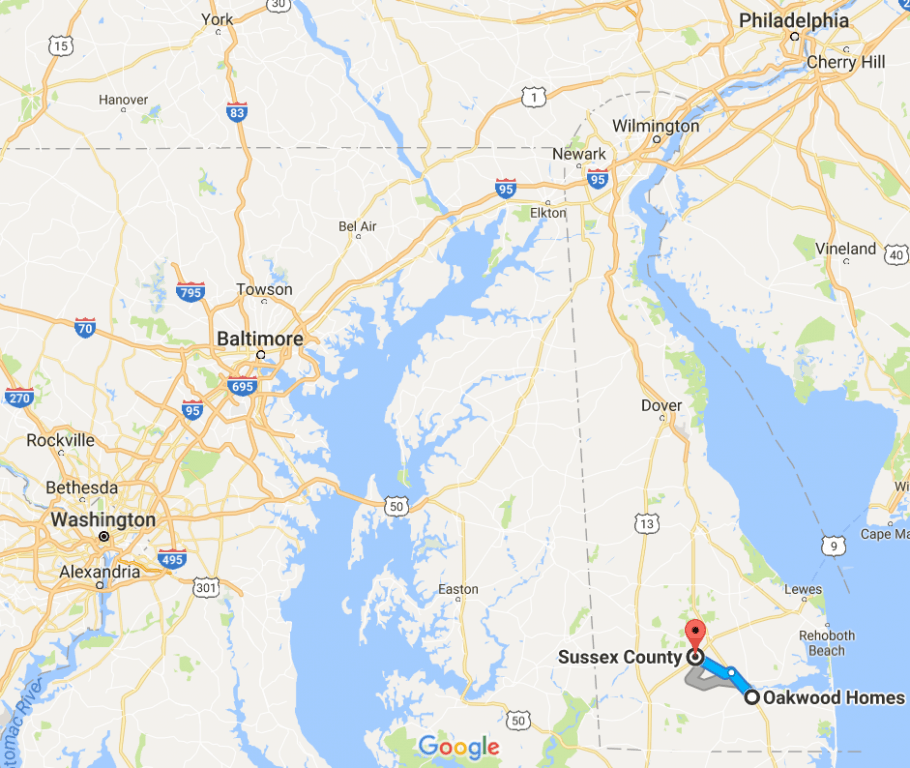 Requirements
The subdivision's restrictive covenants reportedly states, "No structure of a temporary character and no trailer [SIC], tent, barn, tree-house, or other similar outbuilding or structure shall be placed on any lot as shown of the aforesaid plot, at any time, either temporarily or provided…"
The covenants also state, "These restrictions may be enforced by Howard Hitch, his Heirs, Executors, Administrators or Assigns, or any property owner… All lots owners must comply with the Sussex County Zoning Ordinances governing AR-2 districts."
Campbell sees himself acting under those rights in his effort to stop the Oakwood location from finalizing the installation.
County Attorney
Assistant County Attorney Jamie Sharp noted to the board that two opinions from appraisers were provided to them by one of the residents in opposition to the Oakwood application for a variance.
In a packet presented to the board at the application's first hearing, Campbell included a letter from Carmean Appraisal Group which said, "The manufactured home could have a negative impact on the values of the existing homes."
A letter from broker William Emmert Sr. with RE/MAX Realty Group was also in the packet, which reads,
"It would seem from my general inspection of the community that all construction is either stick-built or modular, with NO mobile homes [SIC]…I am a 44-year Delaware real estate salesman/broker and my opinion is that values in 'Irons Acres' will be negatively impacted by some 20-25 percent with the addition of a mobile home [SIC]."
"He Lied"
Campbell also pointed out that, on the application, Fleming wrote that the addition of the manufactured home would not alter the essential character of the neighborhood, as "there are mobile homes [SIC] in the subdivision."
"He lied," Campbell said.
In his letter to the Board, Berl also called into question how Oakwood Homes could have been unaware that a modular home could not be placed on such a small lot.
"According to its website, Oakwood Homes first opened for business in 1986, and its manager, Gil Fleming, who signed the application, has been part of the manufactured housing industry for over a decade. It is inconceivable that Oakwood would be unaware of the three-quarter-acre requirement that has existed for some time, and the Board is well aware that Oakwood has been active in Sussex County for some time," local media reported.
BoA Punted
With the Sussex Board of Adjustments (BoA) having deferred their decision three times, Campbell said the property owners on in Irons Acres feel as if their concern is not being taken seriously.
"It's frustrating to us as homeowners… We went back there the second time, they had done nothing."
Under BoA requirements, applicants for a special use-exception must meet certain thresholds for the exception to be granted, including showing ample reason that the granting of the exception will not adversely affect the values or uses of adjacent properties.
"In the very beginning, they said it was up to the applicant, Oakwood Homes, to prove that it would not change our neighborhood…[County Attorney Jamie Sharp] told them on more than one occasion that the fact that it's there [already] is completely irrelevant," said Campbell earlier this week. "It seems to me they're trying to circumvent the law, not enforce the law."
Fairness, Balance Missing?
One of the challenges in getting a fair and balanced report on such an issue is that corporate-owned stores often encourage managers not to engage with media, unless specifically authorized to do so.  That makes it difficult to know Oakwood's side of the story.
Also, unanswered by the local news account is what impact this has on the presumed purchaser of that Oakwood Home?
As this review reflects, the Coastal Point report leans heavily against Oakwood, a part of the Clayton family of brands.
But based upon what's stated, there is a certain takeaway.  Local media reports, like this one, are fairly common. It impacts numerous industry businesses. That's why MHARR produced this recent report, linked here.  It's why MHLivingNews created a periodic series of reports, such as the one below.
https://www.manufacturedhomelivingnews.com/local-star-chambers-wage-war-on-affordable-housing/
The kinds of concerns noted in this Sussex County, DE tale are what frequently cause the NIMBY attitudes that harm the advancement of the manufactured housing industry.
Against that backdrop, wow does MHI's social media or new videos defend against such common incidents?
Marty Lavin Lashes the Manufactured Housing Institute's (MHI) Latest Initiative
Is this story out of the First State yet another example of what an MHI award-winner, quipped about?  Marty Lavin, concerned over the plans being reported by MHI, pointed to the steady drum beat of negative news reports, calling that the industry's "other image campaign." ## (News, analysis, and commentary.)
Notice: Looking for our emailed MH Industry headline news updates?  Click here to sign up in 5 seconds.  You'll see in the first issue or two why big, medium and 'mom-and-pop' professionals are reading them by the thousands, typically delivered twice weekly.
Related: For marketing and other MH Professional Services, click here.
(Image credits are as shown above, and when provided by third parties, are shared under fair use guidelines.)

Submitted by Soheyla Kovach to the Daily Business News for MHProNews.com.