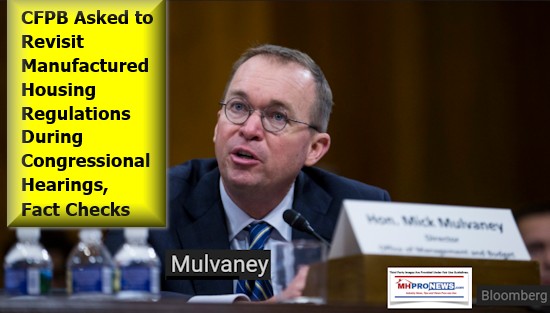 A statement can be accurate, but still be misleading. Who says?
"Emotions can certainly be misleading: they can fool you into believing stuff
that is definitely, demonstrably untrue." – Francis Spufford.
"A half-truth is a deceptive statement that includes some element of truth. The statement might be partly true, the statement may be totally true but only part of the whole truth, or it may use some deceptive element, such as improper punctuation, or double meaning, especially if the intent is to deceive, evade, blame or misrepresent the truth," per Wikipedia.
What's the Latest "Narrative" on MH, Dodd-Frank Reform and the CFPB?
"Members of Congress have asked the Consumer Financial Protection Bureau's (CFPB) Acting Director, Mick Mulvaney, to look at the harm that has been caused by the agency's regulations for manufactured housing loans," reads a Manufactured Housing Institute (MHI) authorized statement this week, sent to members of the IMHA.
Other state associations and MHI memos forwarded by members to the Daily Business News have carried a similar message too.
"A vital component of MHI's comprehensive strategy to ease the regulations that limit access to credit for manufactured housing includes highlighting these financing challenges on Capitol Hill and with federal regulators.  Last week's dialogue during Committee hearings in the House of Representatives and U.S. Senate came as a direct result of MHI's outreach to Members of Congress prior to the hearings about the negative impact of CFPB regulations," said the statement, sent to the Daily Business News, from concerned industry sources.
"Acting Director Mulvaney was before both the House Financial Services Committee and the Senate Banking Committee two weeks ago to testify about the CFPB's Semi-Annual Report to Congress. Committee members at both hearings asked him about how CFPB regulations have limited the availability of financing for manufactured homes," concludes the entire body of the text of their statement.
In the analysis below, the questions don't revolve around the CFPB's new leadership.  There is little question, as MHProNews has previously reported, that they would be open to making positive changes.
Rather, the questions focus on issues such as the following.
Why MHI hasn't done this earlier?
Why did they miss several documented opportunities previously?
Why don't they just admit, they've dropped the ball, for whatever reason that the ball has been dropped?
What's Wrong is that We Don't Ask What's Right
The brilliant English thinker, G.K. Chesterton said decades ago that "What's wrong is that we don't ask what's right."
What's wrong with the above from MHI?  First, let's note that getting positive changes for manufactured home lending has long been MHProNews' editorial view.  That's not in dispute.  They question is, did MHI miss obvious chances, foot-drag on opportunities, or miss advancement options intentionally?
So the issue is that MHI's messaging omits several key points, long-standing allegations, and concerns. Their memos to industry readers may be accurate in a strict sense, but is still not the entire picture.  Thus, a closer look suggests that it's an arguably misleading narrative, based upon an application of the kinds of definitions quoted at the top.
MHProNews' source at the CFPB told the Daily Business News weeks ago that MHI had made no outreach to them since Mick Mulvaney became the acting director.  That report from February 2018, is linked below, and can be reviewed once you complete this report.
Inside Scoop Mulvaney-CFPB and MHI, Berkshire Hathaway Company Meeting Detail$
Reliable sources tell MHProNews that the report above was "carefully combed" by MHI and Berkshire Hathaway executives involved in manufactured housing. Would MHI have reached out to spark the comments via friendly voices to Acting Director Mick Mulvaney at all, if they hadn't read that report linked above on MHProNews, and felt a need 'to cover their tracks,' and respond through the action they self-reported above?
MHI has been accused of routinely failing to tell their members and the industry the unvarnished reality of what they've done, or not done, and the actual outcome of their actions.  Isn't the above an example?
Examples (Reality Checks):
An MHI VP said that Preserving Access was unlikely to pass in 2012. Yet, they continued to pursue it for years, why?
S. 2155 as passed only includes the reform of the MLO rule, fine, that would still help the industry's sellers. But if that's acceptable now, then why didn't MHI make that deal by agreement years ago, when that was on the table from resident and non-profit groups?
Was Tim Williams, as an MHI leader and later as Chairman of MHI serious about the passage of Preserving Access in 2012 or 2016, when his big boss, Warren Buffett, was clearly campaigning for candidates Barack Obama and Hillary Clinton both of whom opposed changes to Dodd-Frank?

MHI's own past chairman Nathan Smith candidly admitted in the video interview below, that the association has a history of being reactive rather than pro-active.
MHI's past chairman Tim Williams reportedly told dozens of members during a meeting something similar to Smith's comment.  "That horse has left the barn," said Williams about SAFE.
Then, later, something similar about Dodd-Frank?
The question must be asked.  With such a pattern of 'clusters' – failed efforts – is it intentional, incompetence, what?  Key sources with long ties to MHI have said to MHProNews that Berkshire Hathaway owned brands benefit if Preserving Access is passed or not. "Shadow boxing," is one description given to this multiple year pattern of talk, talk, talk, but not success.
The Bottom Line?
There is little doubt that in a Trump Administration, and with enough GOP and moderate Democrats in the mix, positive changes for Dodd-Frank is in principle, achievable.
So why is Warren Buffett's son, and other Buffett surrogates working to undermine the administration's efforts, and supporting the opposition?
The bottom line – based upon the evidence noted – seems to be this.  On this issue and others, MHI moves when pushed by repeated fact checks like this one, by MHProNews, or on other issues, by MHARR, et al.
Is that why has MHI and Berkshire Hathaway brands for over a year failed to directly address these concerns, when MHProNews has repeatedly given the opportunity to explain them?  Is there no good explanation they can offer for the problematic concerns listed above?
"We Provide, You Decide." © ## (News, analysis, and commentary.)
NOTICE: Exclusives from HUD, and Attendees about Secretary Carson's comments at MHI will be part of an upcoming report. Sign up for our emailed news updates for that notice, and to stay up with all of the industry's most popular, best and most independent fact-based converge.
(Third party images are provided under fair use guidelines.)
Related Reports

:
"Accurate, but Misleading" MHI Preserving Access to Manufactured Housing Act Alert – 'Weaponized New$,' Fact Check$
State Associations, Companies Quit Membership in Manufactured Housing Institute, (MHI), One Explains in Writing, 'Why?'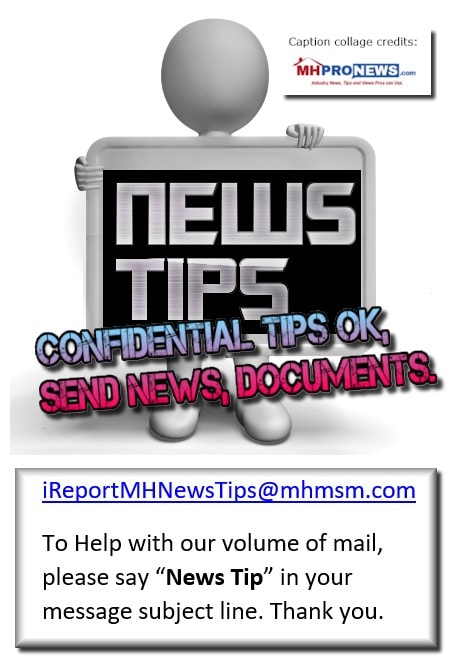 1) To sign up in seconds for our MH Industry leading emailed news updates, click here.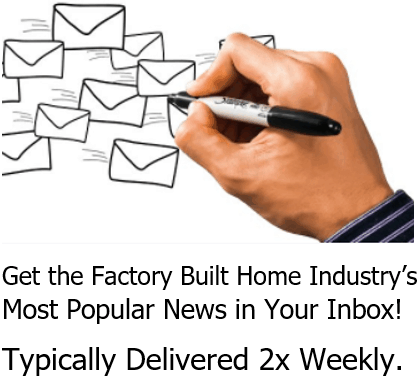 2) To provide a News Tips and/or Commentary, click the link to the left. Please note if comments are on-or-off the record, thank you.
3) Marketing, Web, Video, Consulting, Recruiting and Training Resources

Submitted by Soheyla Kovach to the Daily Business News for MHProNews.com.
Soheyla is a managing member of LifeStyle Factory Homes, LLC, the parent company to MHProNews, and MHLivingNews.com.