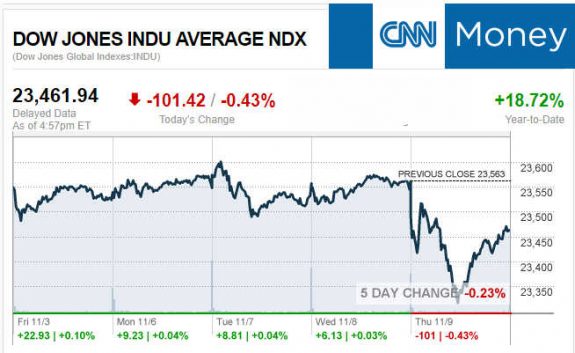 The Part One of our review of Cavco Industries will take place this evening, and it will include some factoids not found in their transcript.
There will also be a comment from an informed source with deep Cavco ties that will be shared in the report below.
We'll look at that briefly in our spotlight section, which regular readers know will be deeper into today's report.
If you're new, already hooked on our new spotlight feature – or are ready to get the MH professional fever – our headline spotlight report is found just beyond the Manufactured Housing Composite Value for today.
If you're new, already hooked on our new spotlight feature – or are ready to get the MH professional fever – our headline reports' are found further below, just beyond the Manufactured Housing Composite Value for today.
The evolving Daily Business News market report sets the manufactured home industry's stocks in the broader context of the overall markets.
Part of this unique feature provides headlines – from both sides of the left-right media divide – that saves readers time, while underscoring topics that may be moving investors, which in turn move the markets.
Readers say this is also a useful quick-review tool that saves researchers time in getting a handle of the manufactured housing industry, through the lens of publicly-traded stocks connected with the manufactured home industry.
MH "Industry News, Tips and Views, Pros Can Use." ©
Selected headlines and bullets from CNN Money:
Market stumbles as tax reform hits a snag
Madoff victims set to receive $772 million payout
Adidas is running circles around its competition
What's in the Senate Republican's tax bill
Apple finally fixes "i" autocorrect issue
Roku dazzles thanks to its booming ad business
Howard Schultz calls GOP tax plan 'fool's gold'
How to talk about sexual harassment at work
Talking about #metoo with our mothers
AT&T CEO: Still talking with DOJ, ready to go to court
S. hits more Venezuelan leaders with sanctions
Selected headlines and bullets from Fox Business:
Mnuchin fires warning shot to high-tax states: Get control of your budgets
Senate tax plan kills SALT deductions, delays corporate tax cut
Mnuchin indicates corporate tax cut could be delayed, says 'still being discussed'
Oil prices rise on supply cuts and political tensions in Saudi Arabia
Tech tugs Wall Street lower, investors fret about tax cut delays
investors fret about tax cut delays
NFL, Goodell close to contract extension despite Jerry Jones dispute
Neil Cavuto rips Mnuchin, GOP tax plan: It's unraveling before our eyes
AT&T-Time Warner deal will receive DOJ's approval, says former Verizon Wireless CEO
AT&T's CEO Stephenson and DOJ get ready for a potential battle royal in court
Alan Greenspan 'cautious' about growing economy too quickly
Disney misses on 4Q earnings
Amazon shifting consumer landscape of Black Friday
Equifax reports lower third-quarter earnings after data breach
Stock market is contingent on this tax plan: Circle Squared CEO
ICYMI – for those not familiar with the "Full Measure," 'left-right' media chart, please click here. 
Today's markets and stocks, at the closing bell…
S&P 500 2,584.62 -9.76(-0.38%)
Dow 30 23,461.94 -101.42(-0.43%)
Nasdaq 6,750.05 -39.06(-0.58%)
Crude Oil 57.03 +0.22(+0.39%)
Gold 1,285.80 +2.10(+0.16%)
Silver 16.99 -0.15(-0.86%)
EUR/USD 1.1639 +0.0046(+0.39%)
10-Yr Bond 2.33 +0.01(+0.26%)
Russell 2000 1,475.02 -6.71(-0.45%)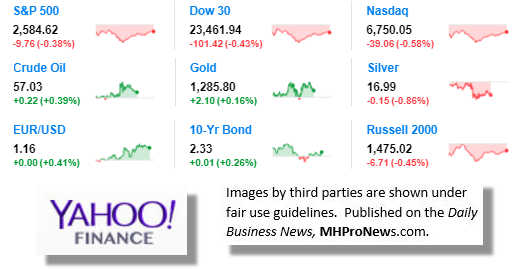 Manufactured Housing Composite Value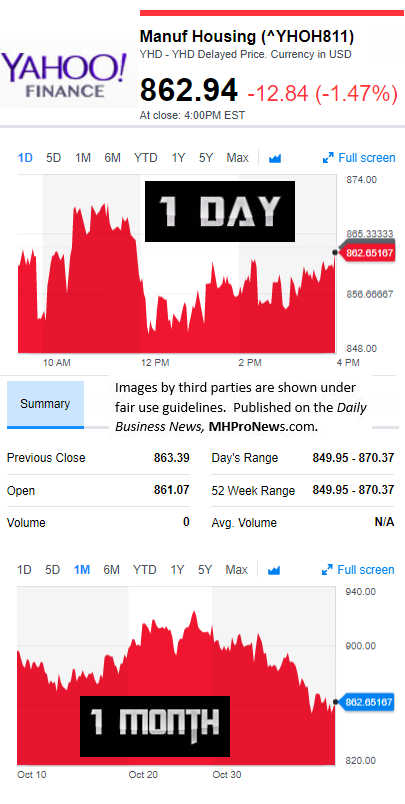 Today's Big Movers
For all the scores and highlights on tracked manufactured home connected stocks today, see the Bloomberg graphic, posted below.
Today's MH Market Spotlight Report –
Cavco Industries, Part 1, Market Spotlight 
The charts, graphics and illustrations below are not found in the Seeking Alpha release and transcript.   Nor was Legal & General mentioned in the transcript provided, which is an observation that should not be misconstrued.
Part One of the review of the Cavco data and reporting will focus on what's below, but the planned part two and/or part three will have information from an informed source with ties to Cavco that are unlikely to be found anywhere else.
Let's begin the review of the meat of the Cavco transcript, per Seeking Alpha's release.
Cavco Industries, Inc. (NASDAQ:CVCO)
Q2 2018 Earnings Conference Call
November 08, 2017 01:00 PM ET
Executives
Joe Stegmayer – Chairman and Chief Executive Officer
Dan Urness – Chief Financial Officer
Mark Fusler – Director of Finance Reporting
Analysts
Pete Lucas – CJS Securities
Brian Hollenden – Sidoti
"Thank you, Latif. And welcome everyone to the Second Quarter Conference Call. As usual, Dan Urness, our Chief Financial Officer is with me, and Mark Fusler, our Director of Finance Reporting."
Stegmayer introduced Urness who handled many of the investors conference call details.
Dan Urness
Urness gave the typical disclosures regarding questions and statements that:
"may not be historical in nature and therefore are considered forward-looking. All statements in comments today are made within the context of safe harbor rules. All forward-looking statements are subject to risks and uncertainties, many of which are beyond our control. Our actual results or performance may differ materially from anticipated results or performance."
"Cavco disclaims any obligation to update or — update any forward-looking statements made on this call, and investors should not place any reliance on them," Urness said per Seeking Alpha's transcript.
Additionally Urness said:
"For our quarterly report on the financials, net revenue for the second fiscal quarter was $201 million up 6.5% from $188 million during the second quarter of fiscal year 2017.
Breaking this increase down by business segment factory-built housing net revenue increased $11.9 million from a larger proportion of higher priced homes sold and improved home sales volume including incremental sales from our new Lexington Homes factory in Mississippi.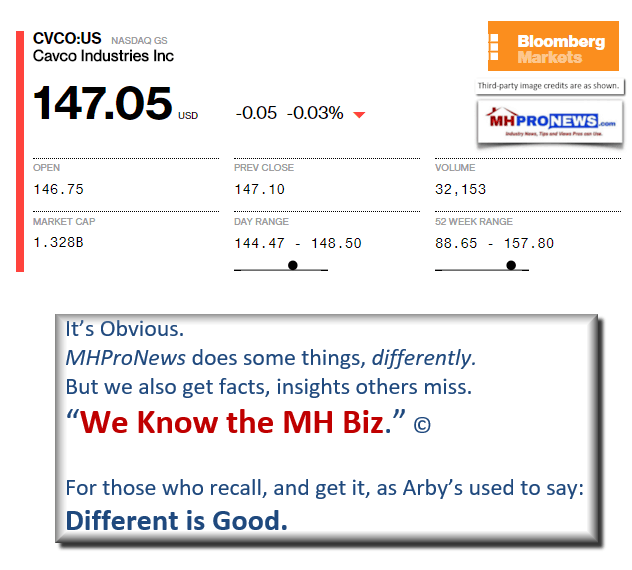 Financial services segment net revenue increased from more insurance policies in force and higher home loan sales volume compared to the prior year quarter.
This revenue increase was partially offset by $1.4 million of required payments to reinstate catastrophic reinsurance policies for the insurance subsidiary causing a direct adverse impact to the quarterly earnings.
Consolidated gross profit in the second fiscal quarter as a percentage of net revenue was 17.2% down from 20.8%
in the same period last year. As described in our earnings release severe hurricane activity this quarter adversely impacted consolidated financial results.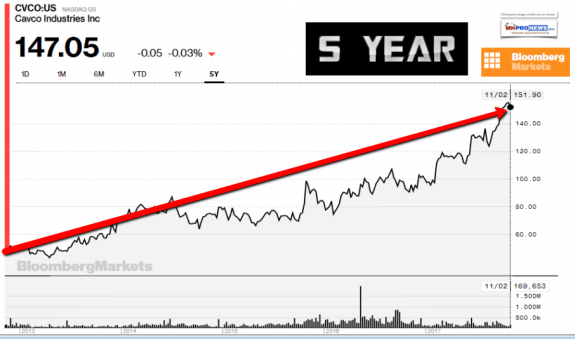 The financial services segment loss was caused by high home owners' insurance claim volume in Texas, although the Company's losses on these claims were limited to $1.5 million through its reinsurance contracts.
In the factory-built housing segment the hurricanes caused substantial new home inventory damage at certain company owned retail stores, as well as a limited number of lost production days and delays of home sales in Texas and Florida.
Selling, general and administrative expenses in the fiscal 2018 second quarter as a percentage of net revenue was 13% compared to 13.5% during the same quarter last year.
The improvement was related to fixed cost efficiencies gained from higher net revenue levels.
The effective income tax rate for the quarter was 27.3% compared to 28.7% in the same quarter the prior year.
The current quarter contains a benefit related to the required implementation of new accounting standards requiring the company to record tax benefits from stock option exercises as an income tax expense reduction, whereas these benefits were previously recognized in equity."
— end of quoted portion of Seeking Alpha's CVCO conference call transcript —
Prior Snapshot of  1 Year Snapshot of All Tracked Stocks, This Report will be Update
http://www.MHProNews.com/blogs/daily-business-news/manufactured-housing-industry-markets-wall-street-reacts-to-trumponomics-1-year-data-snapshot/
NOTE: the chart below covers a number of stocks NOT reflected in the Yahoo MHCV, shown above.
NOTE: Drew changed its name and trading symbol at the end of 2016 to Lippert (LCII).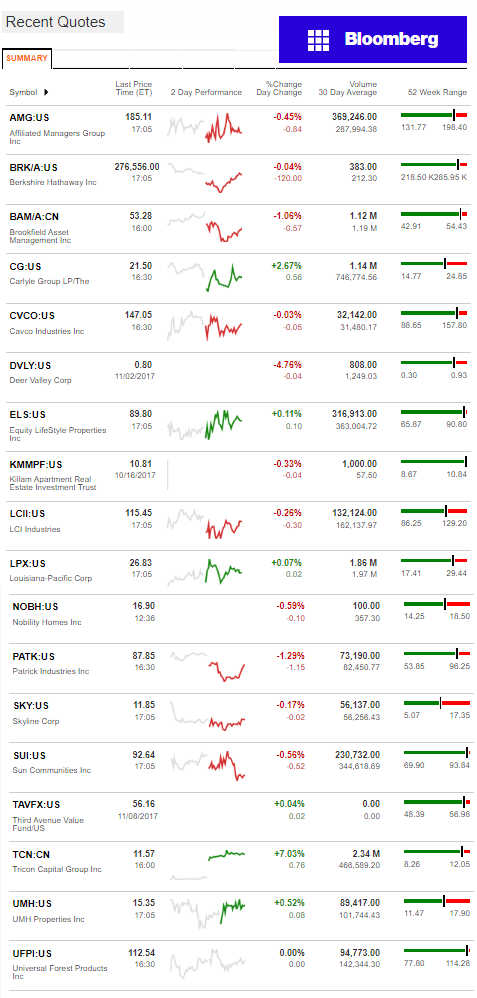 Berkshire Hathaway is the parent company to Clayton Homes, 21st Mortgage, Vanderbilt Mortgage and other factory built housing industry suppliers.
LCI Industries, Patrick, UFPI and LP all supply manufactured housing.
AMG, CG and TAVFX have investments in manufactured housing related businesses.
Your link to a recent round of industry praise for our coverage, is found here.
For the examples of our kudos linked above…plus well over 1,000 positive, public comments, we say – "Thank You for your vote of confidence."
"We Provide, You Decide." © ## (News, Analysis.)
(Image credits are as shown above, and when provided by third parties, are shared under fair use guidelines.)

Submitted by Soheyla Kovach to the Daily Business News for MHProNews.com.