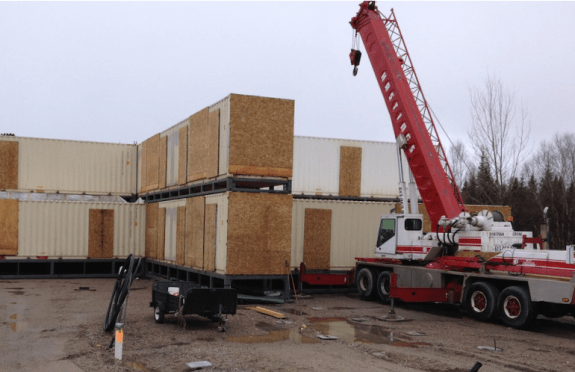 A Calgary, Alberta, Canada company that is building a modular motel in Sioux Lookout, Ontario, Canada from steel shipping containers has plans to repeat the concept in the small town of Brudenheim near Fort Saskatchewan in central Alberta. Rhys Kane, business development director for Ladacor, says, "You can modify these sea cans with our technology quite extensively so you can get nice open space. When we're finished with it, you wouldn't have any idea it's made of sea cans from the outside."
He says the modular containers are superior to wood because there is no cracking or movement with the steel, they are not combustible, and they save labor costs and time, according to metronews.ca. "We have a 30,000 square foot factory in Calgary, so you have factory efficiencies. We're recycling a piece of steel into a high-quality building product." He adds the company is considering making affordable rental housing from the containers in Edmonton.
As MHPronews understands, there is a surplus of shipping containers in North America that are not economical to return empty to the Orient. ##
(Photo credit: metronews.ca/Ladacor-motel being constructed from modular shipping containers in Sioux Lookout, Ontario, Canada)

Article submitted by Matthew J. Silver to Daily Business News-MHProNews.