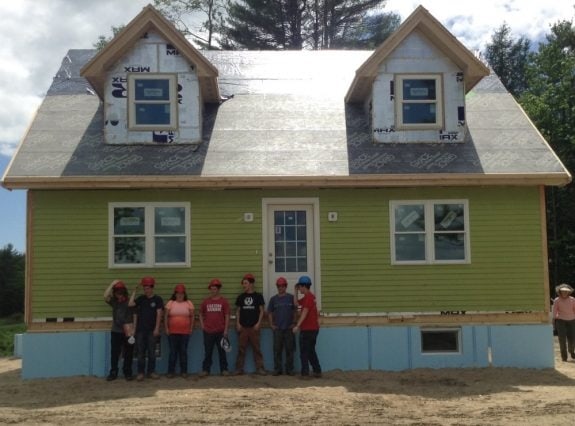 A four-bedroom, two-story, Cape Cod modular house built by dozens of high school students at Portland Arts and Technology High School (PATHS) over the course of four academic years was finally sold and sited on the new owners foundation in Durham, Maine. A couple moving back from out of state purchased the home for the cost of materials the school had spent, $38,263.00, not counting the cost of the land, the site preparation and the moving expense.
Frank Kehoe, carpentry instructor at PATHS in Portland, Maine, said second-year carpentry and plumbing students at the school did the work with the help of electrical students from a nearby vocational school. The project took four years because funding came in slowly, according to pressherald. Turn Key Homes transported the modules for the home and set it on its foundation, as MHProNews has learned. In the past, PATHS students have constructed smaller ranch-style homes. ##
(Photo credit: pressherald/Frank Kehoe-students stand in front of modular Cape Cod home that took four years to build.)

Article submitted by Matthew J. Silver to Daily Business News-MHProNews.