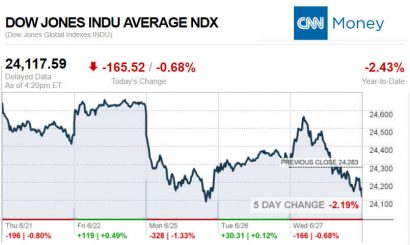 Bloomberg's list is interesting, and meaningful, because it reveals movers and shakers in the U.S. and abroad that shape policies and markets. These top 25 clans often have significant influence in politics, because of their economic clout. Some top figures from that list will be shown in our featured report this evening.
If you're new, already hooked on our new spotlight feature – or are ready to get the MH professional fever – our headline reports are found further below, just beyond the Manufactured Housing Composite Value for today.
The evolving Daily Business News market report sets the manufactured home industry's stocks in the broader context of the overall markets.
Part of this unique feature provides headlines – from both sides of the left-right media divide – that saves readers time, while underscoring topics that may be moving investors, which in turn move the markets.
Readers say this is also a useful quick-review tool that saves researchers time in getting a handle of the manufactured housing industry, through the lens of publicly-traded stocks connected with the manufactured home industry.
MH "Industry News, Tips and Views, Pros Can Use." ©
ICYMI – for those not familiar with the "Full Measure," 'left-right' media chart, please click here. 
Selected headlines and bullets from CNN Money:
Disney wins antitrust approval to purchase most of Fox
What does America's falling birth rate mean to the economy? Just look at Arizona
700 empty Toys 'R' Us stores. Who's going to fill them?
Meet the new GE: It's a shell of its former self
Texas steel pipe manufacturer becomes casualty of Trump's trade war
Cold comfort: ConAgra buys Birds Eye maker for $10.9 billion
How tight is this job market? Kohl's is already hiring for Christmas
Progressive media saw the Ocasio-Cortez upset coming
Money is more stressful than politics for Millennials
Russians are still meddling, but Washington and Tech aren't working together
Analysis: Who's responsible for Russian trolls?
India may ignore US demand to halt Iran oil imports
Harley-Davidson may face credit downgrade because of EU tariffs
Google's eerily human phone bot is ready for the real world
Supreme Court deals major blow to public sector unions
Facebook gives up on building internet drones
Beer is being rationed in the UK
Largest US nail manufacturer 'on brink of extinction' because of steel tariffs
Trump vs. Harley-Davidson: What's really going on?
Colbert, Fallon and Conan team up to tease Trump
The Coffee Bean is betting on 'Starbucks fatigue'
Why Starbucks needs you to feel at home
Aston Martin unveils powerful new $300,000 supercar
The incredible shrinking GE
To counter Google and Facebook, AT&T buys an ad platform
Meet Walgreens: The Dow's newest member
Housing market remains strong, despite mortgage rate worries
How some women assess safety at a new workplace
Chinese stocks are in a bear market
Wells Fargo accused of misconduct again
Uber's Middle East rival recruits women drivers in Saudi Arabia
Selected headlines and bullets from Fox Business:
Stocks reverse course, techs lead drop
Justice Kennedy retiring, Trump gets 2nd Supreme Court pick
Trump's next Supreme Court justice appointment will cement legacy: Sean Spicer
Trump's China plan: What to know
Oil nears 4-year high on US-Iran tensions
Supreme Court case may cripple public sector labor unions
Burger King and Budweiser partner up
How to opt out of your labor union
Why a Sprint, T-Mobile merger could hurt your wallet
Texas steel pipe maker seeks tariff exemption to become 100% American
LaCroix seltzer maker questioned by SEC over sales metrics
Kohl's already hiring for the holidays
America's most and least patriotic states
GoDaddy, Danica Patrick look to usher next wave of entrepreneurial life
Boeing's hypersonic passenger jet could cross the Atlantic in 2 hours
US approves Disney's buy of Fox assets
JELL-O is now making edible toys[overlay type]RETAIL
JELL-O is now making edible toys
Why health care sharing ministry memberships now top 1 million
Comcast seeks more cash in pursuit of 21st Century Fox assets
Texas steel pipe maker seeks tariff exemption to become 100% American
This is what the 'new' GE is worth
Today's markets and stocks, at the closing bell…

Manufactured Housing Composite Value (MHCV)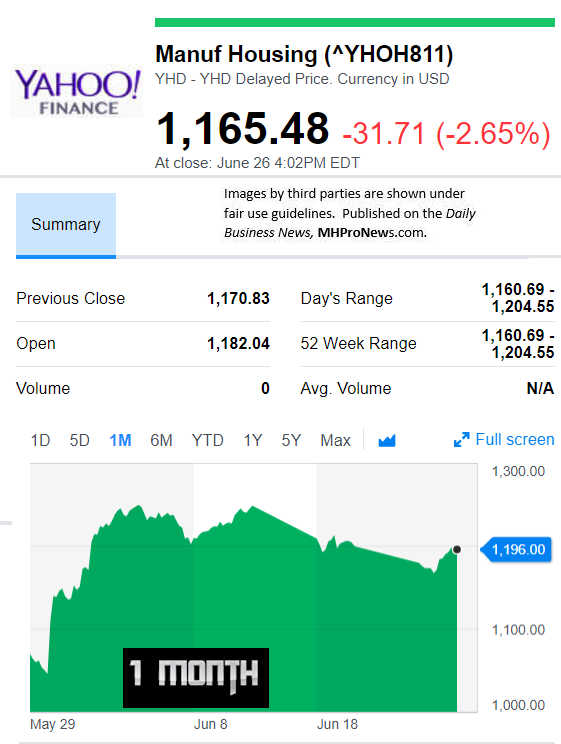 Today's Big Movers
For all the scores and highlights on tracked manufactured home connected stocks today, see the Bloomberg graphic, posted below.
Today's MH Market Spotlight Report – 
This won't be as big a news story in other media as it could or should arguably be.
CNBC was among the media that covered the new Bloomberg list of the top 25 families in the world in terms of net worth.
The "Methodology" ought to be a featured part of this report, because it's a bit of a head-fake for those who don't read these key details.
Per Bloomberg, "Net worth figures are as of June 15, 2018. The ranking excludes first-generation fortunes and those fortunes controlled by a single heir. Clans whose source of wealth is derived primarily from the state are also excluded."
Translation? The list doesn't include such expected names as Amazon's Jeff Bezos, Microsoft's Bill and Melinda Gates, or Berkshire Hathaway's Warren Buffett.
What is remaining in the ten cited by CNBC are names that are also often familiar, but are not as leftist in their politics.
"The Walton family of Walmart is the richest clan in the world, with total family wealth of $152 billion, according to data compiled by the Bloomberg Billionaires Index," said CNBC, but again – the caveat is in the methodology and analysis noted above.  Jeff Bezos' net worth alone is approaching that of the entire Walton family.
The Koch family, of Koch Industries, are ranked second with $98.7 billion. And coming in third is the Mars family, with $90 billion, known for their M&M and Mars Bars candies.
Bloomberg also said the top 25 families are worth $1.1 trillion and that "any calculation is likely to be a low-ball figure," since the wealth of many families like the Rothschilds and Rockefellers is too diversified and diffuse to value.
1.         Walton family — Walmart — $152 billion
2.         Koch family — Koch Industries — $99 billion
3.         Mars family — Mars — $90 billion
4.         Van Damme, De Spoelberch, de Mevius — Anheuser-Busch Inbev — $54 billion
5.         Dumas family — Hermes — $49 billion
6.         Wertheimer family — Chanel — $46 billion
7.         Ambani family — Ambani conglomerate — $43 billion
8.         Quandt family — BMW — $43 billion
9.         Cargill MacMillen family — Cargill — $42 billion
10.       Boehringer, von Baumbach — Boehringer Ingelheim pharma – $42 billion
Bloomberg Closing Ticker for MHProNews…
NOTE: The chart below includes the Canadian stock, ECN, which purchased Triad Financial Services.
NOTE: The chart below covers a number of stocks NOT reflected in the Yahoo MHCV, shown above.
NOTE: Drew changed its name and trading symbol at the end of 2016 to Lippert (LCII).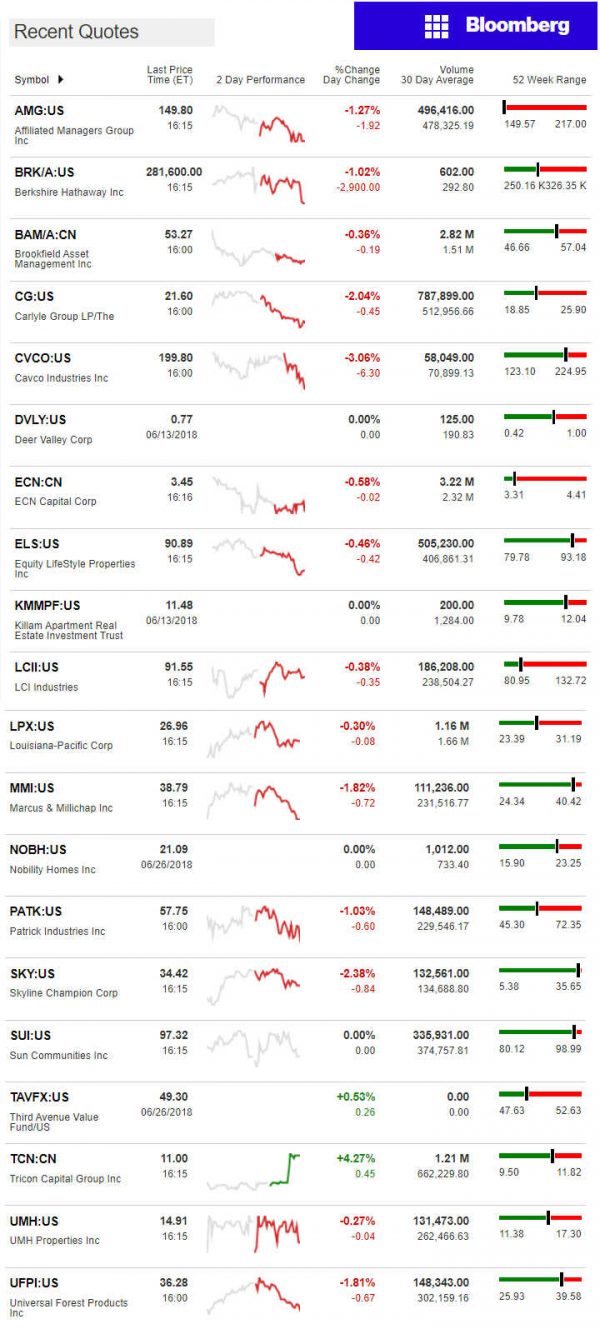 Berkshire Hathaway is the parent company to Clayton Homes, 21st Mortgage, Vanderbilt Mortgage and other factory built housing industry suppliers.
LCI Industries, Patrick, UFPI and LP all supply manufactured housing.
AMG, CG and TAVFX have investments in manufactured housing related businesses.
Your link to industry praise for our coverage, is found here.
For the examples of our kudos linked above…plus well over 1,000 positive, public comments, we say – "Thank You for your vote of confidence."
"We Provide, You Decide." © ## (News, analysis and commentary.)
(Image credits and information are as shown above, and when provided by third parties, are shared under fair use guidelines.)
Submitted by Soheyla Kovach to the Daily Business News for MHProNews.com.