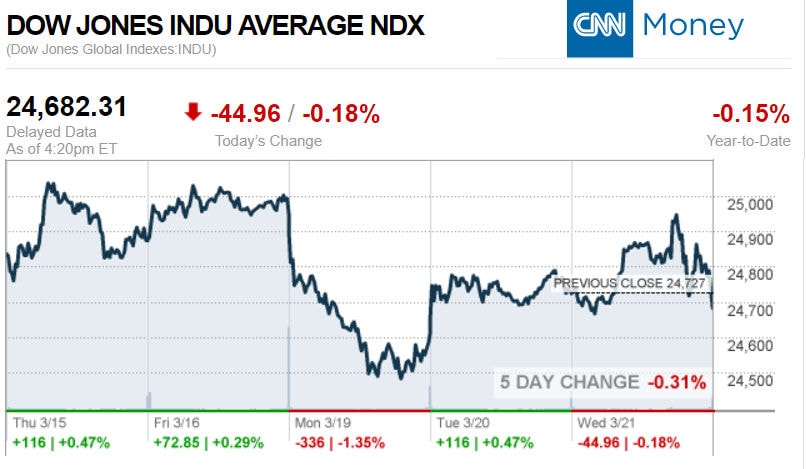 If you haven't noticed all of the buzz around the Federal Reserve's expected rate move, then maybe you've been on vacation.
One might sympathize with former Texas Congressman and multiple time presidential candidate, Ron Paul and wonder why the Fed has been given so much power over the U.S. economy? 
That's not the topic for tonight, but instead we'll look at the facts that flowed from the Fed's announcements and related economic analysis.  It's all useful data for savvy MHPros and investors. 
Besides related facts and commentary, two different videos, one from either side of the left-right media divide.
If you're new, already hooked on our new spotlight feature – or are ready to get the MH professional fever – our headline reports are found further below, just beyond the Manufactured Housing Composite Value for today.
The evolving Daily Business News market report sets the manufactured home industry's stocks in the broader context of the overall markets.
Part of this unique feature provides headlines – from both sides of the left-right media divide – that saves readers time, while underscoring topics that may be moving investors, which in turn move the markets.
Readers say this is also a useful quick-review tool that saves researchers time in getting a handle of the manufactured housing industry, through the lens of publicly-traded stocks connected with the manufactured home industry.
MH "Industry News, Tips and Views, Pros Can Use." ©
Selected headlines and bullets from CNN Money:
Meredith is putting Fortune and Time magazines on the block
Mark Zuckerberg to face questions in CNN interview exclusive
Fed raises interest rates in Powell's debut
Watch: This robotic fish moves like the real thing
Democrats plan crackdown on booming stock buybacks
Self-driving cars are already really safe
EU and others may get tariff exemptions, US trade official says
Watch: A robot is conducting this opera
Analyst's blistering critique of Fox News draws praise
3 million UK health care workers are getting their first raise since 2010
Madame Tussauds looks to cash in on wax Meghan Markle figure
Starbucks offers $10 million for ideas on a better cup
Can this robotic fish fool real fish into revealing their secrets?
Watch: Hugh Jackman's advice for starting a business
Starbucks achieves pay equity in the United States
Inflation and sour yogurt sales sink General Mills
The Church of England now takes Apple Pay
Watch: How your data makes Facebook billions
At what point do more Netflix originals risk becoming too much?
Fox News analyst blasts network as 'propaganda machine'
China's Facebook rival nearly doubles its profit
This American Idol alum is using AI to make music
Why your next work meeting could be outside
Forget passwords. Facial recognition is the new way to log in at work
Silicon Valley faces sweeping new taxes in Europe
Selected headlines and bullets from Fox Business:
Facebook's Zuckerberg breaks silence, says 'we also made mistakes'
Stocks decline as Fed signals faster pace of rate hikes
Powell fields questions on yield curve and jobs
Fed hikes interest rates, sets three increases for 2019
'Populist' Republicans favor Trump in 2020: Pat Buchanan
NFL's Richard Sherman acts as own agent to sign with 49ers, hopes other players follow suit
Sears to save $60 million annually. Is that enough?
Elon Musk's $2.6B Tesla compensation approved by shareholders
WhatsApp co-founder, who sold his company to Facebook, just told his followers to delete it
Obama, Biden cronies made billions off China trade deals and regulatory policies: Report
Ford will turn older cars into Wi-Fi hotspots
Facebook stock: a bargain hunter's dream?
Home construction crisis: Why builders aren't building
Steve Wynn looks to cash out of Wynn Resorts
Pension crisis could start a revolution, Teamsters' Hoffa warns
ICYMI – for those not familiar with the "Full Measure," 'left-right' media chart, please click here. 
Today's markets and stocks, at the closing bell…
S&P 500 2,711.93 -5.01(-0.18%)
Dow 30 24,682.31 -44.96(-0.18%)
Nasdaq 7,345.29 -19.02(-0.26%)
Russell 2000 1,579.30 +8.90(+0.57%)
Crude Oil 65.44 +1.90(+2.99%)
Gold 1,333.40 +21.50(+1.64%)
Silver 16.59 +0.41(+2.50%)
EUR/USD 1.2345 +0.01(+0.82%)
10-Yr Bond 2.91 +0.03(+0.97%)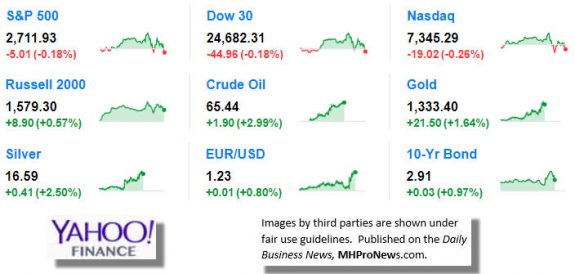 Manufactured Housing Composite Value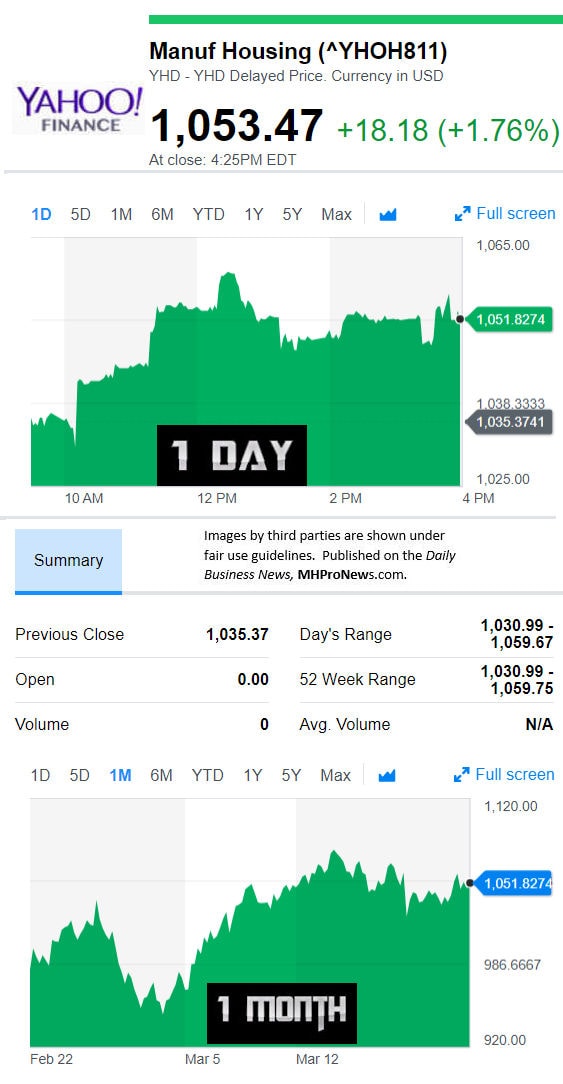 Today's Big Movers
For all the scores and highlights on tracked manufactured home connected stocks today, see the Bloomberg graphic, posted below.
Today's MH Market Spotlight Report –
Let's briefly pose one of those politically incorrect, but incredibly important questions before diving into the Fed report tonight.  Where in the Constitution do you see the Federal Reserve?  How is it that the Congress ceded its power to regulate the currency to a semi-independent group over a century ago?
It's not just Ron Paul who raises that kind of question, but once more that's not our focus tonight. 
The summary could be this: the Fed's data points indicate continued economic growth in the Trump Administration era. The stats from CNBC, and the videos from them and Fox Business.
·        Fed hikes rates and raises GDP forecast again
·        Central bankers, led by Jerome Powell in his first meeting as chairman, approved the widely expected quarter-point hike that puts the new benchmark funds rate at a target of 1.5 percent to 1.75 percent. It was the sixth rate hike since the policymaking Federal Open Market Committee began raising rates off near-zero in December 2015.
·        The Federal Reserve raises rates for the sixth time since the policymaking Federal Open Market Committee began raising rates off near-zero in December 2015.
·        "The economic outlook has strengthened in recent months," the committee says in its post-meeting statement.
The FOMC's March meeting was Jay Powell's first as chairman.
·        Interest rates are going up again, thanks to a well-telegraphed Federal Reserve move Wednesday.
·        The funds rate is closely tied to consumer interest rates, which generally rise as soon as the Fed moves.
·        Along with the increase came another upgrade in the Fed's economic forecast, and a hint that the path of rate hikes could be more aggressive. The market currently expects three hikes for 2018, and that remained the baseline forecast, but at least one more increase was added in the following two years.
·        Jerome Powell, chairman of the U.S. Federal Reserve, speaks during a news conference following a Federal Open Market Committee (FOMC) meeting in Washington, D.C., U.S., on Wednesday, March 21, 2018.
       

"The economic outlook has strengthened in recent months," the committee said in its post-meeting statement, a sentence that had not been in previous releases. The language came even though the committee said earlier in the statement that "economic activity has been rising at a moderate rate," a seeming downgrade from January's characterization of a "solid" rate.
·        The pace of growth is critical to how the Fed will proceed on monetary policy.
·        According to the summary of economic projections that the FOMC releases each quarter, three rate hikes is still the baseline. However, had one more member indicated a higher funds rate, the forecast likely would have gone to four.
·        Wall Street economists increasingly have been predicting a fourth move in 2018, and the fed funds futures market was indicating a 38 percent chance of it just before the committee statement was released.
·        The decision to increase the funds rate came unanimously even though some members have questioned why the Fed is moving absent more inflationary pressures.
·        Fed officials raised their forecast for 2017 GDP growth from 2.5 percent in December to 2.7 percent, and increased the 2018 expectation from 2.1 percent to 2.4 percent.
·        However, growth is likely to cool after, with the 2020 forecast holding at 2 percent and the longer-run measure still at 1.8 percent.
·        The committee noted that household spending and business fixed investment both "have moderated from their strong fourth-quarter readings."
·        Inflation expectations, on which the market has been laser-focused lately, changed little. The 2018 forecast remains just 1.9 percent for both core and headline inflation — core excludes food and energy prices. For 2019, the forecast for core personal consumption expenditures edged higher to 2.1 percent from 2 percent, while headline remained at 2 percent. The committee nudged the 2020 level up from 2 percent to 2.1 percent for both core and headline.
·        The benign inflation expectations are particularly remarkable considering that Fed officials now see unemployment running even lower than before. Currently at 4.1 percent, officials now see the rate for 2018 at 3.8 percent, down from the 3.9 percent December forecast, and 2019 falling all the way to 3.6 percent from the original 3.9 percent outlook. The 2020 forecast also fell, from 4 percent to 3.6 percent.
·        Fed officials generally believe in the Phillips Curve, which indicates that falling unemployment will act as a push for inflation. That hasn't been the case throughout the recovery, as the Fed continues to lag its 2 percent inflation target.
·        Markets reacted strongly to a brief inflation scare in early February. Average hourly earnings rose to a recovery-high 2.9 percent for January, but moderated to 2.6 percent in February. The consumer price index also jumped in January but rose in line with expectations in February.
·        The Fed's preferred personal consumption expenditures index is currently running at about 1.7 percent.
·        The so-called dot plot, which indicates individual members' rate expectations, took a hawkish tilt. While a three-hike policy remains the baseline for 2018, the committee pushed 2019 from 2½ to three increases and 2020 from 1½ to two. The funds rate for 2020 is now expected to be 3.4 percent from the initial 3.1 percent, though the longer-run forecast rose just a bit, from 2.8 percent to 2.9 percent.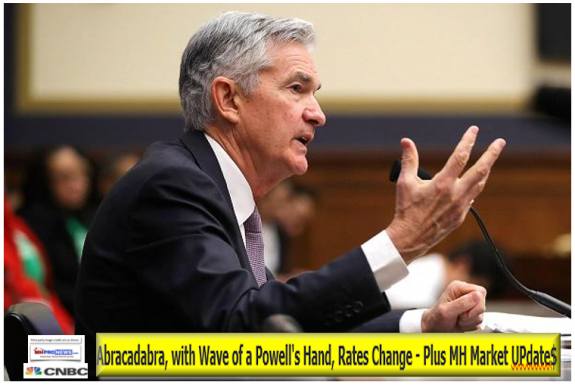 NOTE: The chart below includes the Canadian stock, ECN, which purchased Triad Financial Services.
NOTE: The chart below covers a number of stocks NOT reflected in the Yahoo MHCV, shown above.
NOTE: Drew changed its name and trading symbol at the end of 2016 to Lippert (LCII).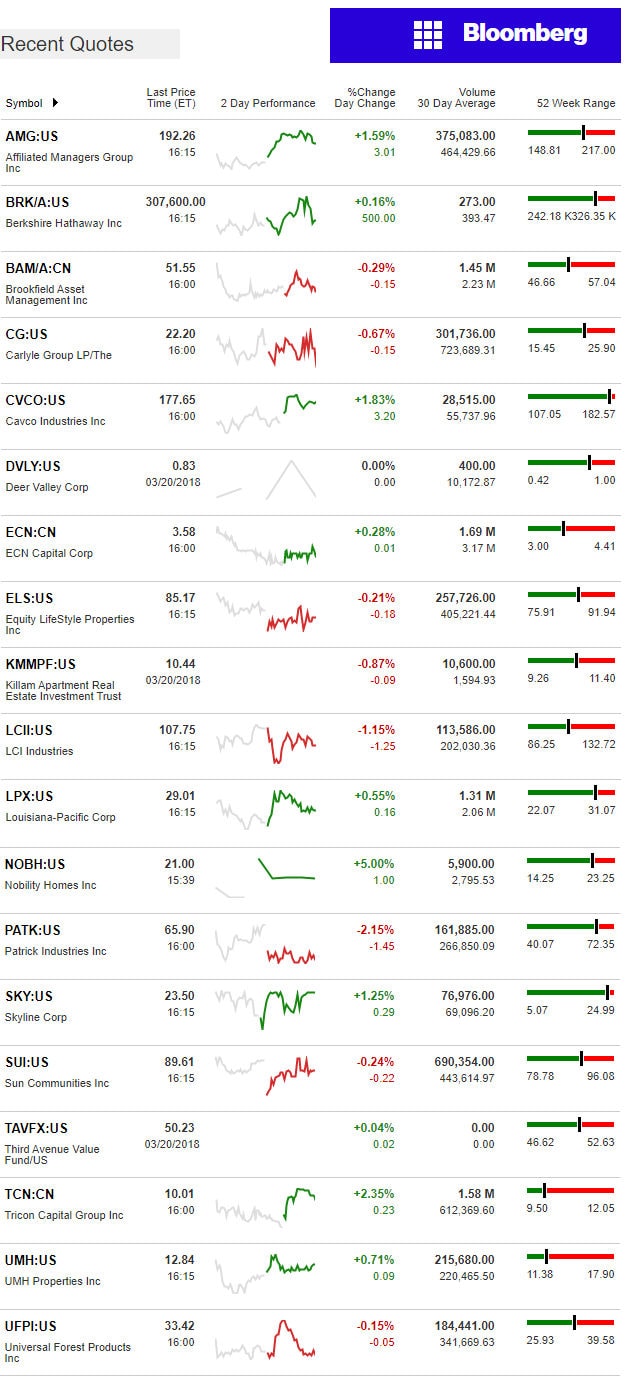 Berkshire Hathaway is the parent company to Clayton Homes, 21st Mortgage, Vanderbilt Mortgage and other factory built housing industry suppliers.
LCI Industries, Patrick, UFPI and LP all supply manufactured housing.
AMG, CG and TAVFX have investments in manufactured housing related businesses.
Your link to a recent round of industry praise for our coverage, is found here.
For the examples of our kudos linked above…plus well over 1,000 positive, public comments, we say – "Thank You for your vote of confidence."
"We Provide, You Decide." © ## (News, Analysis.)
(Image credits are as shown above, and when provided by third parties, are shared under fair use guidelines.)

Submitted by Soheyla Kovach to the Daily Business News for MHProNews.com.