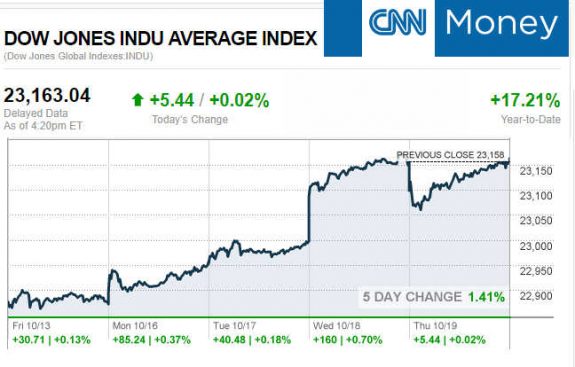 Today's spotlight feature will tee up an upcoming special report.
If you're new, already hooked on our new spotlight feature – or are ready to get the MH professional fever – our headline reports are found further below, just beyond the Manufactured Housing Composite Value for today.
The evolving Daily Business News market report sets the manufactured home industry's stocks in the broader context of the overall markets.
Part of this unique feature provides headlines – from both sides of the left-right media divide – that saves readers time, while underscoring topics that may be moving investors, which in turn move the markets.
Readers say this is also a useful quick-review tool that saves researchers time in getting a handle of the manufactured housing industry, through the lens of publicly-traded stocks connected with the manufactured home industry.
MH "Industry News, Tips and Views, Pros Can Use." ©
Selected headlines and bullets from CNN Money:
Trying to lure Amazon, cities keep details secret
Judge rejects Shkreli request to release his bail
RT bucks DOJ request to register as a foreign agent
No 'Flash' in the pan: Adobe at all-time high
Meet the bears predicting stock market doom
CEO says United in 'competitive hole,' shares sink 12%
This is the biggest mystery in the U.S. economy
Remembering the worst day in Wall Street history
New employee perk: $100 a month for your student loans
Tesla's Model 3 gets early boost from Consumer Reports
401(k) contribution limit will rise to $18,500 next year
Selected headlines and bullets from Fox Business:
John Taylor impresses Trump team for Fed chair
Wall St ends flat; late gains on Fed Powell report
Oil slips from recent gains, though Middle East tensions remain high
Tax reform snag could pose big market risk
Amazon just opened its biggest wind farm yet in Texas
Trump's ObamaCare subsidy shutdown could lead to free insurance
Tesla Model 3 will have 'average reliability': Consumer Reports
GE's Immelt used two planes, one empty, for business travel
Republicans and Democrats now have their own ETFs; so does Trump
NFL referees deny bias allegations amid fan uproar after Eagles-Panthers game
Obama to campaign for Dems in Virginia, New Jersey
How this Seinfeld actor became the voice behind the National Dog Show
Black Monday: Neil Cavuto looks back at the 1987 market crash
ICYMI – for those not familiar with the "Full Measure," 'left-right' media chart, please click here. 
Today's markets and stocks, at the closing bell…
S&P 500 2,562.10 +0.84(+0.03%)
Dow 30 23,163.04 +5.44(+0.02%)
Nasdaq 6,605.07 -19.15(-0.29%)
Crude Oil 51.41 -0.63(-1.21%)
Gold 1,292.00 +9.00(+0.70%)
Silver 17.30 +0.30(+1.75%)
EUR/USD 1.1852 +0.006(+0.51%)
10-Yr Bond 2.321 -0.018(-0.77%)
Russell 2000 1,502.04 -3.10(-0.21%)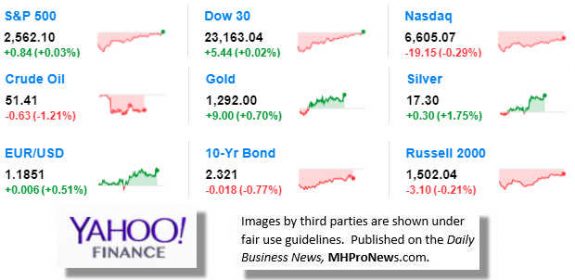 Manufactured Housing Composite Value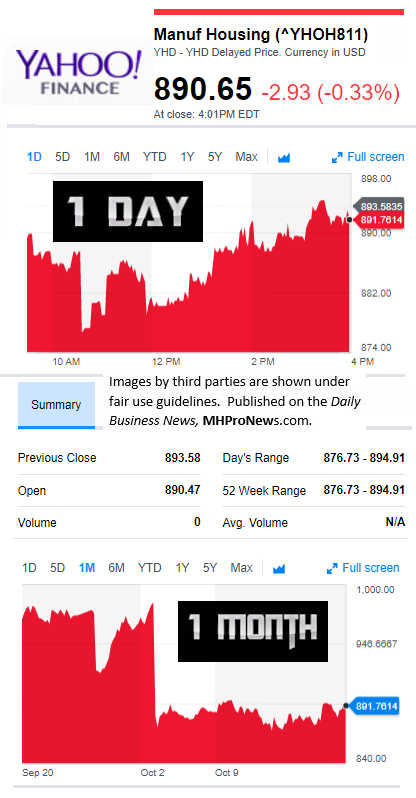 Today's Big Movers
For all the scores and highlights on tracked manufactured home connected stocks today, see the Bloomberg graphic, posted below.
Today's MH Market Spotlight Report –
"What we learn from history is that people don't learn from history."
– Warren Buffett,
Chairman, Berkshire Hathaway. Parent to Clayton Homes, industry lenders, retailers, and suppliers.
It's been 30 years today since one of the biggest market crashes, ever.
Let's begin with an extended quote, from Newsmax today.

"Thirty years ago, before heading to work at the New York Stock Exchange, Peter Kenny left his home in lower Manhattan and made a detour to the nearby Our Lady of Victory church to pray to St. Jude, the Roman Catholic patron saint of desperate and lost causes.
The reason was the stock market crash known as "Black Monday" on October 19, 1987.
"Blessed mother get me through this," he prayed.
Kenny, now senior market strategist at Global Markets Advisory Group in New York, was a newly minted member of the New York Stock Exchange, having joined the exchange in February that year. He was stunned by the events that unfolded the previous day, the worst trading day in U.S. history.
"I don't think anyone was prepared for what actually transpired in the overseas markets, which led to the bloodbath on Monday," said Kenny.
When it was over, the Dow Jones Industrial Average had lost 22.6 percent in one day, equivalent to a drop of about 5,200 points in the index today. The benchmark U.S. S&P 500 index plunged 20.5 percent on Black Monday, equal to a drop of over 520 points today, and the Nasdaq dropped 11.4 percent, comparable to a drop of about 750 points.
In 1987 U.S. stock prices had climbed steadily all year, as they have in 2017, with each of the three major U.S. indexes hitting record highs in late August. But September turned into a difficult month, with each index falling more than 2.0 percent, though not by enough to raise alarm bells among investors.
But as the calendar flipped to October, the selling in U.S. equity markets intensified. The Dow Jones Industrial Average and S&P 500 fell more than 9.0 percent in the week before Black Monday.
On the morning of Monday, October 19, 1987, Art Hogan, then a floor broker at the Boston Stock Exchange, expected a possible rebound for stock prices. Nothing had prepared him for what was to unfold.
"It was clear in that first hour… this was going to be as bad as we've seen in our lifetimes," said Hogan, now chief market strategist at Wunderlich Securities in New York."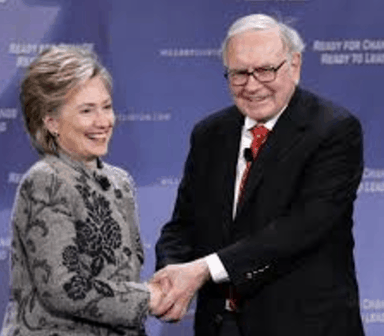 Now, the shocking truth is that several times in the life time of every 40+ American, we've seen the markets and economy upended.
What we will posit today, that will tee up that upcoming report is that history could be repeating, if policy makers fail to do what's necessary.
Watch for that upcoming, MHProNews Special Report, because it's our country, and our money.
"I will tell you how to become rich. Close the doors. Be fearful when others are greedy. Be greedy when others are fearful." – Warren Buffett.
"What we learn from history is that people don't learn from history." – Warren Buffett, Chairman, Berkshire Hathaway. Parent to Clayton Homes, industry lenders, retailers, and suppliers.
See Recent Exclusive 1 Year Snapshot of All Tracked Stocks
http://www.MHProNews.com/blogs/daily-business-news/manufactured-housing-industry-markets-wall-street-reacts-to-trumponomics-1-year-data-snapshot/
NOTE: the chart below covers a number of stocks NOT reflected in the Yahoo MHCV, shown above.
NOTE: Drew changed its name and trading symbol at the end of 2016 to Lippert (LCII).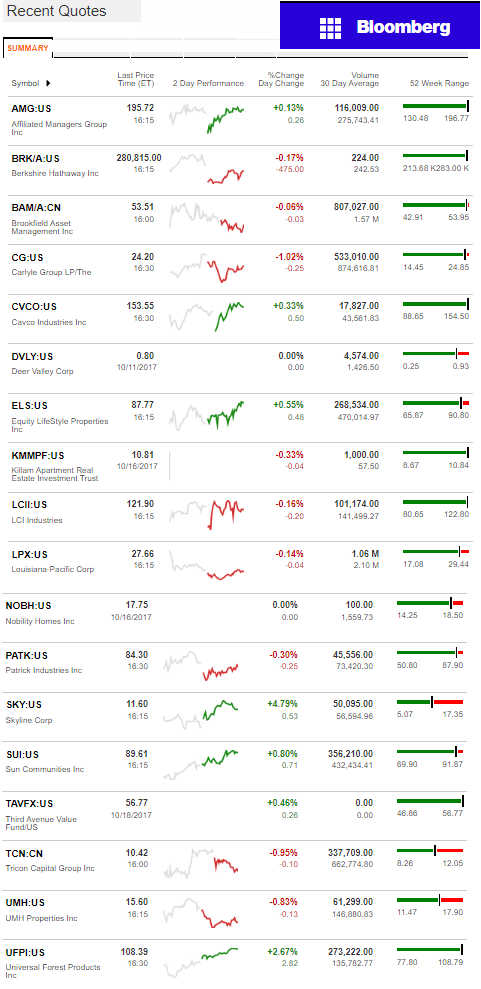 Berkshire Hathaway is the parent company to Clayton Homes, 21st Mortgage, Vanderbilt Mortgage and other factory built housing industry suppliers.
LCI Industries, Patrick, UFPI and LP all supply manufactured housing.
AMG, CG and TAVFX have investments in manufactured housing related businesses.
Your link to a recent round of industry praise for our coverage, is found here.
For the examples of our kudos linked above…plus well over 1,000 positive, public comments, we say – "Thank You for your vote of confidence."
"We Provide, You Decide." © ## (News, Analysis.)
(Image credits are as shown above, and when provided by third parties, are shared under fair use guidelines.)

Submitted by Soheyla Kovach to the Daily Business News for MHProNews.com.