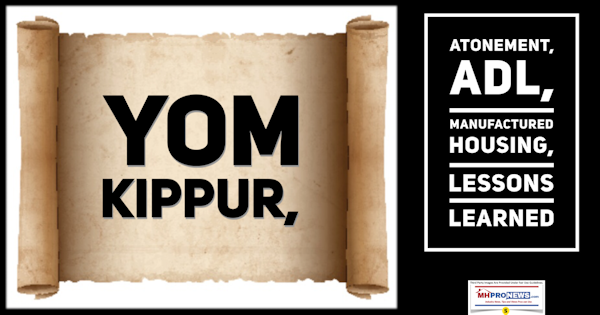 This evening begins the Jewish observation of Yom Kippur, their "Day of Atonement." It runs from the evening of September 18, until the evening of September 19th. Chabad says it is the holiest day of their year. There are numerous people of Jewish decent in manufactured housing, including in top roles as owners, presidents, executives, and managers.
The proper greeting for this Jewish high holiday is "G'mar Hatima Tova" ("May you be sealed in the Book of Life"), or the shorter version "G'mar Tov." Toriavey says that "It is also customary to say "Have a meaningful fast" before the holiday begins.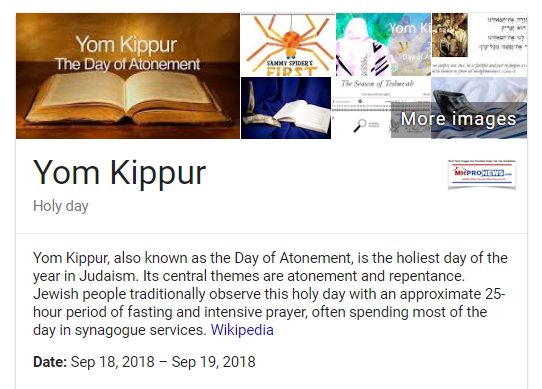 Evangelical Christians have for years shown support for the Jewish state of Israel. The late great Catholic Pope John Paul II respectfully called Jews their "elder brothers in faith." The latter is an interesting phrase, because a common view is that the first major religion in world history was the faith of the Jews.
President Donald J. Trump's son in law and key adviser, Jared Kushner, his wife (the president's daughter) Ivanka, and their children are Jewish. Survey American society, and the role of Jews in business, medicine, the arts, media, the law, and more are discovered.  The Daily Business News on MHProNews won't enumerate the privately held beliefs of individuals in this column, but we wish our Jewish friends and colleagues that they have a meaningful fast.
Atonement is an important concept. It admits that sin – an immoral act that is considered an offense against the Divine Will – exists. It further admits that sin creates a kind of debt that must be paid, or atoned for by a ritual fast.
Naturally, Christians and other faiths have a belief in sin as well. The need to atone for and/or confess sin has elements of common belief for billions globally.
Lessons Learned
For Jews, there history has been marked by oppression and even slavery by others for millennia. The best-known example is the slavery of the Jews described in the Book of the Exodus, which eventually ended when Moses – guided by the Divine and aided through miracles – led his people into freedom. But other examples of oppression are found in Scripture and exist down through the ages. The experience of the Holocaust in Nazi Germany is a stark reminder of how some 12 million died in enslaved labor camps, roughly half of them Jews, the balance being other individuals declared 'enemies' of the Nazi state.
That Holocaust experience resulted in the creation, post-World War II, of the Jewish nation of Israel.  It was not without controversy, and to put it politely, Israel's very existence remains a thorny point for Muslim nations that surround them. While a relative peace exists, Israel is constantly battling with terrorists, and fencing with those who've openly declared their desire to see Israel destroyed.
That type of history helps explain why here in the U.S., the Anti-Defamation League (ADL) and other Jewish defense organizations exist.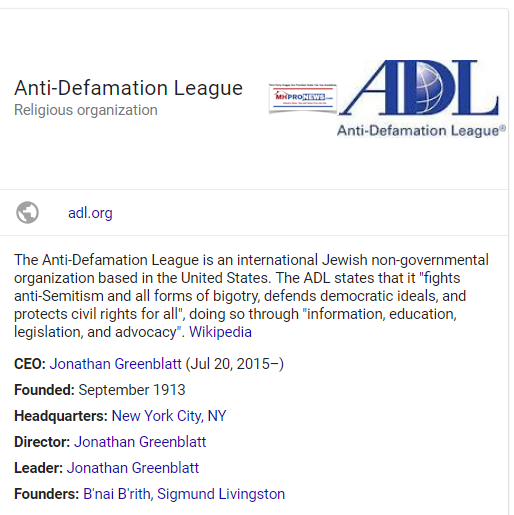 Our MHProNews publisher, L. A. 'Tony' Kovach, has said for years that manufactured housing could use its own version of the ADL. While there is no moral comparison between slavery and lives being unjustly sacrificed, to the threats that face manufactured housing professionals, there is nevertheless lessons to learn from the Jewish experience, and the ADL.
The ADL is widely seen as successful at defending Jewish interests against various anti-Semitic attacks, slander, etc.
Religious feasts and holidays – which has at its root the contraction of the words "holy days" – are reminders that everyone needs in order to forge a more just society.
In a world were evils exists, peace, freedom and prosperity come at a price. One need but look at some groups sadly operating in the U.S. today that act like brownshirts, while hypocritically claiming to be "anti-fascists."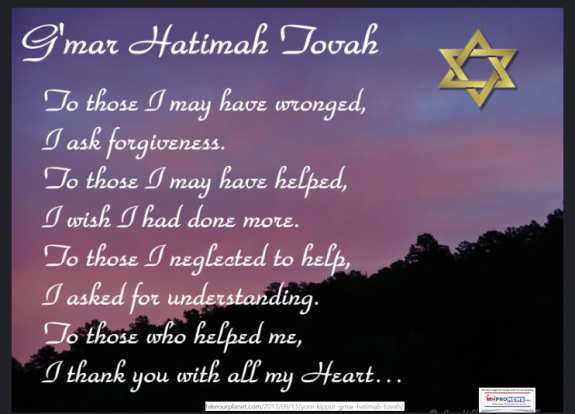 Education, information, strength, humility, a sincerely robust practice and sharing can lead to a better America, to better conditions for our industry, and our society. That's "News through the lens of manufactured homes, and factory built housing." © where "We Provide, You Decide." © ## (News, analysis, and commentary.)
(Third party images and content are provided under fair use guidelines.)
1) To sign up in seconds for our MH Industry leading emailed news updates, click here.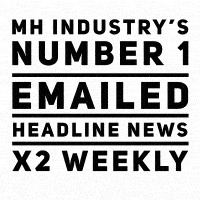 2) To pro-vide a News Tips and/or Commentary, click the link to the left. Please note if comments are on-or-off the record, thank you.
3) Marketing, Web, Video, Consulting, Recruiting and Training Re-sources
Submitted by Soheyla Kovach to the Daily Business News for MHProNews.com. Soheyla is a managing member of LifeStyle Factory Homes, LLC, the parent company to MHProNews, and MHLivingNews.com.
Related Reports

:
Shanah Tovah, Happy Rosh! About Leaping Cultural Barriers, and Where the Buck Stops