Genius. Empathy. Skills. Each has a role professionally.
While IQ is important, EQ – the "Emotional Quotient," says Jeff Desjardins – is what separates genius, and understanding.
That's the value of Aumann Bender & Associates groundbreaking work in "Emotional Intelligence." 
Manufactured Housing – Work Types
The HUD Code manufactured home industry is made up of numerous types or kinds of work, and various styles of workers.
For example:
Factory,
Financial Services,
Retail and Wholesale,
Communities, Developers,
Association and Non-Profits,
Installers, Transporters,
Consulting, Experts,
Marketing, Business Development, Communications,
and so on. Beyond those are others that the industry interacts with, such as public officials and the media.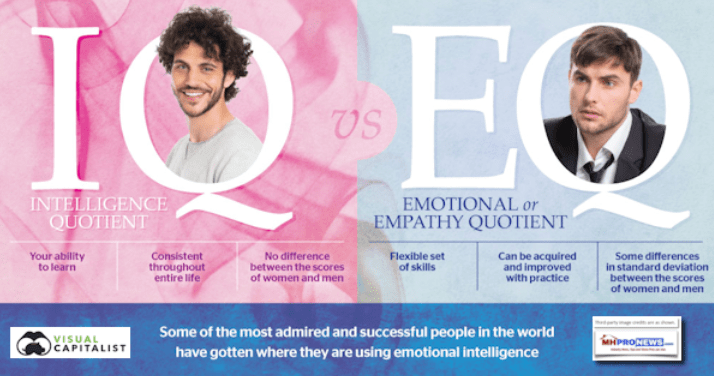 While intelligence, native skills and other factors are useful in these varied categories found in manufactured housing, so too is the ability to empathize and relate to others.
Defining Emotional Intelligence
Desjardins in defining EQ says, "Have you ever met an entrepreneur with so much empathy and awareness, that they can read people in every situation and relate? Or a salesperson that will always genuinely put your success ahead of their own personal gain?"
He says that those qualities are useful in business and other fields of work, "These are powerful qualities – and emotional intelligence is all about the ability to better navigate social situations, including with colleagues, bosses, and clients."
Desjardins states that, "emotional intelligence explains why 70% of the time, a person with an average IQ can actually outperform a person with more smarts."
Why?
Because, "Even if someone is smart in terms of IQ, it doesn't necessarily translate to career success."
"Cold, Hard Facts" EQ and IQ – QUANTIFYING EQ
"Although the topic of emotional intelligence may seem "touchy-feely" for some," says Desjardins, "the benefits of having a higher EQ are cold, hard facts to ponder."
The Visual Capitalist editor then lays out his bullets, using Aumann Bender & Associates research and infographic.
A whopping 90% of top performers have high EQs
Emotional intelligence explains 58% of a leader's job performance
People with higher EQs make an average of $29,000 more per year than people with lower EQs
Every one-point increase in EQ equates roughly to $1,300 in annual salary
Research shows that EQ is crucial across all industries and sectors
Using those bullets, Desjardins says, "the next time you're looking at how to get an edge at the workplace, consider that it's not just knowledge or skills that you should be after."
Discovering and Applying Insights for Manufactured Housing Success 
That manufactured home professionals need to connect better with the rest of the world is clear from the fact that the industry's market share is small, yet the need for affordable housing is so great.  Could EQ – greater empathy – be a tool in tapping into the industry's tremendous potential?
The EQ infographic itself – found below – is clearly tilted left in terms of those personalities that are featured.
While the left-right media guide doesn't have a list for those types, just knowing the personalities makes identifying the politically correct tendencies of those shown easy to spot.
That politically correct tilt noted, the value of EQ clearly crosses political, economic, social, religious, professional or other spectrums. Many can exhibit the qualities – and benefit from the insights – found in Aumann Bender & Associates work on EQ.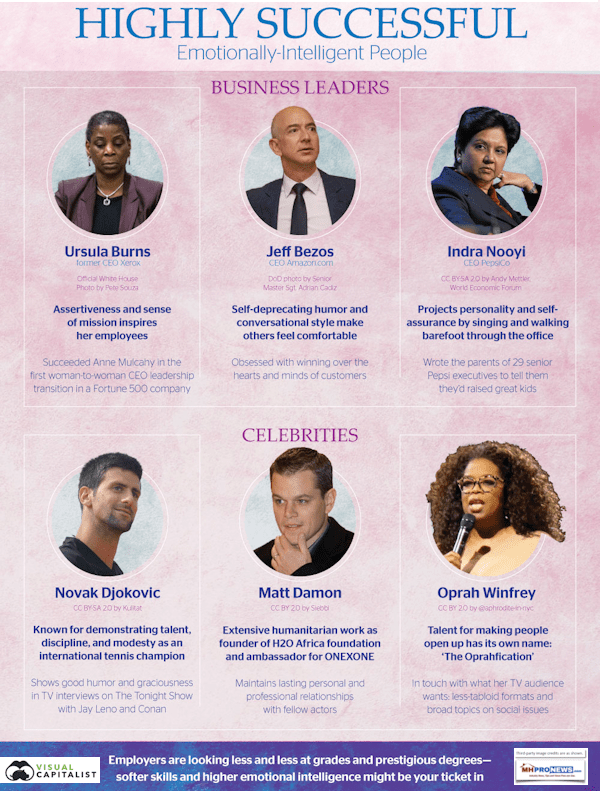 Desjardins said, "Sometimes there is a higher ROI in the "soft skills": being more self-aware, learning how to effectively express your opinions or emotions, finding ways to bounce back from adversity, or managing stress or negative emotions can be more important than technical skills in improving career performance."
Hiring?  Interacting with others?  Seeking understanding?
Each of the points above are worthy food-for-thought for leaders, human resource specialists, and those who are climbing the ladder of success.
"We Provide, You Decide."  © ## (News, management, leadership, analysis.)
(Image credits are as shown above, and when provided by third parties, are shared under fair use guidelines.)

Submitted by Soheyla Kovach to the Daily Business News for MHProNews.com.