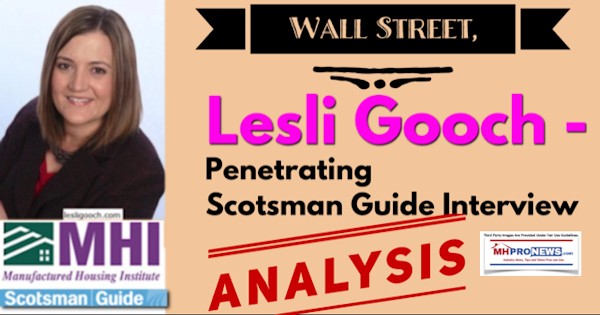 Timely information combined with money can move stocks and markets. Information may be legally or illegally used, as the growing storm clouds over Cavco Industries (CVCO) concerning certain trades by Joe Stegmayer and Cavco reminded the manufactured home industry and its investors.  But note that Stegmayer and Cavco are not directly tied into today's analysis, though they will be the focus of a looming report.
There was an interview reported this past week by the Scotsman Guide with the Manufactured Housing Institute (MHI) Executive Vice President (EVP) Lesli Gooch, Ph.D. That publication has quoted MHI previously.
Before examining Gooch's comments and their timing, one should pause and do a brief refresher on the award-winning Oliver Stone movie, Wall Street.  Some selected quotes from Wikipedia will serve to tee up the ball, by conveying plot-lines that convey fictional but still useful concepts.  Each bullet is a quote from the link here.
•     Bud Fox is a junior stockbroker at Jackson Steinem & Co. in New York City. He wants to work with his hero, Gordon Gekko, a legendary Wall Street player.
•     Bud provides him [Gecko] some inside information about Bluestar Airlines, which he has learned in a casual conversation with his father, Carl, leader of the company's maintenance workers union.
•     …Gekko offers Bud another chance, and tells him to spy on British CEO Sir Lawrence Wildman and discern Wildman's next move. Bud learns that Wildman is making a bid for a steel company. Through Bud's spying, Gekko makes money, and Wildman is forced to buy Gekko's shares to complete his takeover.
•     …Bud is promoted as a result of the large commission fees he is bringing in and is given a corner office with a view. He continues to maximize inside information and use friends as straw buyers to provide more income for him and Gekko. Unknown to Bud, several of his trades attract the attention of the Securities and Exchange Commission.
•     …Bud devises a plan to drive up Bluestar's stock before manipulating it back down…" 
The MH Evening Market Report 
Every evening for several years, the Daily Business News on MHProNews does a closing market recap of specific manufactured housing industry connected stocks after the closing bell. What years of observations have yielded helped forge an evolving evening market report. Every business news show or website is premised in part on the notion that news stories, data, headlines, and insights often move one or more stocks, or even the broader markets.
For balance, MHProNews uses bullets from CNN Money and Fox Business, to allow for the media's evident left-right divide. We use closing market data from CNN, Yahoo, and Bloomberg too.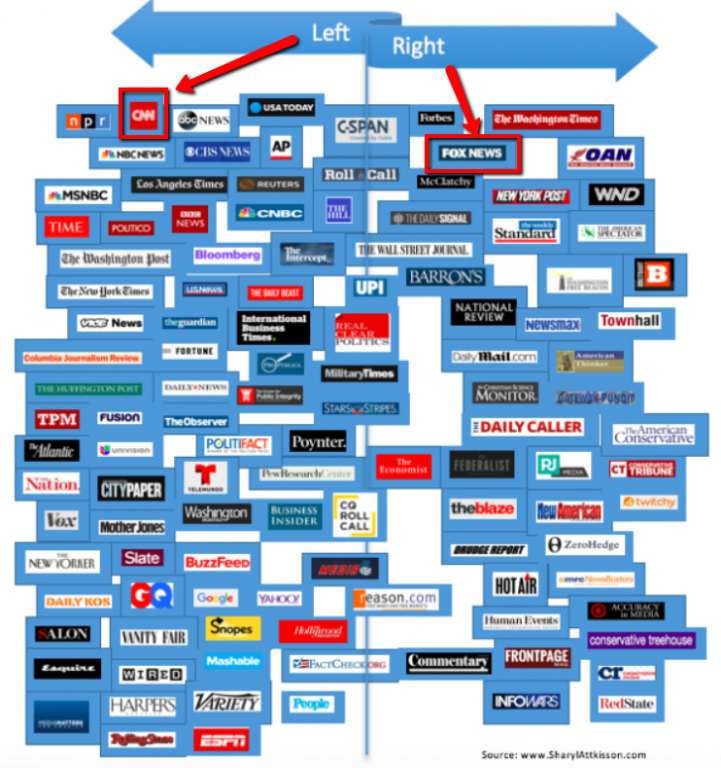 That a mere statement can move stocks and/or the broader markets is beyond question. For example:
Warren Buffett, Jeff Bezos, and Jaime Dimon made a public announcement in 2017 on the day of President of the United States (POTUS) Donald J. Trump's State of the Union (SOTU) Address. Healthcare stocks, and much of rest of the markets dropped that day, as an apparent result.  Prior to that, stocks had enjoyed a long, steady rise.
Words and ideas apparently matter to Wall Street and investors. Who speaks those words matters too.
With that backdrop, let's consider what "Dr. Gooch" from MHI said to the Scotsman Guide, as well as what occurred. There are no specific allegation being made. But the facts, quotes, narrative, and the outcomes after the shutdown will be considered. 
Let's next look at some selected items from Scotsman Guide (SG) Media's About Us page.
"Scotsman Guide, the leading resource for mortgage originators, is published nationally every month in separate residential and commercial editions…
Our History
"Scotsman Guide Media is privately held company that has served the mortgage lending industry since 1985…
Mission Statement
"Scotsman Guide Media's mission is to be the leading provider of information, resources and tools for professionals in the mortgage industry —in both the residential and commercial markets.
Toward this goal, Scotsman Guide Media has been taking the following steps…
•         Publishing educational articles and in-depth news-based features that keep mortgage professionals apprised of market trends and developments…"
The Daily Business News on MHProNews now turns to the actual SG article, starting with the date, time stamp, and featured image as shown.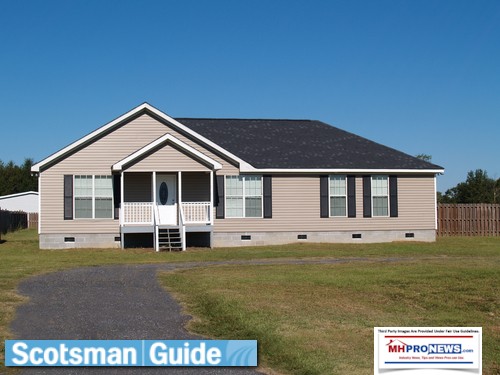 Top Headlines 
Jan 22, 2019  16:50 ET.
Shutdown threatens manufactured-home industry
The government shutdown hasn't widely affected the manufactured-housing industry yet, but a prolonged closure has the potential to stop deliveries of new manufactured homes all over the country, an industry trade group says. 
The U.S. Department of Housing and Urban Development's (HUD's) Office of Manufactured Housing, an agency that oversees the building code and certification process for manufactured homes, has been closed during what has become the longest government shutdown in U.S. history. This has only so far affected manufacturers producing homes that require letters of approval for alternative construction, according to the Manufactured Housing Institute (MHI), an industry trade group.  
HUD often opts to approve alterations in approved floor designs or other features in manufactured homes on a case-by-case basis.  Because of the shutdown, HUD's office can't do that, leaving some manufacturers in limbo, said Lesli Gooch, MHI's senior vice president for government affairs.
"If you don't have approval through the alternative-construction process, that house can't be delivered because that house can't receive the HUD code-certification label," Gooch told Scotsman Guide News. "We have a lot of manufacturers."
Gooch said one plant in Mississippi, for example, was awaiting approval last week from HUD to install an HVAC unit that isn't on its approved list. That company is producing manufactured-home units for the Federal Emergency Management Agency (FEMA).
"Because HUD is closed, they are not going to get approval, which means the production of these FEMA units is on hold until they get approval," Gooch said. She said the trade group is still investigating how many deliveries have similarly been disrupted.
"I don't have a sense of how large a problem this is as far as production being halted because of the need to renew an alternative-construction letter or the need to obtain an alternative-construction letter," Gooch said. "The Mississippi issue is one that I was contacted about just because it is one federal agency requesting homes, and they can't be built because HUD is closed," she said.
Gooch also said there is the potential for widespread problems should the shutdown drag on for another month. MHI believes there is a possibility that the supply of HUD tags could run out because of the closure and budget impasse.  
Every manufactured home that is built and delivered in the U.S. — roughly 8,000 per month — has to be inspected and certified as having met safety standards. Once inspected, the manufacturer is given a red-metal tag, which is affixed to the exterior of the building to verify that it meets the standard. The home can't be delivered to a customer until it is tagged.
"Based on our research, the industry's PIAs [primary inspection agencies] should have enough labels on hand to get through the end of February," Gooch said. "If the government shutdown continues, early March is our first estimate of when a problem could develop." 
For the duration of the shutdown, HUD has also stopped the Title 1 loan program, which backs a small number of chattel loans each year used by borrowers to buy manufactured homes that aren't titled as real property.  
 ## End of SG article being reviewed ##
The original article from the Scotsman Guide is linked here, and a download of the screen capture of that article's page as of the date of this Daily Business News on MHProNews post is linked here.
Now, let's turn to two graphics from our evening market reports.  The first is from the evening of 1.23.2019.  This would be the day after Gooch's quoted commentary, shown above.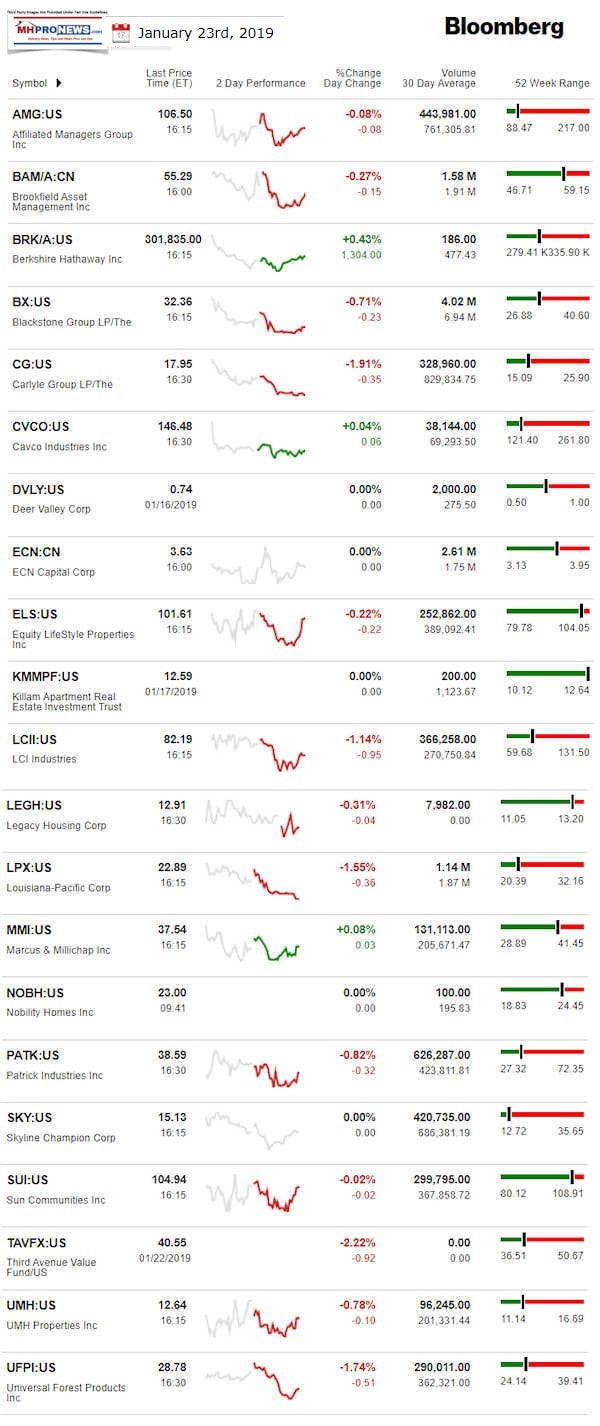 The next graphic is from the evening of 1.25.2019, after the end of the partial federal shutdown was announced.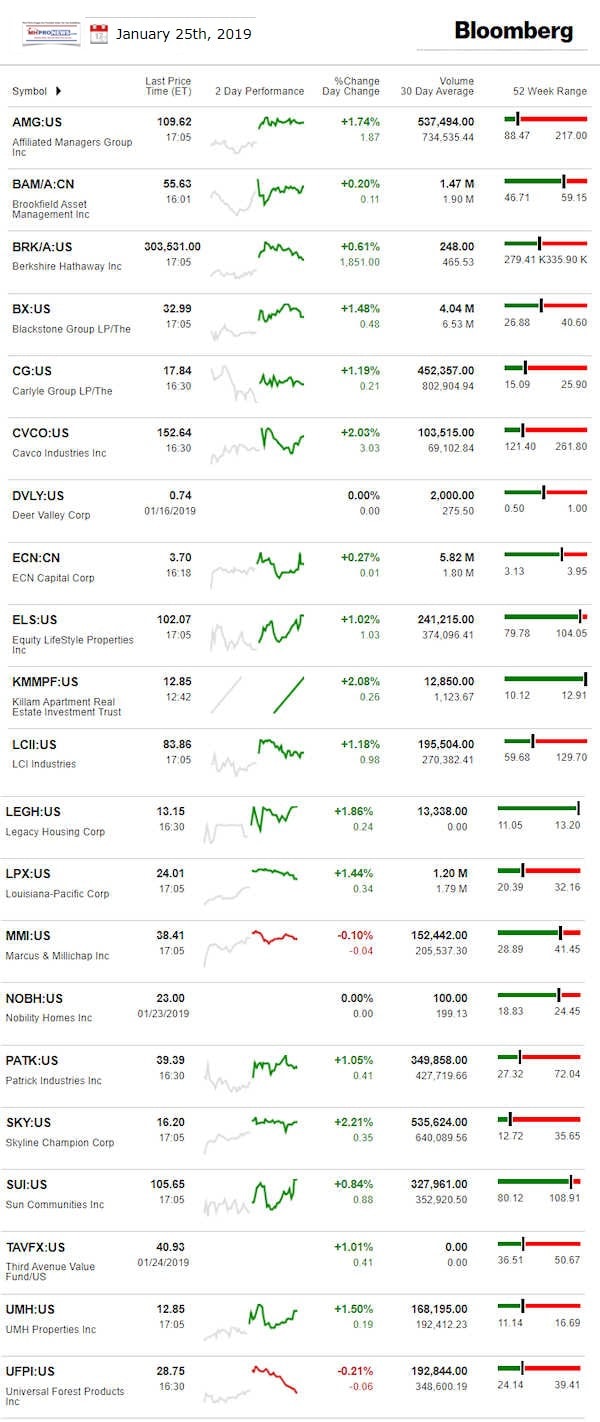 Note that there was already Washington, D.C. and media scuttlebutt that a deal to end the recent shutdown was already in motion at the time the Scotsman Guide article was published.  Note too what the broader markets did on both days, which largely closed up.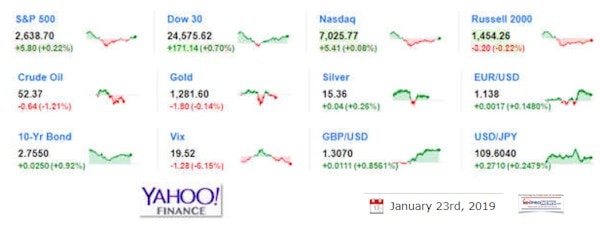 Then consider this point.  There are arguably few manufactured home industry professionals, much less stock market watchers and investors, who would have even considered the notion that a partial federal shutdown could impact manufactured housing at all.
So why make did Gooch make those comments in the first place?
As was noted at the top of this column, Joe Stegmayer is under the cloud of an SEC subpoena. He stepped down as Chairman and CEO of Cavco, and the stock plunged as a result. A follow up report on that topic is pending, as there are new developments learned about that fiasco, which will be reviewed in the days ahead by MHProNews. 
But for now, we will simply note the obvious. Stegmayer is still MHI's Chairman. He is an ex-division president of Clayton Homes, a Berkshire Hathaway company. Since the time that Triad Financial Services CEO Don Glisson, Jr was briefly their chairman, MHI apparently has had no problem with keeping someone on as chair that has come under a cloud of legal or media suspicion. Consider these three. 
•   Better Business Bureau (BBB) "F rated" SSK Communities' partner Nathan Smith, 
•   Tim Williams, President and CEO or Berkshire Hathaway owned 21st Mortgage Corp, and
•   Joe Stegmayer of Cavco Industries (CVCO) have all come under a cloud of legal, media, regulatory, and/or some other combination of suspicion. 
None of those 3 bothered to step down as MHI Chairman.   Although MHI has postured efforts for growth for years, the industry has steadily been consolidating. Sales have been moribund, in spite of overall quality and satisfaction that third party research has documented. One such example of their party praise is linked here.
Questions, Questions…
There ought to be some open questions from investigators that seek honest answers as to why Gooch would make these statements in the first place.
Who did or might have benefited from Gooch's odd statements?

Who did this potentially impact – or which firms might have been harmed – by Gooch's statements?

Were her arguably misguided comments merely foolish? Or where they a page out of the MHI play book – namely, actions and/or inactions that harm independents – that also fits loosely with a plot-line of the movie

Wall Street?
What is certain is that Congressional hearings and an SEC investigation ought to be conducted related to several issues connected to the Manufactured Housing Institute. But it won't be only about the article reviewed above. It should also be about the facts and evidence from articles linked below the bylines and the notices that follow.
We opened this with the words, "Timely information combined with money can move markets. Information may be legally or illegally used…"  There's an affordable housing crisis.  Yet, manufactured housing is snoring instead of roaring.  MHI claims to be promoting the industry.  How did Gooch's comments promote confidence?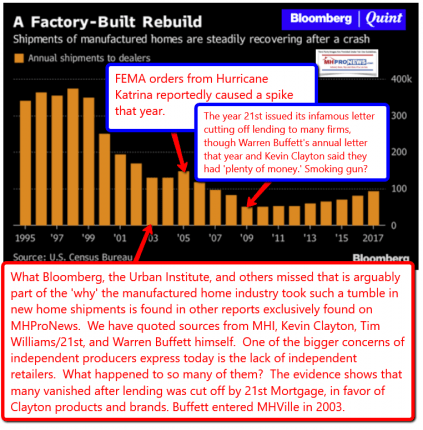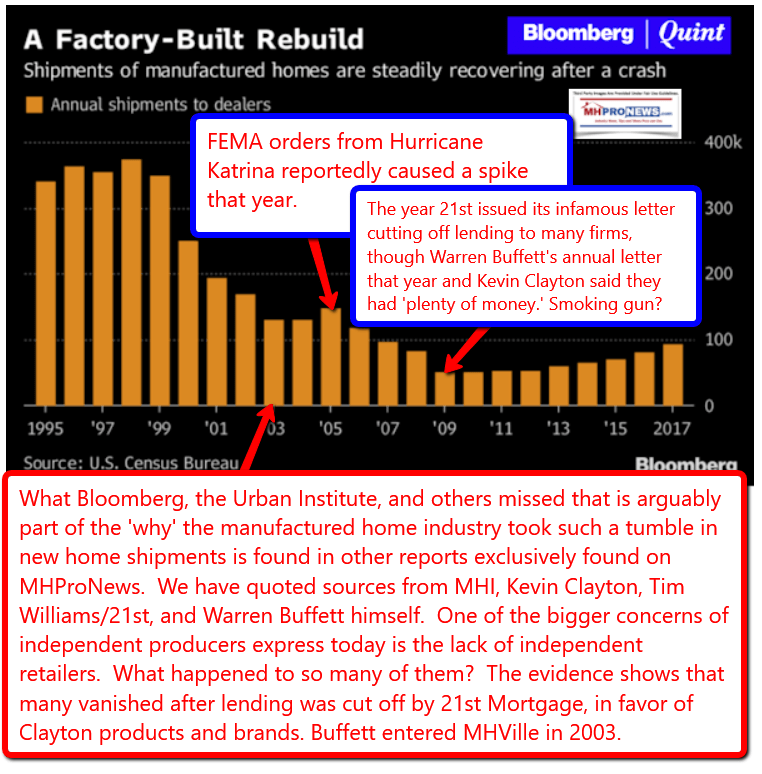 Corruption, waste, fraud, and other abuses in the Washington, D.C. metro are not new.  But that doesn't mean that they should be tolerated.
Something has smelled in certain offices in Arlington, VA for some time. And it's not a flowery aroma.  Rather, it's arguably the stench of a string of troubling incidents and concerns connected to MHI that has made them worthy of suspicion, which our coverage and analysis of such #nettlesome things have made this pro-manufactured housing growth publication the most widely read trade media in this industry today. 
That's MH "Industry News, Tips, and Views Pros Can Use" © where "We Provide, You Decide." ## © (News, analysis, and commentary.)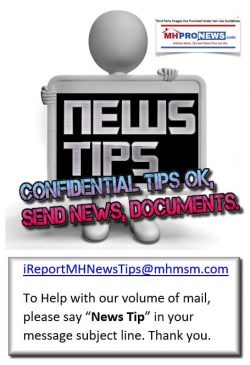 NOTICE: You can get our 'read-hot' industry-leading emailed headline news updates, at this link here. You can join the scores who follow us on Twitter at this link. Connect on LinkedIn here.
NOTICE 2: Readers have periodically reported that they are getting a better experience when reading MHProNews on the Microsoft Edge, or Apple Safari browser than with Google's Chrome browser. Chrome reportedly manipulates the content of a page more than the other two.
(Related Reports are further below. Third-party images and content are provided under fair use guidelines.)
1) To sign up in seconds for our MH Industry leading emailed news updates, click here.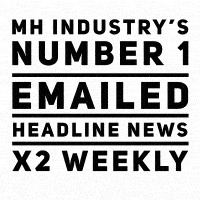 2) To pro-vide a News Tips and/or Commentary, click the link to the left. Please note if comments are on-or-off the record, thank you.
3) Marketing, Web, Video, Consulting, Recruiting and Training Re-sources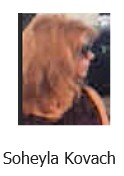 Submitted by Soheyla Kovach to the Daily Business News for MHProNews.com. Soheyla is a managing member of LifeStyle Factory Homes, LLC, the parent company to MHProNews, and MHLivingNews.com.
Related Reports

:
You can

click on the image/text boxes

to learn more about that topic.
MHI CEO Dick Jennison's Pledge – 500,000 New Manufactured Home Shipments
America woke up today to division. But perhaps 75 percent (+/-) of the nation's people could come together on a plan that demonstrably could do the following. Increase the U.S. Gross Domestic Product (GDP) by some $2 Trillion Annually, without new federal spending.
Midwest Manufactured Housing Federation Official Louisville Show Communique to MHProNews
Motion – or, more accurately, activity – in and of itself, is not necessarily synonymous with, or equivalent to, realprogress, or, in fact, any progress at all.
Washington, D.C., January 3, 2019 – The Manufactured Housing Association for Regulatory Reform (MHARR) reports that according to official statistics compiled on behalf of the U.S. Department of Housing and Urban Development (HUD), HUD Code manufactured home production declined once again in November 2018.