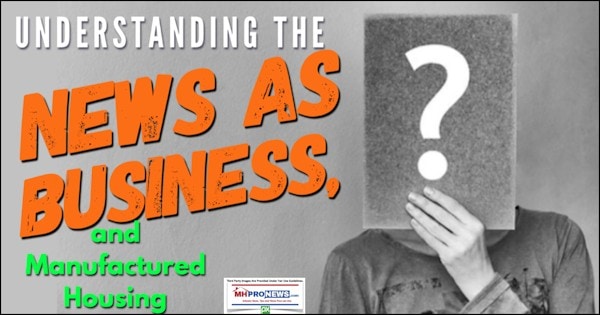 News is a business. Period.
News as a business can provide useful, authentic, manipulated, and/or weaponized information.  Like any product or service, there are better ones, and worse ones.
Manufactured housing professionals have plenty of reasons to properly engage with news media, but also need to be wary of them too.
News can be created or framed in a variety of ways that suits the purposes of special interests, sponsors and/or corporate owners. Most know, but for those who don't, one must realize that a smaller firm will not likely get the same treatment that a subsidiary of say Berkshire Hathaway will get.
News should therefor be treated with a level of skepticism.  It merits the same level of 'buyer beware' as you would extend to any major purchase you are about to make.  But just as you don't skip buying a house or a car – just because it may have problematic players in those fields – one should similarly not tune out news entirely. Rather, it has to be filtered, just as sales talk is tested and filtered.
Because many in media are selling – or trying to sell – you on their point of view. BTW, we are transparent about our positions: we're pro-industry, pro-consumer, and for maximum freedom under the rule of just laws.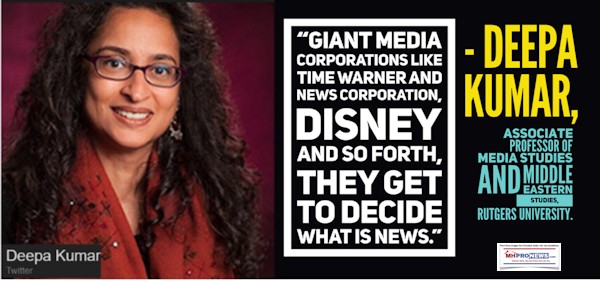 Agenda News and Manufactured Housing
There are arguably still journalists that want to do straight news. Regardless of your political views, the fact that third-party research has determined that over 90 percent of the mainstream media's coverage of President Donald J. Trump is negative should tell you much. When one looks at how fawning some in the mainstream media are over other world leaders or personalities – and those others routinely have much lower approval rating than POTUS – it speaks volumes that President Trump's approval ratings are still hovering in the mid-to-upper 40s.
That's astonishing, and it is a clear sign that millions of Americans wisely distrust much of what they hear from media in terms of politics.
Rephrased, the data in recent years suggests that millions are increasingly filtering and sourcing the news with greater care.
But the filter for the American – or Canadian – populations are demonstrably not yet as refined toward subjects covered by the media, beyond politics. Among those is our industry.
Manufactured homes are misunderstood for a variety of reasons, one is that associations like the Manufactured Housing Institute (MHI) have arguably failed in making good on their claims of promotion. Say what you will in defense of MHI, but the latest shipping data speaks for itself.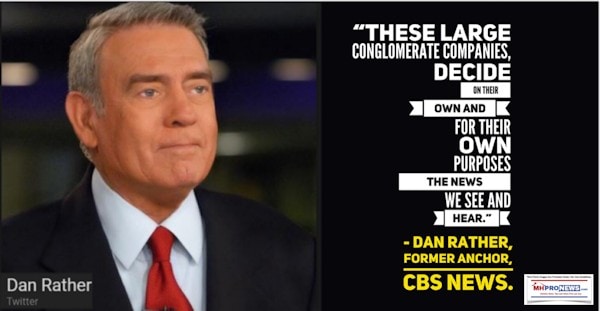 What does that mean to small to mid-sized businesses?  Simply this.  You have to be proactive in your own market.  It also means that we as professionals better start by educating our team members about the realities of mainstream media.  To some, whatever a newscaster says is gospel. Sorry, but that isn't always so. Who says? Award-winning journalist, Sharyl Attkisson.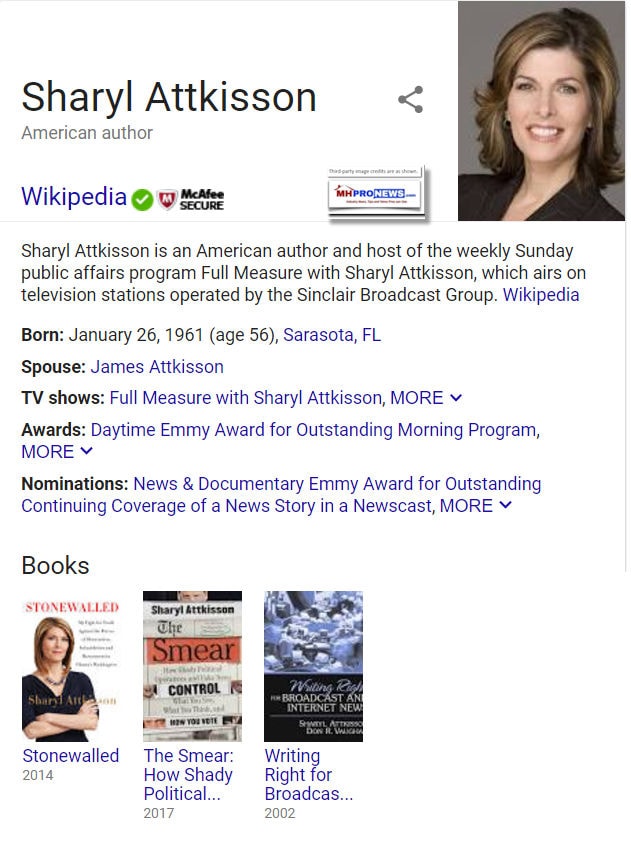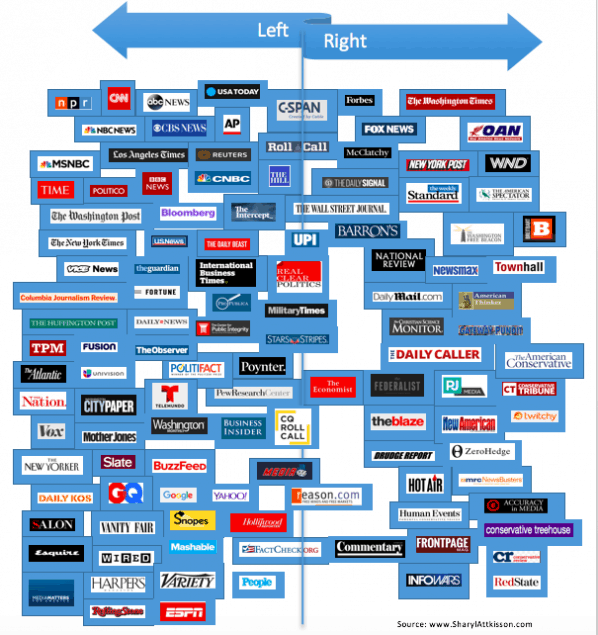 Is Ms. Attkisson the only one who thinks this or says so?  Hardly, see the quote below, or the more details reports about media linked in the boxed reports below the byline and related.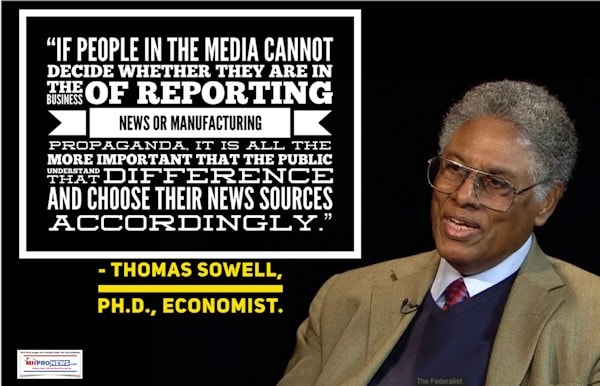 Media, Engagement, and the Manufactured Housing Challenge 
The challenge for manufactured housing in the era of agenda journalism can be boiled down to a simple point. Beyond politics, millions arguably still accept local or national news media less critically.
Furthermore, the negative beliefs about manufactured homes are so pervasive, that those in media often tend to believe what they are saying. Every negative news story about manufactured housing is in a sense normal to them.
This challenge can be addressed at the local market level. Media engagement pays, but most people in business do so in a sadly ham-handed fashion that's so obviously seeking free media coverage, that a trained journalist, seasoned producers, and editors will tune out.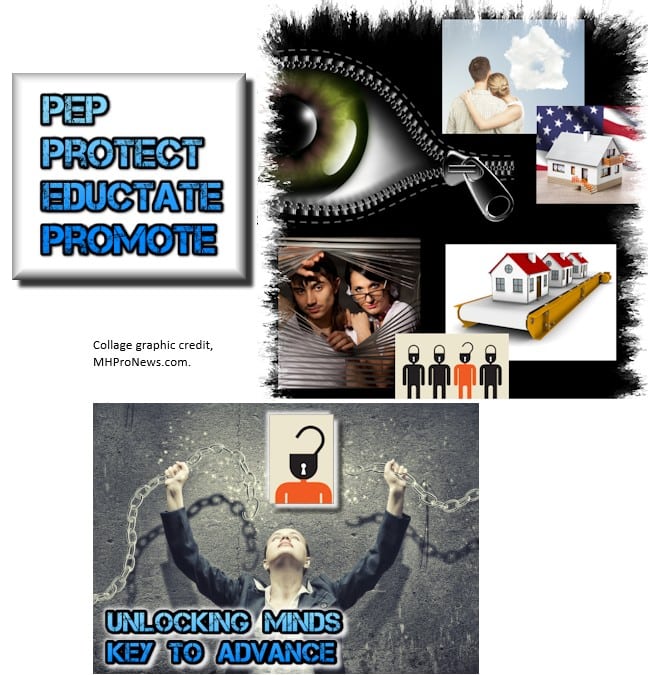 Education, Education, Plus PEP Defense are Keys 
In our years of experience in engaging with mainstream media or researchers – while there may be agendas lurking with a given source – nevertheless, neither media nor researchers want to be embarrassed.
At a minimum, many want their report to be plausible or close enough to the truth so that they don't lose credibility. Others sincerely want to do a good job of reporting. That can be especially true with local media reporting on local news.
It's essential for those professionals with long-term goals in manufactured housing to make media engagement – done correctly – as part of your mix for sustainable success.
As an example, we've had success on several occasions getting good coverage for ourselves or clients by using the proper engagement formula. That begins with authenticity, plus having something of interest to them. News wants a topic with a hook for their audience. News as business want eyes, ears and clicks. If it is print journalism, they want to sell newspapers or magazines.
Because manufactured homes are so different, the typical reputation defense or other media relations firm or professionals are often of little use, and can be costly. Let's look at a recent 2 year example.  For a few moments, lets give MHI the benefit of the doubt, and say that they and their now departed PR person, Patti Boerger, did their best. If so, that proves our point.  How so?  The debatably sad reality is that MHI either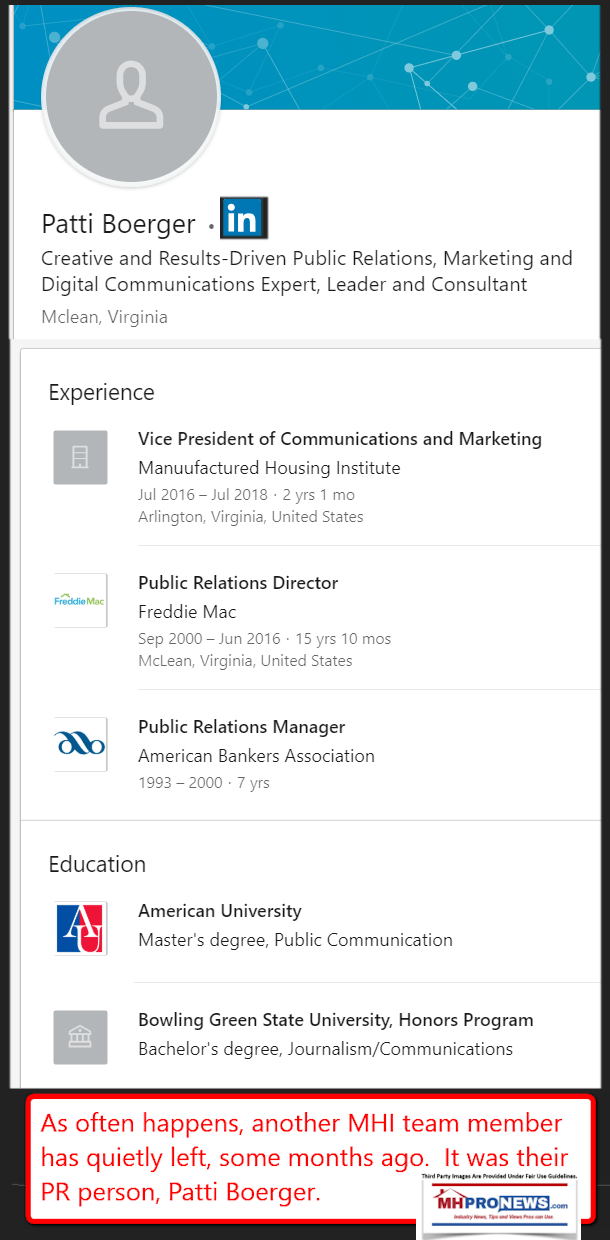 Why?
Why is it so hard for pros in PR, marketing or media – people that may be just fine in another venue – why do they have so much trouble in formulating a message or campaign that actually works for manufactured housing?
Frankly, there are so many variables, it takes months or years of near-hands-on experience for fancy firms or people with even fine resumes to get up to speed with all of the nuances of MHVille. As a brief plug, for those who want such coaching or professional services in media engagement or marketing/business development services – click here.  Arguably none of those outside firms has done better than our team has at getting real, bottom line results.  A high profile example of our successful work is the widely recognized return of the Louisville Manufactured Housing Show. See a letter of several letters of praise, linked here.
The two month trend of:
year-over-year dip in new manufactured home shipments in the latest report,
the routine drum beat of largely negative media – that often have correctable mistakes – aren't the only factors.
But media and messaging are ones that savvy industry professionals must grasp as they plan for 2019 and beyond.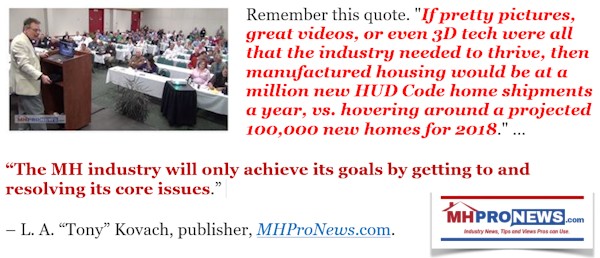 MHVille Conclusion for this Report on Media Engagement
For our part, out of necessity, we began to approach trade media in manufactured housing differently.
Sharyl Attkisson is correct in saying there should be no blurring of the lines in mainstream news media between news and opinion.
In manufactured housing, the only trade publishing being done is almost all arguably agenda driven.
Some MHVille blogging or publishing is thinly veiled marketing or spin. Some doesn't bother to even hide the fact that there is an apparent agenda. Some other sources out there exist to toot the horn of a given company, writer, professional(s), or organization. That doesn't mean it's all wrong. But it does means that it should be approached like an ad for a product or service. Skeptically.
MHI praised MHProNews for years, and acknowledged in word and in writing our role as the largest and most popular media in the industry.  With that understanding, imagine the thoughts at MHProNews HQ after receiving various threats related about reports related to DTS and other topics – some in writing from and by MHI and their connected attorneys.  Let's note people in America can sue for whatever.  But as a result of various threats, we prudentially opted to simplify our reports in the following manner. Almost every Daily Business News on MHProNews item is now marked "news, analysis, and commentary."
The result of that pivot in our reports, which began last year? The written threats we were previously getting from MHI, their allies, and their attorneys have since stopped.
We put facts, evidence, reason, and commentary into our Daily Business News or Masthead reports. We give MHI, Berkshire Hathaway brands and others the opportunity to comment. We give those who want to defend MHI, Clayton, 21st, Vanderbilt, et al the ability to comment. The report linked boxes found further below – click a box to access it – are but some examples.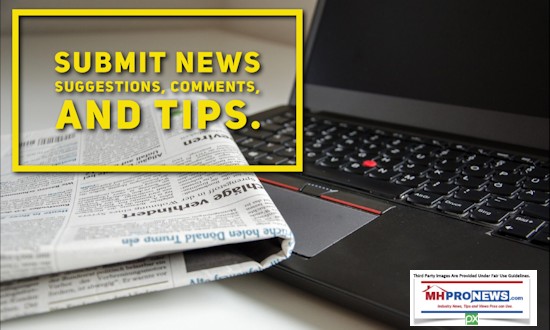 We follow the evidence, the claims vs the performance, and the money. Then we say, "We Provide, You Decide." © That's fair, authentic, and respectful.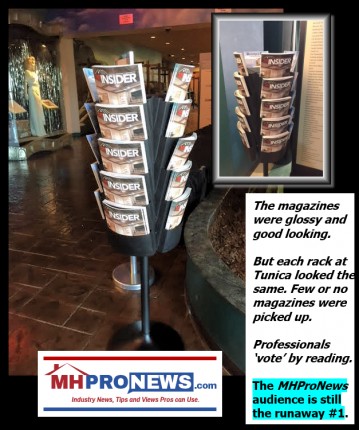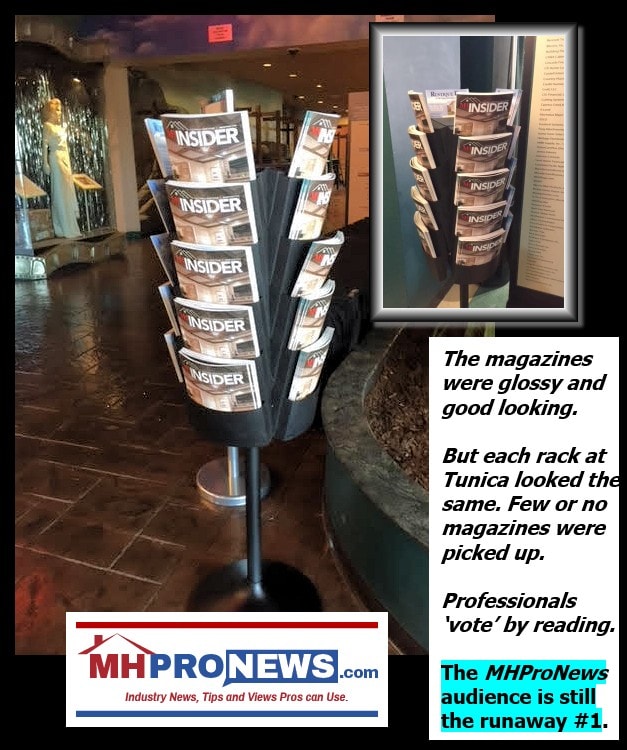 The bottom line results of our pivots, follow the facts, follow the evidence, and follow the money mantra?
Our readership has soared over the last year. We'll show actual updated third-party generated numbers in an upcoming report. To keep it simple, we were already #1, but now our audience has more than doubled. We thank you and all involved for making that a truism.
When mainstream media or other researchers come to MHProNews, they see we are different than they are. That's true on many levels, including disclosure. But it's a difference that is arguably good for our industry, and that they recognize.
You don't need a milquetoast covering the rough and tumble manufactured housing beat. You and thousands of others like you today voted their craving for what MHProNews produces, where "We Provide, You Decide." ©  ## (News, analysis, and commentary.)
NOTICE: Readers have periodically reported that they are getting a better experience when reading MHProNews on the Microsoft Edge, or Apple Safari browser than with Google's Chrome browser. Chrome reportedly manipulates the content of a page more than the other two browsers.
(Related Reports are further below. Third-party images and content are provided under fair use guidelines.)
1) To sign up in seconds for our MH Industry leading emailed news updates, click here.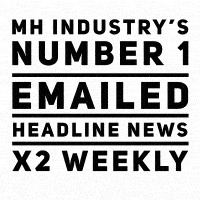 2) To provide a News Tips and/or Commentary, click the link to the left. Please note if your comments are on-or-off the record, thank you.
3) Marketing, Web, Video, Consulting, Recruiting and Training Re-sources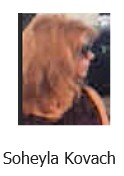 Submitted by Soheyla Kovach to the Daily Business News for MHProNews.com. Soheyla is a managing member of LifeStyle Factory Homes, LLC, the parent company to MHProNews, and MHLivingNews.com.
Related Reports

: Click the Boxes Below to Read More…
Does Google Harm Manufactured Housing? Other Forms of Free Speech?
"Shadows of Liberty" Movie Introduction, Affordable Housing, and You
"Pants on Fire" – Latest New Manufactured Housing Shipment Report
Facts & Analysis – Senator Elizabeth Warren re: Manufactured Housing Institute Memo to MHI Members, 10-3-2018
Crisis of Misinformation, Fact Checks, and Manufactured Housing