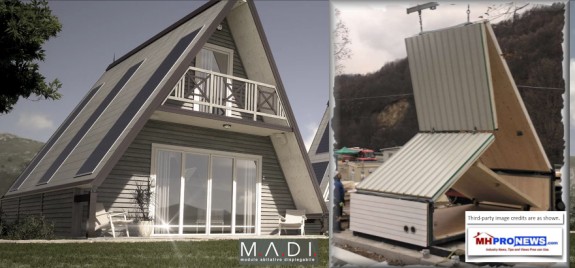 From the U.S. to England, and beyond, the Italian Renato Vidal's MADi PreFab Home is turning heads.
The house, says the producer, is about 30-40 days out from the time an order is placed until it is ready to ship.
The flat-packed, hinged unit can be set up, they say, in less than a day.  A time elapsed video shows that process.
The Sun has published the most recent report on this technologically interesting house.  They reported a similar figure on costs similar to what the media release to the Daily Business News received directly from the Italian producer.
A single unit is reported as £24,800m which at the current exchange rate, would be $32,736 at today's exchange rate of 1 pound = $1.32. That unit is the size of a tiny house, about 290 sq feet.
"904-square-foot family home which will set you back £54,900," says the Sun, or about $72,468 at today's exchange rate.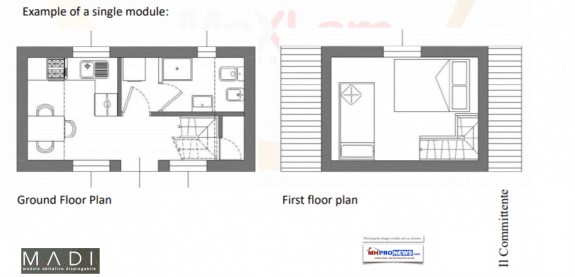 Gushing Media…
New Atlas, said: "The M.A.Di home is an economic flat-packed housing solution that is not only sustainable, but designed to last and withstand earthquakes. Manufactured by wood specialist Area Legno in Italy, the M.A.Di home is built using CLT (cross laminated timber) to create a modular and multi-functional anti-seismic family home."
Inhabitat stated, "The modular, the flat-packed design of the M.A.Di Home is meant to create a streamlined, sustainable process between manufacturing and assembly. Thanks to their unique folding ability, the homes are prefabricated off site, flat-packed and easily transported via truck or container to virtually any location."
And on it goes with Builder, or the Sun – which thinks this could solve the British affordable housing crisis, and others too.
What MADi is Not…
The price doesn't include:
Transport
Installation,
Foundation, or per their spec sheets,
most of the interior items, such as cabinetry and appliances.
To rephrase, it isn't – yet – an immediate threat to HUD Code manufactured homes (MH). It might well give smaller modular homes a run for their money.
What MADi once more reminds the MH industry professionals is that the nation, and others abroad, are looking for what MHProNews reported months ago, are hunting for "the Single Section Manufactured Home Alternative."
Are Americans Hunting for the Single Sectional Manufactured Home Alternative?
But be it foreign or domestic, a range of modular, container and PreFab Housing producers are taking aim at those millions of housing units that MHProNews has documented for the industry are needed.
Inside MH – Not Every Democrat, Not Every Republican – Politically Incorrect, Factually Accurate
While some are busy trying to use advertorials and other dubious ways of promoting the industry, what's needed is genuine public education, and media engagement.
The media is embracing other forms of factory built housing. Will more in the MH industry learn soon? ## (News, analysis, and commentary.)
Related: For marketing and other MH Professional Services, click here.
(Image credits are as shown above, and when provided by third parties, are shared under fair use guidelines.)

Submitted by Soheyla Kovach to the Daily Business News for MHProNews.com.