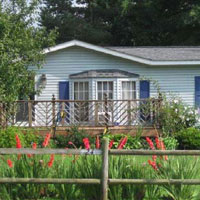 While investopedia sets the record straight in noting "mobile homes" were built before HUD Code standards were established n 1976, it nevertheless uses the term in the article's title: "Are Mortgages Available for Mobile Homes?" It does use the correct phrase in the article.
It says 32 percent of manufactured home households are headed by a retiree, and their median income is half that of other families, without noting that household expenses are also often less in a manufactured home than in a site-built home.
"In addition, manufactured homes aren't always eligible for a traditional mortgage on any terms because the prospective homeowner doesn't own the land on which they are located." Not always true.
While it notes residents of manufactured homes are often "older individuals or low income families who tend to be offered less than favorable rates and terms on any type of loan," it also says chattel loans are for shorter periods of time which reduces the actual amount paid in interest. In addition, closing costs are lower and the time it takes to complete the process is also less.
"If you live in a manufactured home that is permanently affixed to the land on which it's located – and if you own that land or are considering buying it – you probably qualify for a traditional mortgage." Many manufactured homes are affixed to the land because that is the most secure option, particularly in the face of high winds.
As MHProNews  understands, the Investopedia  article makes no reference to pending legislation in Congress — the Preserving Access to Manufactured Housing Act — that could alleviate some financial challenges of buying a manufactured home.  
Equally important are points made by the Government Accounting Office (GAO) in their report last summer, see the link to that report which shows that MH costs less to own and finance, linked here. ##

The GAO chart above demonstrates the MH is the lowest cost form of housing, even considering personal property loan rates, based upon actual monthly payments.
Related finance article, linked here.
(Photo credit: Horizon Land Co.–manufactured home)

   Article submitted by Matthew J. Silver to Daily Business News-MHProNews.