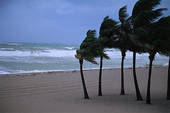 According to what newsobserver reports from North Carolina regarding deadly tornadoes, "While the perception might be that tornadoes target trailers, the reality is that manufactured housing is the least safe place to be in severe weather, second only to an automobile. It's just that simple." In fact, it is not that simple.
A video sponsored by the American Modern Insurance Group on NBC's Today Show, July 23, 2014, clearly documents a high wind-rated HUD Code home installed on a permanent foundation resisting wind storms better than surrounding site-built homes, seen here on MHLivingNews.
NBC's Kerry Sanders explained that 80 percent of severe damage to manufactured homes is caused by carports or patio covers that have been improperly installed. If the homes' roof and that of an add-on are connected inadequately, winds may rip both off of the home.
Manufactured homes are frequently in rural areas, and in some cases are damaged or destroyed when a tree falls on the home, or other debris smashes into the home..
The article continues: "So, why are mobile homes so unsafe? They are not considered sturdy shelters because of the materials used in their manufacture and the fact that they roll easily. Straight line winds of around 75-80 miles per hour can roll a trailer just as easily as rotating winds in a tornado."
If it is truly a mobile home produced before June 15, 1976 when the Department of Housing and Urban Development (HUD) set standards for the construction of manufactured homes, and the home is not anchored to the ground, there might be some truth here. But it would be comparable to being involved in an auto accident and not wearing a seat belt.
As MHProNews knows, interchangeably using "trailers," "mobile homes," and "manufactured homes" to describe the same thing is totally incorrect. ##
(Photo credit: corbisphotos)

  Article submitted by Matthew J. Silver to Daily Business News-MHProNews.