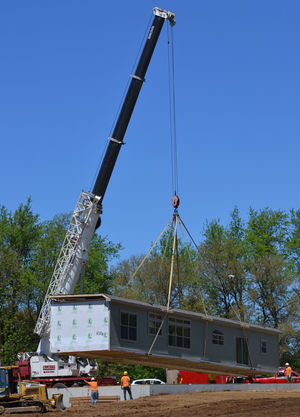 A reality show set to premiere on the DIY (do-it-yourself) network this fall will document the production of a modular home by Commodore Homes in Goshen, Indiana, and follow its route down highways and through La Porte, Indiana to its siting in a neighborhood. "Not everyday (do) you see a house coming down the street, so it gets a lot of attention," said Mike Rilstone, the director of photography for the show, called Breakneck Builds.
Being filmed this week by Toronto-based Tricon Film and Television, it will show two separate families receiving modular homes, set for an initial series of 12 episodes. Bob Lang, owner of La Porte Housing Specialists, which is doing the siting, says it's a great way to educate people about the quality of modular homes and the process from production to preparation for the family to move in.
A drone, flying overhead, filmed the crane lifting the first section of the house onto the foundation, as heraldargus informs MHPronews. ##
(Photo credit: heraldargus/Matt Christy–modular home being sited in La Porte, IN)

Article submitted by Matthew J. Silver to Daily Business News-MHProNews.