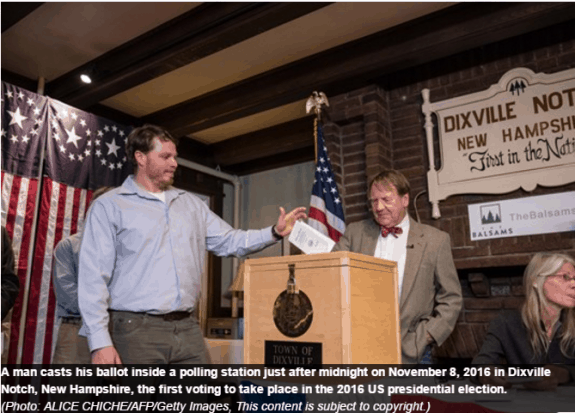 The world is waiting for election results out of the U.S., says USA Today. So, the after-midnight votes in New Hampshire towns are part of the tea-leaves-reading by global media and pundits.
NH state law allows results to be published once all voters have voted. Traditionally Republican strongholds, the area went for Barack Obama in 2008, and split with Mitt Romney in 2012.
11 Alive stated the voting there as follows:
In Dixville Notch,
Hillary Clinton beat Donald Trump 4-2.
Libertarian Gary Johnson received one vote,
Mitt Romney received one write-in ballot.
In Hart's Location,
Clinton won with 17 votes to Trump's 14.
Johnson got three votes,
write-ins Bernie Sanders and John Kasich each got a vote.
In Millsfield,
Trump won decisively, 16-4,
with a write-in for Bernie Sanders.
Thus, the three New Hampshire towns with midnight voting, Trump came out ahead 32-25.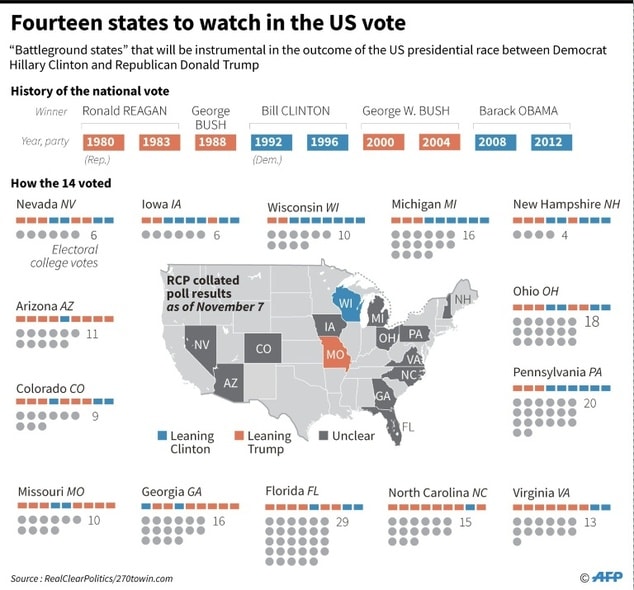 Brits, World Watch and Wonder…
The United Kingdom's (UK) DailyMail called the contest a battle for the "soul" of America. The British themselves had an epic struggle this past summer over Brexit, with UK nationalists voting to leave the European Union (EU) in an unexpected, upset win.
With Barack and Michelle Obama as well as rocker Bruce Springsteen as the draws for her final address in battleground Pennsylvania, Clinton said, "There is a clear choice in this election." After numerous times that she berated Republicans and pro-Trump supporters as "irredeemable" and a "basket of deplorables," Clinton called ironically called for unity after the election.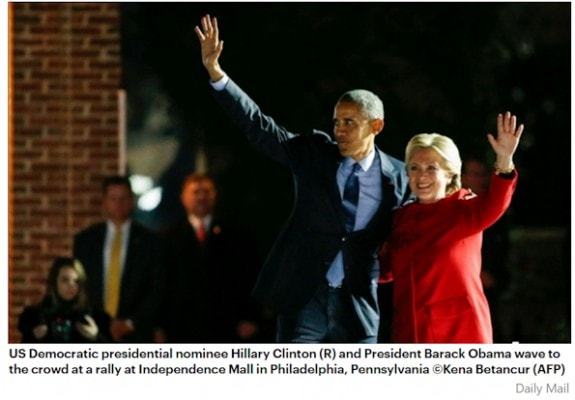 By contrast, Trump said as part of yesterday's closing argument for American votes, "Do you want America to be ruled by the corrupt political class, or do you want America to be ruled, again, by the people?"
The Daily Mail gave the edge to Clinton, but noted that "her campaign…has been dogged by allegations that she put US secrets at risk by using a secret private email server while at the State Department and the race remains perilously close in a handful of key states."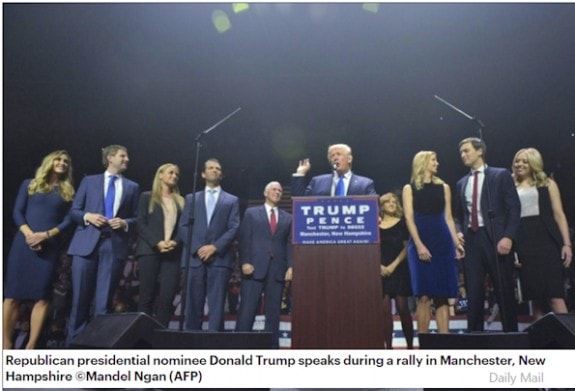 Pay-for-play scandals involving the Clinton Foundation and her years as Secretary of State, and reports of ties by her top aide, Huma Abedin to Saudis and radical Muslim groups, along with a host of embarrassing revelations from WikiLeaks, have been among the clouds hovering over Clinton.
Trump teased Clinton by saying that she is only able to draw a crowd when rock stars or other celebrities are at her side.
"We're going to be ruled by the people, folks. That is going to be the choice. Our failed political establishment has delivered nothing but poverty, nothing but problems, nothing but losses," he said.
"It's time to reject the media and political elite that has bled our country dry," he dramatically said to cries of "Drain the swamp!" from his supporters.
Pre-dawn coverage of Election 2016, complete with graphics and videos, are found linked below:
Status Quo or Time for a Big Change? Election 2016 ##
(Image credits are as shown above.)

Submitted by L. A. 'Tony' Kovach do the Daily Business News, on MHProNews.