"We celebrate the Fourth of July because that's the day the Declaration of Independence was signed, 242 years ago. You might call July 4 America's birthday," said Stossel in the Reason video posted below, and quoted on Fox News.
"The Declaration didn't just declare our independence from Britain; it vowed to create a government that respected all people's rights to "life, liberty and the pursuit of happiness," said Stossel.
"America became great because the Declaration (and the Constitution that followed) set down rules that kept government small and out of the way," stated the author and TV personality, Stossel,  "That [freedom from government] let creative individuals flourish."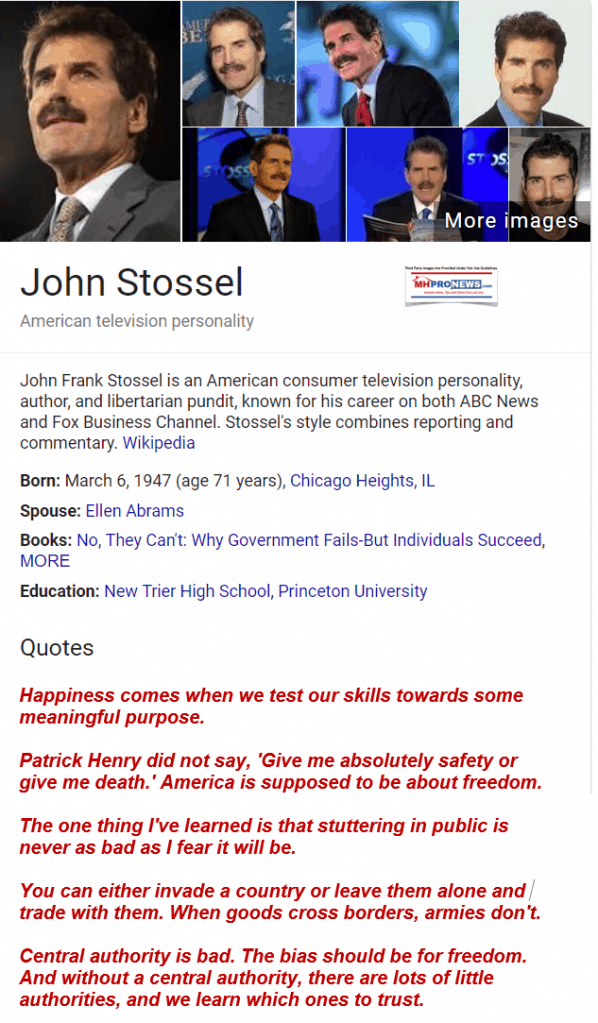 "Thomas Jefferson and his colleagues wrote the Declaration to assert that our "natural rights" could not be taken away by any government, and to set the stage for the creation of a government through which people could rule themselves," the libertarian leaning Stossel wrote.
"At the time, America was considered a backwater. Just a few years later, America had become the most prosperous, and probably the freest, country in the world." – and that last line hits a point that the Daily Business News on MHProNews has hit home upon numerous times over the years.  Generally, the more limited government power is over its citizens, the greater our freedom and the higher our potential earning power.
Note that the video is similar, but different from the quoted text.
"The Fourth of July is…about that idea: that people have the right to rule themselves," within specific limits, of course, that are designed to keep some from harming others.
"Trust no man with too much government power," wrote Jefferson. "(B)ind them with the chains of the Constitution."
By limiting the federal government – and likewise limiting state and local governments – "We, the People" are able to retain the maximum fruits of our labors.
"It's good that the Declaration and Constitution have those "chains." No matter how insistent the state's busybodies get, they may not arbitrarily search our homes or jail us. We have a right to bear arms, to practice whatever religions we choose, to exercise free speech and more," declares Stossel.
He explains that the Constitution which followed the successful revolution in America created a division of power.  Again, the purpose was to keep any branch of government from becoming too strong.
Mindful of the experience with England, Americans didn't want a domestic king or tyrant to rule over them.  Dividing the powers of government up, and reserving all of the other rights to "We, the People" is how the founders sought to protect citizens.
"Unfortunately, those limits on government haven't exactly kept government small," Stossel laments.  "Thomas Jefferson wanted "a wise and frugal government" that leaves people "free to regulate their own pursuits." Now we've got 180,000 pages of federal rules and $21 trillion in debt."
But among the reasons for that erosion of personal freedom in the U.S. is arguably because too many Americans have lost sight of why the colonists sought freedom in the first place.  Our industry has suffered from over-reach at all levels of government. The result?  Affordable housing is in decline in almost every part of the nation.
The American Dream, Manufactured Homes, and America's Independence Day
Stossel's ode-to-independence is thought provoking, and coupled with regular doses of other MHProNews and MHLivingNews content, makes for useful inspirational and educational material to share with those who aren't as informed on their rights as you, or supporters or we happen to be.
Achieving American Dream, Quality, Appealing, Affordable Home Ownership, Independence Day, manufactured homes, not mobile homes, not trailer house, MHLivingNews,
Sharing this type of knowledge is one of the few things that given away, multiplies for all involved.
Note: the markets are closed today in observance of the 4th, so there is no manufactured housing industry stocks and equities report today. For yesterday's closing numbers, click here. "We Provide, You Decide." © ## (News, analysis, and commentary.)
(Third party images, and content are provided under fair use guidelines.)
1) To sign up in seconds for our MH Industry leading emailed news updates, click here.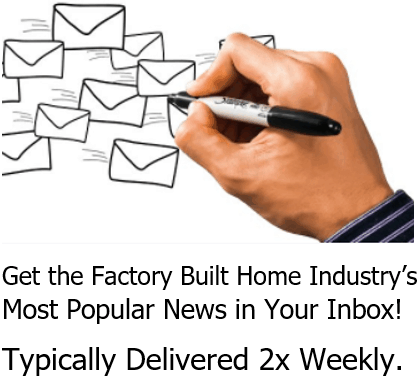 2) To provide a News Tips and/or Commentary, click the link to the left. Please note if comments are on-or-off the record, thank you.
3) Marketing, Web, Video, Consulting, Recruiting and Training Resources
Submitted by Soheyla Kovach to the Daily Business News for MHProNews.com. Soheyla is a managing member of LifeStyle Factory Homes, LLC, the parent company to MHProNews, and MHLivingNews.com.