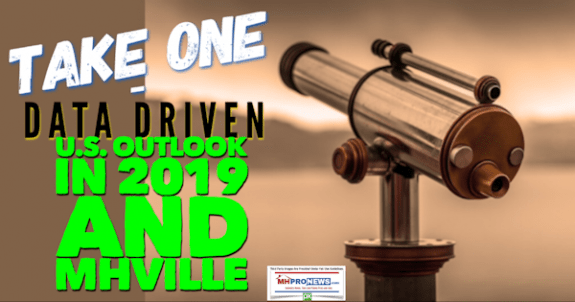 Propaganda works, but facts matter. In this take one on the 2019 outlook, we will focus on facts and evidence.
There are talking heads on cable news, in print or digital mainstream news media, who for some months have 'talked down' the U.S. economic forecast. Among their false claims is that the economic surge is a "sugar high" following the tax cuts, and that the high is about to play out.
The crash – a recession, they wrongly claim – is just ahead.
But what some call TrumpOnomics is actually American Economics 101. Prior presidents from each major political party, working with Congress, have enacted similar measures to the Tax Cuts and Jobs Act of 2017. The prior performance was good, just as it is this time too.
In the first 2 graphics below, are the latest numbers from the U.S. Treasury Department. After the tax cuts, there was an initial drop in federal revenues, which are part of the historic norm.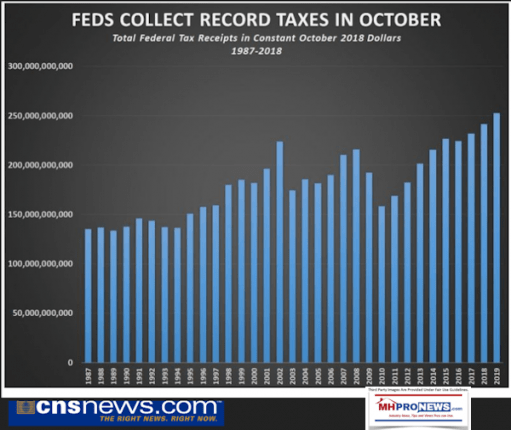 Note that now, less than a year after the tax cut went into effect, we already have more federal tax revenue than at any time in the nation's history.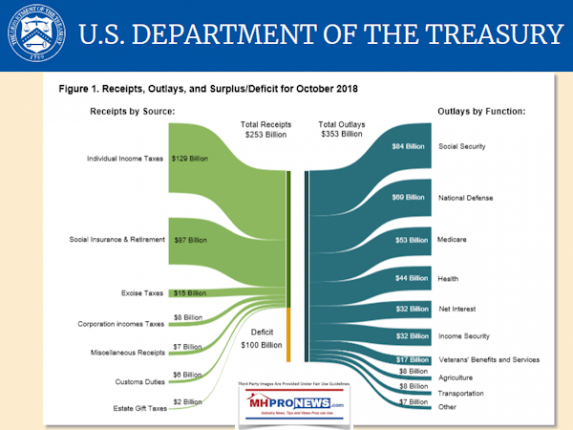 The Tax Cuts and Jobs Act of 2017, coupled with prudent deregulation, have already produced an economic boom. It is hiking taxes that creates a short term surge in dollars into federal coffers, followed by a dip in government revenues. Why? Because businesses that can, will move to a lower tax state or nation. Capital can be fluid, or to pardon the pun, Capital is Mobile.
The U.S. stock markets have been in flux for reasons that are too detailed for this report, but headlines are among the factors that have always had some measure of influence on investors. False headlines – misleading or 'fake news' – can and does move investors and thus the markets.
For example, headlines about Cavco Industries has contributed to a sharp drop in that company's stock's value. ICYMI, see that report linked below.
The federal deficit is high, but has been since former President George W. Bush (R) helped create a new entitlement in his so-called "compassionate conservatism. "  The 43rd president for whatever reasons also plunged the nation into Middle Eastern conflicts which are now the longest U.S, overseas foreign wars. Then President Barack H. Obama (D) kept those costly foreign wars going, and while reducing troop commitments in certain zones, the 44th president actually expanded military action into Libya and other nations too.  Poor strategic policy in the Obama years in Iraq helped spawn the rise of ISIS, and the war over the 'caliphate' in Syria was on.
Furthermore, Mr. Obama spilled trillions of dollars in red ink, the most of any U.S. President in American history. ObamaCare, various economic stimulus programs, and tax hikes – all led by Democrats – doubled the national debt in only 8 years. These are nonpartisan facts, and are among the reasons this publication is fundamentally not aligned with either major party.
It is entirely possible that if enough talking heads and negative news are accepted or 'bought into' by enough business and investment professionals, that the U.S. economy could slip in 2019. The forecast for the final quarter of 2018 may already reflect that potential. But the simple facts are that the initiatives of President Donald J. Trump, under the able advice or experts like former President Reagan official, Larry Kudlow and others, are working.
As the Daily Business News on MHProNews has noted previously, Democratic President John F. Kennedy and Republican President Ronald Reagan, a Republican who was previously a Democrat, each cut taxes during their administrations. In each case, revenue initially dipped, but then surged in their wake.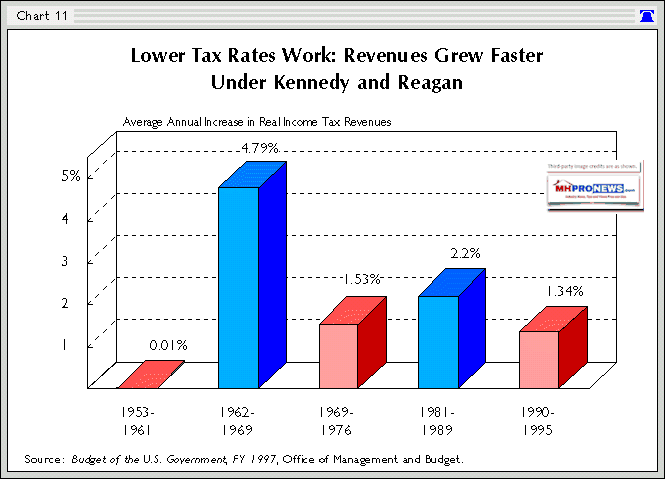 The reasons are American Economics 101. The best way to grow the economy is demonstrably to allow a maximum level of economic activity in the hands of individuals and business. There are exceptions to the rule, which includes the harmful economic impact of monopolies on business and the nation.
President Donald J. Trump ordered his cabinet to return to him planned cuts in their respective budgets. That is the other side or the 'tax and spend' equation. If a divided Congress cooperates enough, the prior harmful policies in the past 16 years can continue to have necessary adjustments that could continue the natural economic boom that the nation is experiencing.
The Takeaways for the U.S. and MHVille
It is absolutely possible that an ongoing flow of negative media, from either or both sides of the left-right media divide, could cause economic confidence among consumers and businesses to fall. That's not unlike misinformation about manufactured housing being a harmful drag on our industry. In a similar way, repeated misinformation about the federal budget and the economy could in time harm consumer confidence, and thus economic activity.
It is also possible for a Democratic House to throw a monkey-wrench into the gears. Time will tell what happens.
So while there is no knowing with certainty how harm much negative media or politically harmful economic moves in the House may cause the U.S., the normal economic trends would be good from the Trump Administration Tax Cuts and Regulatory Rollbacks. But manipulation in the form of bad news, and bad policies – if widely believed – could spook investors, owners, and consumers.
Finally, the correct moves in local markets by individual manufactured home companies can still produce record growth, given the strong and growing needs for affordable housing. But as UMH President and CEO Sam Landy has said, those marketing efforts going will have to be done by individual businesses. That means, at the local market level(s). Why?
Because the Manufactured Housing Institute (MHI) and Clayton Homes have both demonstrably failed in their efforts on their respective manufactured home industry image related 'campaigns.'
Clayton Homes "New" Image Campaign, Surprising Facts Behind Have it Made Stigma Attacking Video
The race for 2020 in the U.S, is already underway. And sadly, the attempts to manipulate facts by various interest groups has been and will continue to be a strategy deployed against everyday Americans. That's why a questioning mind, one ground in facts and that seeks the truth over emotionally manipulatable habits, are so crucial in the days ahead.
That's also why our growing audience of pro-growth industry professionals craves news with analysis that helps cuts through the noise of agenda-driven special interests.

Propaganda that is often repeated regrettably works, which is why we provide the means for professional readers to follow the facts and evidence here on the Daily Business News on MHProNews, where "We Provide, You Decide." © You can sign up for our industry leading headlines news at the link below. © ## (News, analysis, and commentary.)
(Related Reports are further below. Third-party images and content are provided under fair use guidelines.)
1) To sign up in seconds for our MH Industry leading emailed news updates, click here.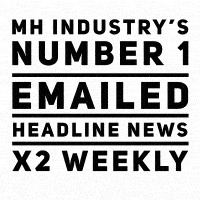 2) To pro-vide a News Tips and/or Commentary, click the link to the left. Please note if comments are on-or-off the record, thank you.
3) Marketing, Web, Video, Consulting, Recruiting and Training Re-sources
Submitted by Soheyla Kovach to the Daily Business News for MHProNews.com. Soheyla is a managing member of LifeStyle Factory Homes, LLC, the parent company to MHProNews, and MHLivingNews.com.
Related Reports

:
Market Woes? No Recession, Says Goldman Sachs, Plus MH Equities Updates
Yes, Thankfully There's Times Manufactured Homes Earn Bipartisan Praise in Washington, D.C. Metro
MH Silver Lining? Residential Construction Report, Oct 2018, per HUD, Census Bureau
Giving Thanks for Manufactured Housing Independents, Applauding "MHIdea!"