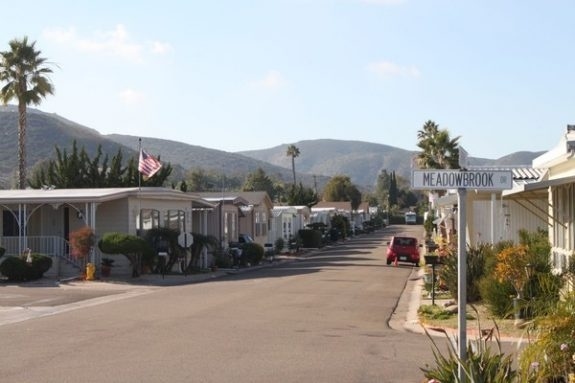 The available amount of manufactured home sites in 50 distinct California manufactured home communities (MHCs) is 1.34 percent as presented to the El Monte City Council Feb 24, 2015 by Kenneth K. Barr, who conducted the study. The city of El Monte has 33 MHCs consisting of 1,427 homesites, and while they are diverse in terms of size and facilities, the homeowners themselves have a low level of incomes.
Insofar as the state desires to maintain a certain amount of affordable housing for its residents, approximately 90 jurisdictions have rent stabilization ordinances to control the level of rents in these communities. MHProNews has learned from the Manufactured Housing Institute (MHI) that the sunset date of El Monte's Mobilehome Park Rent Stabilization Ordinance has been extended to Sept. 30, 2015 due to time constraints on the part of the city council. ##
(Photo credit: santeepatch–manufactured home community Santee, California)

Article submitted by Matthew J. Silver to Daily Business News-MHProNews.