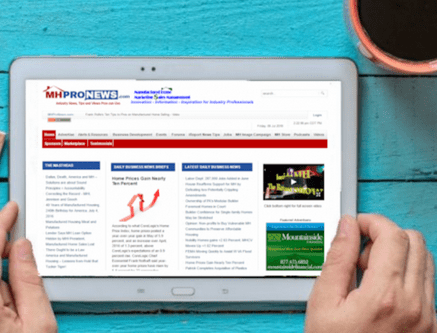 We began the month with this thought-provoking theme: Obstacles and Opportunities in Affordable Housing – October 2016. That link will take you to all of the featured articles and interviews this month.
Manufactured, modular and prefabricated home professionals know that how a home got to its location should not define a person or their dwelling.
What the Daily Business News spotlights day by day are the tragedies, triumphs and struggles for acceptance of the obvious solution for millions for the growing affordable housing crisis in the U.S. and beyond.

When you read the lineup for the month found on Obstacles and Opportunities in Affordable Housing – October 2016, you can reflect on another motto as you chart your own professional path ahead: "We Provide, You Decide."  ©
What's New On MHLivingNews
What's New On MHProNews
Saturday October 29th, 2016
City Council Approves Rezoning of Manufactured Home Community
Friday October 28th, 2016
Equity LifeStyle Properties Leads Up Day for MHCV, Broader Markets Down
A Facebook Sale Turns Into Arrest at Manufactured Home Retailer
Potential Economic Boom Presents Affordable Housing Challenges
Manufactured Homes Expansion Welcomed as Affordable Housing Option
Head-to-Head: Cavco Stock Three Times Higher Value Site Builder MDC
Thursday October 27th, 2016 
Berkshire Hathaway, Louisiana-Pacific Up on Down Day for MHCV, Broader Markets
Officials – Tax Break sought by Clayton Homes
Modular Housing To Help Homeless in Hawaii 
City Controversy with Owner – RVs being denied in Manufactured Home Community
Rewarding Bad Behavior? City Threatens Evictions, MH Residents Push Back
Wednesday October 26th, 2016 
Carlyle, Cavco Up on Down Day for MHCV, Broader Markets Mixed
Insider Trades, as Short Interest in Sun Communities by Fund Managers Rises
Fire Safety Month for All Housing, Including Safer Manufactured Homes
Assistant Mayor Pushes to Remove "Trailer" Terminology 
Election 2016 – Why It's Not Over
Tuesday October 25th, 2016 
Volunteers Make Statement, Repairs at Heritage Village
Carlyle, NorthStar rise but MHCV, Broader Markets Take Hit
Big Bet to Battle Homeless and Housing Crisis: Modular Homes
City Stops Construction on Manufactured Homes
Monday October 24th, 2016
Carlyle, Drew Lead Positive Day for MHCV, Broader Markets Up 
Is America losing the 3D Technology race in housing?
City tells Community Owner, Stop Lying – called a "Slumlord"
MHARR's Mark Weiss takes on HUD: Production, Paperwork and Contractor Make-Work
First Look: 2017 Home Buying Season
Sunday October 23rd, 2016 
Sunday Morning Weekly Recap – Manufactured Housing Industry News – October 16th – Oct 22nd, 2016
The Presidential Campaign Mask is Off
This continues the celebration of our 7th year of uninterrupted factory-crafted housing trade media publishing, Our Thanks to you and our sponsors. ##
(Image credits are as shown above.)

Submitted by RC Williams to the Daily Business News for MHProNews.