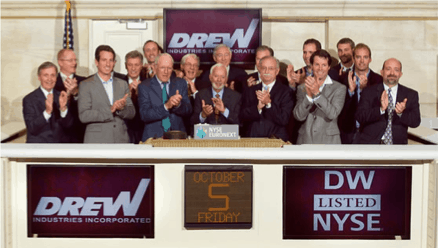 Drew Industries, Inc. (NYSE: DW) has received a "buy" rating from analysts, according to a recent report from StockzIntellegence, Inc.
Citigroup provided its "buy" recommendation on August 15th with a target price of $110.00, up from $85.00 in May.
Drew Industries' share price has increased 47.62 percent since March 24th, 2016 and has outperformed the S&P 500 by 42.53 percent.
A total of 51 investment funds purchased stakes in Drew, while 66 increased their positions in the company. A total of 15 funds sold all of their interest in Drew, while 52 have reduced their positions.
In total, funds now own 23.25 million shares or 1.29 percent more than the 22.96 million shares held by funds in Q1 2016.
Holdings of note:
Neuberger Berman holds 1.46 million shares, equal to 0.17 percent
Nationwide Fund Advisors holds 15.641 shares, equal 0.01 percent
Tiverton Asset Management, Ltd holds 735,000 shares, or 0.02 percent of the stock
Capstone Asset Management also has 0.02 percent invested and holds 9,700 shares.
RK Capital, LLC reported 126,687 shares and Advisor Asset Management holds 11,887 shares or 0.02 percent of Drew stock.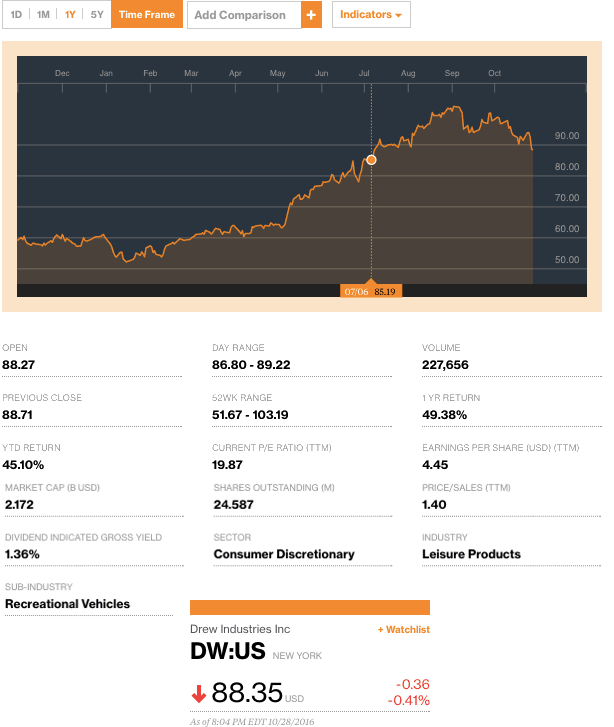 As Daily Business News readers are aware, Drew Industries supplies component parts to the manufactured housing and recreational vehicle industries across the U.S. and in Europe.
Insider stock transactions have generated $7.16 million in net activity since May 2016:
Scott T Mereness sold 2,000 shares, worth $205,200
John Lowe sold 10,687 shares worth $826,960
Jason Lippert sold shares with a total value of $999,300
Brian Hall sold shares with a total value of $55,427
David Reed sold $240,975 worth of shares
Leigh Abrams sold 5,527 shares, worth $447,190.
Drew Industries is one of the various industry-connected stocks monitored each business day on the industry's only daily market report, featured exclusively on the Daily Business News.
Drew Industries will report Q3 earnings via conference call on November 3rd, 2016.
For the most recent closing numbers on all MH industry-connected tracked stocks, please click here. ##

(Editor's Note: For an exclusive interview with Drew's Leigh Abrams, click here.)
(Image credits are as shown above.)

Submitted by RC Williams to the Daily Business News for MHProNews.