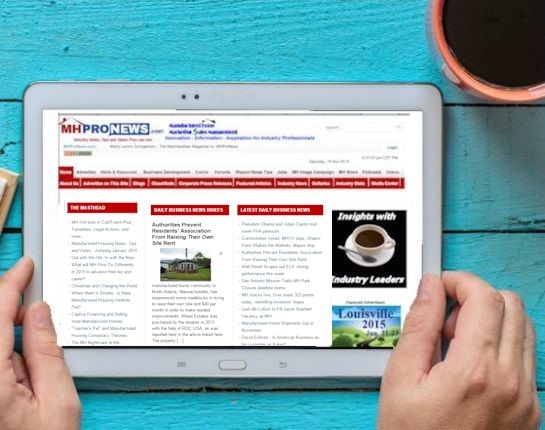 With Entrepreneurs November in MHVille 2016, in the rear-view mirror, December and an entirely new set of featured articles are found on the MHProNews.com home page. Our theme for this month is:
DAAD = Dramatic! Advent! Adventure! December 2016!
To see the line-up of over 3 dozen featured articles for this month, along with the headline commentary, please click the link above.
Manufactured, modular and prefabricated home professionals know that how a home got to its location should not define a person or their dwelling.
What the Daily Business News spotlights day-by-day are the tragedies, triumphs and struggles for acceptance of the obvious solution for millions for the growing affordable housing crisis in the U.S. and beyond.

When you read the lineup for the month found on the home page, you can reflect on another motto as you chart your own professional path ahead: "We Provide, You Decide."  ©
What's New On MHLivingNews

Clayton Home Building Group Donates New Home to Alabama Resident in Need, Video
No Longer "Trailer Trash" – Manufactured Homes are Quality, Affordable Housing
What's New On MHProNews
Saturday December 3rd, 2016
Investor Makes Big Moves on Skyline Homes  
Harvard Clinton-Trump Campaign Debate & Trump Thank You Tour-Videos
Friday December 2nd, 2016
Is Ben Carson the Right Choice for HUD Secretary? Depends On Who You Ask
Louisiana-Pacific Leads Up Day For Manufactured Housing Comp, Broader Markets Mixed
Manufactured Home Owners Face Unique Crisis, Community Response 
As Winter Approaches, Fire Safety Facts and Myths Take Center Stage 
Dreaming of a Free Home at Christmas – Ava Wood's True Story 
Equity Lifestyle Properties Sees Volume Spike in Stock, Updates Earnings Guidance
Thursday December 1st, 2016
Berkshire Hathaway, Skyline lead Manufactured Housing Comp, Broader Markets Mixed, Dow New Record High 
Economic Boom Causing Manufactured Home Community Evictions?
Explosion at Manufactured Home Community Injures Resident
Clayton Homes Makes a new Acquisition
Sun Communities Price Targets, Ratings from Analysts
December 2016 MHProNews Featured Articles Scheduled
Wednesday November 30th, 2016
Skyline, Affiliated Managers Up, Manufactured Housing Comp Down, Big OPEC News-Video
Cavco Investor$ Modify Holdings, Analysts Provide Ratings
Jim Visser, Journal of Manufactured Housing say "Thank You!" and Good-bye
Court Puts Overtime Rule on Hold
Majority of Financial Advisors See Strong Economy Under Donald Trump
Tuesday November 29th 2016
Patrick, Drew Industries Up, Manufactured Housing Comp, Broader Markets Green – Video
Zillow's Predictions for U.S. Housing Market Under Donald Trump
Looking for Millennials? You Likely Won't Find Them in the Home Building Sector
Modular Company Helps Schools to Solve Fluctuating Enrollment Challenges
Monday November 28th, 2016
Sun Communities, Equity LifeStyle Properties Up, Manufactured Housing Comp Value, Broader Markets Down
No Longer "Trailer Trash" – Manufactured Homes are Quality Affordable Housing
MH Communities Threatened by Toxic Plume, Questions Remain
Drew Industries Names New CFO, Quarterly Dividend posted
Report: What's the Most Partisan Federal Agency?
Sunday November 27th, 2016
Sunday Morning Weekly Recap – Manufactured Housing Industry News – November 20th – November 27th, 2016 ##
(Image credits are as shown above.)

Submitted by RC Williams to the Daily Business News for MHProNews.