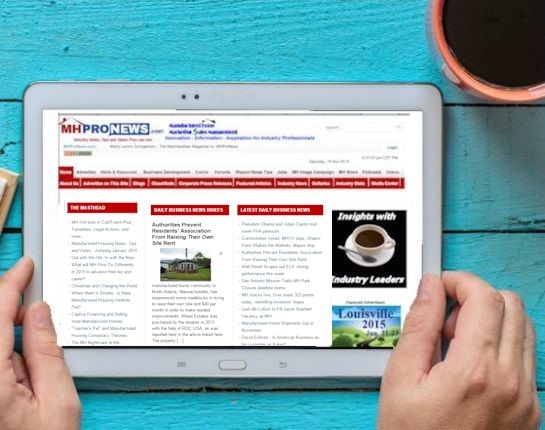 As we wrap up the month of January, our featured articles are found on the MHProNews.com home page.
Our theme for this month is: Jiu Jitsu January in Manufactured Homeland, USA.
To see the line-up of over 3-dozen featured articles for this month, along with the headline commentary, please click the link above.
Manufactured, modular and prefabricated home professionals know that how a home got to its location should not define a person or their dwelling.
What the Daily Business News spotlights day-by-day are the tragedies, triumphs and struggles for acceptance of the obvious solution for millions for the growing affordable housing crisis in the U.S. and beyond.

When you read the lineup for the month found on the home page, you can reflect on another motto as you chart your own professional path ahead: "We Provide, You Decide."  ©
What's New On MHLivingNews

NAR – Millennials Want Quality Affordable Homes to Buy in 2017
"Oh Paradigm Shift" – Million Dollar Manufactured Homes for Rich and Frugal
What's New On MHProNews
Saturday January 28th, 2017
"An Elephant Ass," Understanding GSEs, Duty to Serve, Manufactured Home Lending
Cordray Defiant, Says Trump Won't Change Agency
Friday January 27th, 2017
NIMBY Rears its Head on Proposed MH Community
LCI, NorthStar Gain, Manufactured Housing CV, Broader Markets Dip
Publication Flip-Flops on UMH, NPR Effect in Play
Does New Bylaw Discriminate Against Manufactured Homes?
Tiny Prefab Builder Takes His Show on the Road
Thursday January 26th, 2017
Local Developer Says MH Community Hurts Property Value
Nobility, Carlyle, Dow Up, Manufactured Housing CV Dips
Jim Visser Honored, the Journal of Manufactured Housing now History
Storms, High Winds Leave 100 MH Homes Without Heat
Wednesday January 25th, 2017
Dow Hits 20k Mark, Cavco, LCI, Manufactured Housing CV Up, New Records for S&P, NASDAQ
A Solution for the Dysfunctional Home Loan Market?
County Levies Stiff Fine in Dakota, as Trump Primes XL Pipeline
3D Printed Home Can Withstand Magnitude 8 Earthquake
U.S. Existing Homes Sales Rise in December, MH Industry Response
Tuesday January 24th, 2017
Deer Valley, Skyline Up, Manufactured Housing CV, Broader Markets Spike
Carson Approved by Senate Committee, Provides View on MH
Security Mortgage Group Finances 80,032,500 for Several Communities
Another Country Turns to Prefab to Solve Housing Crisis
Monday January 23rd, 2017
Huge Days for UFPI, UHM, Manufactured Housing CV, Broader Markets Down
Trump's Regulation Cuts Could Have Major Impact on MH
Buffett Supports Trump Picks, Soros Has Other Ideas
Tornadoes, Severe Weather Ravage South, Misconceptions Abound
Tough Times for Tiny Home Builders
Sunday January 22nd, 2017
Sunday Morning Weekly Recap Manufactured Housing Industry News January 15th 2017 to January 22nd 2017
(Image credits are as shown above.)

Submitted by RC Williams to the Daily Business News for MHProNews.