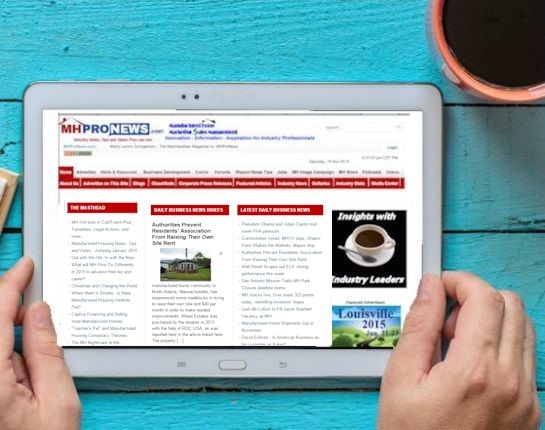 As December rolls on, a new set of featured articles are found on the MHProNews' home page.
Our theme for this month is: DAAD = Dramatic! Advent! Adventure! December 2016!
To see the line-up of over 3-dozen featured articles for this month, along with the headline commentary, please click the link above.
Manufactured, modular and prefabricated home professionals know that how a home got to its location should not define a person or their dwelling.
What the Daily Business News spotlights day-by-day are the tragedies, triumphs and struggles for acceptance of the obvious solution for millions for the growing affordable housing crisis in the U.S. and beyond.

When you read the lineup for the month found on the home page, you can reflect on another motto as you chart your own professional path ahead: "We Provide, You Decide."  ©
What's New On MHLivingNews
Ben Carson – Controversial Doctor Answers HUD's Housing Call
Mom and I Believe in Manufactured Homes!
What's New On MHProNews
Saturday December 17th, 2016
Repairing Your Manufactured or Modular Home – Facts, Myths and Clarity
Friday December 16th, 2016
As Cities Zone Out, Industry Pros Ask – are HUD Code Manufactured Homes Discriminated Against?
NorthStar Realty, UMH Lead Up Day for Manufactured Housing CV, Broader Markets Down to Finish Week
Manufactured Home Owner or Community – Who's Responsible?
Warren Buffett's Rear View Mirror & HUD
MHARR: FHFA Final Duty to Serve Rule Continues to Fail Manufactured Home Buyers
Thursday December 15th, 2016
Skyline Surges, Manufactured Housing CV Up Over Four Percent, Broader Markets Rebound After Fed Hike
Recent Investor Moves in Cavco Industries Examined
Cajunize! State Rep Says FEMA Response "Defines Common Sense"
Paul Bradley – Mom and I Believe in Manufactured Homes!
DOJ, HUD Update Existing Guidance Despite Calls for a Moratorium
Wednesday December 14th, 2016
Manufactured Housing CV Hit Hard, Broader Markets Down on Fed Rate Hike
City Council Approves Controversial Manufactured Housing Ordinance
FHFA Makes Major Move, Significant Impact Expected on MH Loans
MHCC Recommends Significant Changes to HUD Frost Free Foundation Bulletin
City Weighs Repair Assistance Options for MH Community Residents
Tuesday December 13th, 2016
Canadian Modular Home Builder Gains Foothold in African Market
Business Optimism Rises with Trump's Ascendancy, as Energy Issues take Center Stage
Deer Valley, UMH Lead Up Day for Manufactured Housing CV, Broader Markets Hit New Record Highs
The Costly Crawl of Bureaucracy: FEMA at its Finest?
New Mayor, Local Nonprofit, See Solution to Housing Crunch in Tiny Homes
Monday December 12th, 2016
Skyline and MHCV slides, Broader Markets Mixed, Dow Notches Another Record Close
Hundreds Wait in Line for Affordable Housing, Solution Remains in Plain Sight
UMH Draws Publicity, Stock Price Spikes…Coincidence?
Billions Involved in Mainstream Media and Public Officials Engagement
Dangerous Surprise Found by Neighbor Cleaning Out Manufactured Home
Sunday December 11th, 2016
Sunday Morning Weekly Recap – Manufactured Housing Industry News – December 3rd, 2016 – December 11th 2016 ##
(Image credits are as shown above.)

Submitted by RC Williams to the Daily Business News for MHProNews.