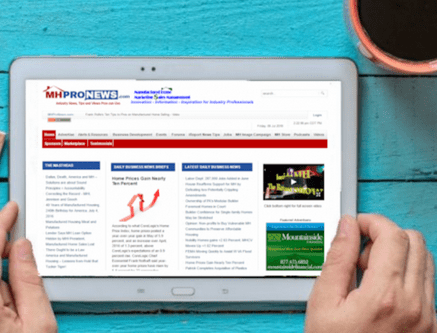 The week in review included hot topics like:
Cavco's Joe Stegmayer, Directors Insider Trades
Media Bias in "Man Shot in Trailer Park" ABC report
MHC Rent Control battle (Resident Councilman story)
Video Tour of FEMA MHUs
Controversy over proposed DOE energy rules, will it help or harm manufactured housing?
NAHB's Cost of Regulation Study – MH View
Much, much more…so scroll on and let's get started.
With Daily Business News' Matthew Silver taking time off, yours truly is doing this week's Sunday Morning Weekly recap.  Let's dive into the week in review…
What's New on MHLivingNews.com 
·        Manufacturers Gear Up to Replace Thousands of Homes Lost in Louisiana Floods
This article above has been picked up by hundreds of media and advocacy sites, check it out.
Saturday Sept 3
CEO Sam Landy says, UMH Properties Completes Acquisition Of Two Ohio Communities
Friday Sept 2
Demand Rising for Manufactured Homes in Louisiana Flood Zone, Factories Gear Up for FEMA, Residents
Cavco Leader, MHCV Outperforms, as soft jobs reports checks Wall Street
NRDC, ACEEE on DOE Energy Rule Proposals – Analysis – Helpful or Harmful for Consumers, Manufactured Housing Industry?
Analysis – Mid-America Apartment Communities vs. Sun Communities, Head-to-Head Comparison
Arkansas MHA's 'GET THE FACTS' Video Series Completed
Thursday Sept 1
Larger! The Other National Association…Not MHI, Not MHARR…Ally? Competitor? Both?
AMG sliding, MHCV rising, Other Markets Close Mixed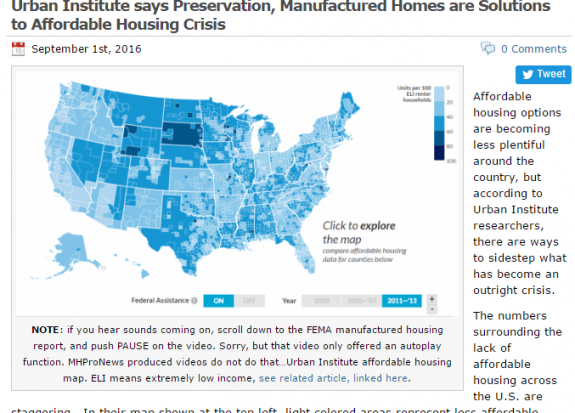 Urban Institute says Preservation, Manufactured Homes are Solutions to Affordable Housing Crisis
Russia, China, Dutch 3D Construction and Housing
New Sept Issue, Weather, related MHProNews Updates
Wednesday Aug 31
Left, Right Agree – President Obama's mark is on powerful U.S. Appeals Courts
UMH leads, Manufactured Housing CompValue recovers, as broader Stocks close lower
Video – FEMA Manufactured Homes Going to Louisiana Flood Victims
Cavco Insider's, Form 4, Insider moves by Joe Stegmayer, Directors and CVCO Portfolio Holder Updates
Quo Vadis ELS? Analysts Look at Hotly-Traded Equity LIfeStyle Properties Stock
Tuesday Aug 30
The Carlyle Group (CG) Urged To Invest Multi-Billion$ In "Dry Powder," says Bloomberg's Tan
Carlyle Group Urged to Act, Indexes slip, CNBC says banks preparing for 'Economic Nuclear Winter'
Man Shot in "Trailer Park" at East Houston "Mobile Home" (sic), Marla Carter, ABC 13 TV News
Storm Warning – MHProNews Reader Programming Notices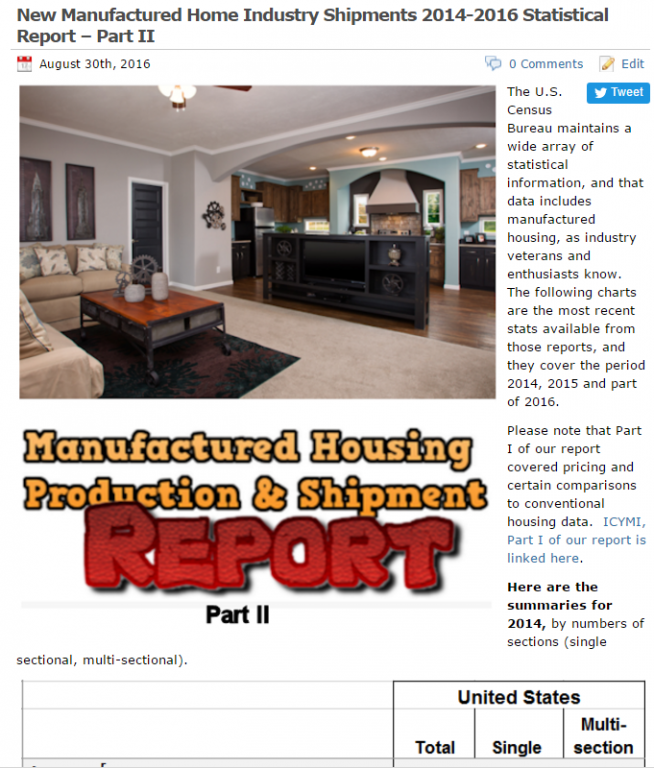 New Manufactured Home Industry Shipments 2014-2016 Statistical Report – Part II
Monday Aug 29
Resident Councilman leads charge for new law that Manufactured Home Community Owners, Industry Professionals say Harms All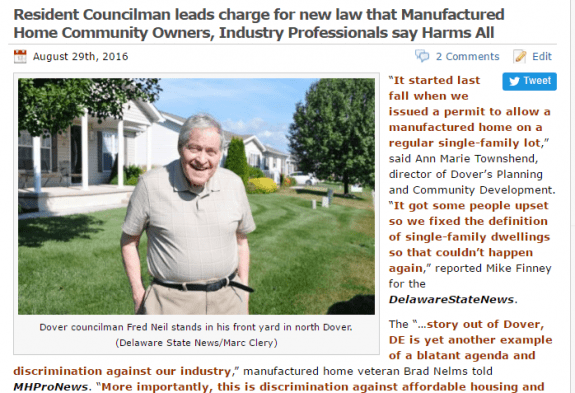 Manufactured Housing CompValue slips, 3 Markets Rise, but Oil Retreats
NAHB Report – High Cost of Regulations Impact Housing – and Manufactured Housing
2014-2016 Manufactured Housing Industry, New Retail Home Pricing Trends by Region
Luxury U.S. Home sales Slumping, What Does it Mean for Manufactured Housing?
Sunday Aug 28
Sunday Morning Recap-Manufactured Housing Industry News Aug. 21-Aug. 28, 2016 ##
(Image credits are found on the respective article, top image credit, MHProNews.)

By L. A. 'Tony Kovach.