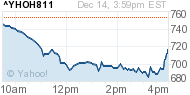 Stocks closed lower for the third consecutive day Wednesday as concerns about the financial situation in the European Union weighed on the market. One of the biggest decliners on the New York Stock exchange was Skyline Corp., which fell 15.4 percent to $5.06 a share. The company recovered some of that, ending the day at $5.44 a share. Another big decliner was a company called First Solar, Berkshire Hathaway, the parent company to Clayton Homes, Vanderbilt Mortgage and Finance, as well as MH home-building, lending and other housing suppliers, agreed to purchase First Solar earlier this month. Today the company's shares dropped 21 percent to $33.40 a share, the lowest since 2007. Berkshire Hathaway closed down $500 (.44 percent) to arrive at $113,200.
Other MH stocks also declined. Allied Managers Group closed down $1.13 (1.24 percent) arriving at $90.22. Cavco closed down $1.54 (3.87 percent) to arrive at $38.27. Drew Industries declined .25 cents ($1.10) to arrive at $22.40. Nobility Homes was down .76 cents ( 12.11 percent) to arrive at $5.54. Third Avenue Value fund was down .11 cents (.27 percent) arriving at $40.22. Universal Forest Products was down $1.18 (4.12 percent) to close at $27.45. UMH Properties ended the day down .08 cents (.90 percent) to arrive at $9 a share.
While the Manufactured Housing Composite Index was down more than five percent, some watched stocks managed to log gains. Equity Lifestyle Properties ended up .67 cents (1.09 percent) to arrive at $62.35. Patrick Industries was up 9 cents (2.6 percent) to close at $3.55. Sun Communities ended the day up .14 cents (.42 percent) to close at $33.72 a share. Walker Dunlop closed up .37 cents (3.17 percent) to arrive at $12.05 a share. Champion, Deer Valley, and Liberty were all unchanged.
(Image Credit: Yahoo Finance)