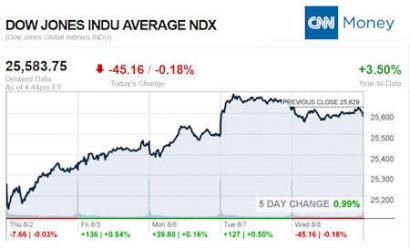 The markets closed mixed, and the midterms are approaching in just 90 days.  As the American Banker noted in their print edition, part of what is up in the air is certainty for business and investors. Is it a blue wave ahead, or is the President of the United States (POTUS) Donald J. Trump's claim that it could be a red wave correct?  Self-proclaimed Democratic socialist, and new darling for many in the left-of-center media, Alexandria Ocasio-Cortez  endorsed candidates, so did POTUS. That will be tonight's focus report.
If you're new, already hooked on our new spotlight feature – or are ready to get the MH professional fever – our headline report is found further below, after the newsmaker bullets and major indexes closing tickers.
The evolving Daily Business News market report sets the manufactured home industry's stocks in the broader context of the overall markets.  Headlines – at home and abroad – often move the markets.  So, this is an example of "News through the lens of manufactured homes, and factory-built housing." ©
Part of this unique evening feature provides headlines – from both sides of the left-right media divide – which saves busy readers time, while underscoring topics that may be moving investors, which in turn move the markets.
Readers say this is also a useful quick-review tool that saves researchers time in getting a handle of the manufactured housing industry, through the lens of publicly-traded stocks connected with the manufactured home industry.
This is an exclusive evening or nightly example of MH "Industry News, Tips and Views, Pros Can Use." © It is fascinating to see just how similar, and different, these two lists of headlines can be.
Want to know more about the left-right media divide from third party research?  ICYMI – for those not familiar with the "Full Measure," 'left-center-right' media chart, please click here.
Select bullets from CNN Money…
MoviePass CEO: 'We now have the right model'
Walmart is giving less shelf space to Twinkies. Hostess falls 16%
Beards are back. That's bad news for Gillette
Democrats want Facebook to tell them who has seen disinformation
This company is laying off almost all its workers because of tariffs
Samsung's next move: A $22 billion bet on new tech
Here's why it's so hard to spot deepfakes
Why now is the best time to invest in China
China to put 25% tariffs on $16 billion worth of US products
Another Prime perk at Whole Foods: Curbside pickup
Colombia and Honduras lead the way in tackling devastating coffee rust disease
You don't have to be a billionaire to invest in startups
The New York Times' post-election subscription boom doesn't show signs of slowing
Is the Sinclair-Tribune deal about to die?
Should I get a fixed- or adjustable-rate mortgage?
What Android Pie means for the future of smartphones
World's biggest IPO in 2 years shows China's 5G ambitions
What happens when sexual harassers return to work
Uber brings back a former exec to lead its freight business
Ikea is spending $1.5 billion to find its 'future' in India
Papa John's blames Papa John for its big sales decline
Facebook adds quirky Messenger games to video chats
The big picture about Ohio's special election
Employers are finding new ways to cut health care costs
Zillow buys a mortgage lender and the stock tanks
How Robert De Niro built the Nobu empire
Disney's Bob Iger lays out plans for Fox and streaming
How 5G could change everything, from music to medicine
How Indra Nooyi built Pepsi for the future
Plastic straws are out. These companies are cashing in
Daimler abandons its Iran plans over US sanctions
Carl Icahn: Cigna's merger with Express Scripts rivals 'worst in corporate history'
Select Bullets from Fox Business…
Ford has no issues being a public company
Tesla's latest production delays are in its solar unit: Report
Tesla board actively evaluating taking company private
Did Elon Musk violate securities regulations with his bombshell tweet?
Stocks cautious amid latest tariff spat
New York GOP Rep. Chris Collins arrested on insider trading charges[overlay type]
New York GOP Rep. Chris Collins arrested on insider trading charges
Renters should reconsider home ownership for this reason
The smartphone cleanse: A 7-day guide to a digital detox
Trump brings 'historic negotiation' to Medicare
Home prices soar in these cities, states
Capitalism is not perfect, but it's the best out there: Ken Langone
Ford celebrates its 10 millionth Mustang
Bitcoin ETF ruling delayed, cryptocurrency market plunges
Trump: GDP growth 'could be in the 5s' next quarter
China retaliates with tariffs affecting $16B worth of US goods
Residents in these cities pay their bills on time
Why this state is the best to buy a vacation home
Key takeaways from Kansas, Michigan, Ohio primaries
This Grammy-winning artist says Spotify, Apple not hurting his craft
Inside monthly spending habits of a millennial
Today's markets and stocks, at the closing bell…

Today's Big Movers
For all the scores and highlights on tracked manufactured home connected stocks today, see the Bloomberg graphic, posted below.
Today's MH Market Spotlight Report –
"Whether you win by one or one hundred, you've still won, and the GOP won the special election last night in Ohio while all three candidates Sanders and Ocasio-Cortez campaigned for lost their primary races," said the Daily Caller. One of her endorsed candidates won, and one is pending: "Ocasio-Cortez endorsed congressional candidate Kaniela Ing in Hawaii for the race taking place on Aug. 11."
The New York Times reported the results last night like this: "Few Have Lost Races, but All Republicans Have Lost Support in Special Elections Under Trump."
Much of the left-of-center media made it sound worse than that line. The Washington Post phrased it like this: "The margin [in OH 12] of less than 1 percent came in a district that Trump won by 11."
There's certainly no denying that the margins have been narrowed, but aren't there several ways of looking at that data-point?
By contrast, here was the story from POTUS Trump's Twitter feed.
The RNC spokesperson in this video said that Republicans have won 8 of 9 special elections, while the DNC spokesperson had – of course – a different view.
The reality is that either side could prevail, as it is about energizing each side's base and turnout.
President Trump proved in 2015-2016 that the candidate with the most money isn't bound to win.  If that had been so, the Jeb Bush would have faced off against Hillary Clinton, but with less cash and spending, Donald J. Trump beat the former Florida Governor and the former Secretary of State.
The turnout for the Trump events was under estimated by many in the media in 2016.  Is there any Democrat, other than perhaps former President Barack Obama, who can turn out a crowd as big as President Trump today?
GOP Senate nominee in MI, John James, said that Debbie Stabenow cares more about "resistance than results" and "She cares more about obstruction [of the Trump agenda] than economic opportunity." James touted his results from "the battlefield to the board room."
Rural whites have been treated as "deplorable," while urban blacks have been treated by Democrats as "disposable," said James.
He said he doesn't have a "black message, or a white message, I have a Michigan message."
He clearly has his sound bites down well. "Identify politics is the enemy of the state." James said. From border security, to the economy, and more, the GOP nominee from Michigan for the U.S. Senate sounds very much like an energetic, compressed take from the president's agenda.
James sounds a little like conservative version of Barack Obama's 2004 DNC speech, so no wonder that President Trump is touting him as a future star of the GOP. Don't believe it?  See and hear for yourself.
The next 90 days will be unfolding rapidly.
Last night, in the battle between the effects of the endorsements – measuring the impact from the "skirt" vs. "coat tails," it seems that the President's coat-tails won. The Daily Business News will keep an eye on the emerging contest for investors and professionals.
Bloomberg Closing Ticker for MHProNews…
NOTE: The chart below includes the Canadian stock, ECN, which purchased Triad Financial Services.
NOTE: The chart below covers a number of stocks NOT reflected in the Yahoo MHCV, shown above.
NOTE: Drew changed its name and trading symbol at the end of 2016 to Lippert (LCII).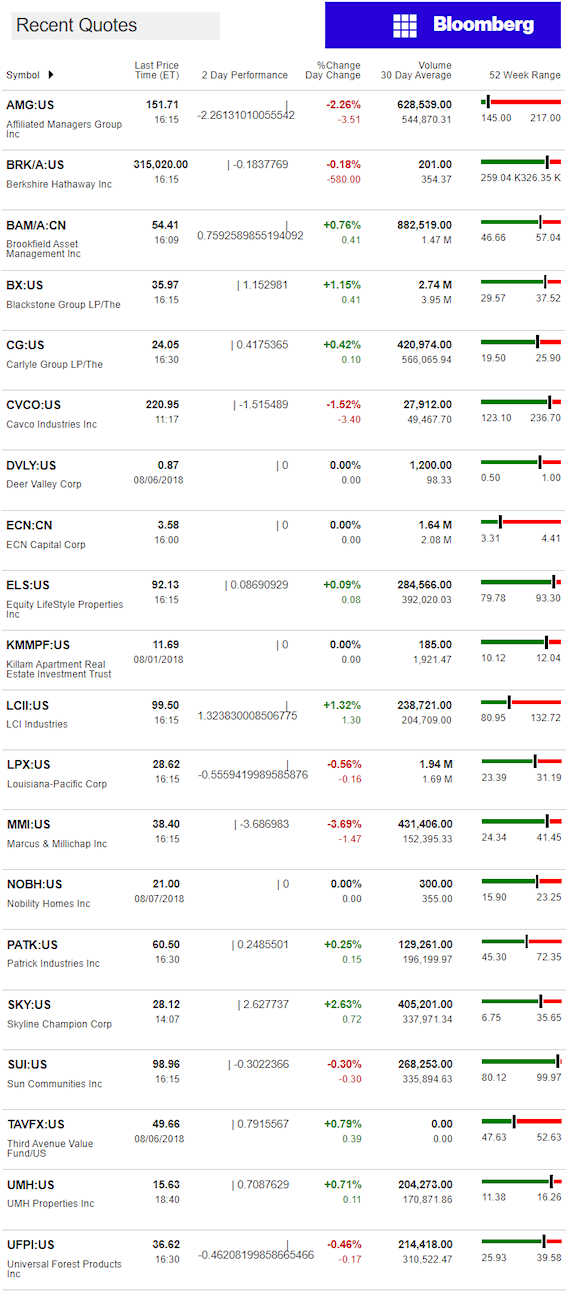 Berkshire Hathaway is the parent company to Clayton Homes, 21st Mortgage, Vanderbilt Mortgage and other factory built housing industry suppliers.
LCI Industries, Patrick, UFPI and LP all supply manufactured housing.
AMG, CG and TAVFX have investments in manufactured housing related businesses.
Your link to industry praise for our coverage, is found here.
For the examples of our kudos linked above…plus well over 1,000 positive, public comments, we say – "Thank You for your vote of confidence."
"We Provide, You Decide." © ## (News, analysis and commentary.)
(Image credits and information are as shown above, and when provided by third parties, are shared under fair use guidelines.)
Submitted by Soheyla Kovach to the Daily Business News for MHProNews.com.