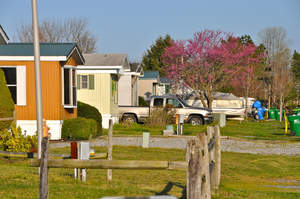 A ten percent hike in site rents at Wild Meadows manufactured home community (MHC) in Dover, Delaware was ruled unjustified by an arbitrator appointed by the Delaware Manufactured Home Relocation Authority.
The December Corporation, manager of the MHC, sought to raise site tents from $437.15 to $482.89 on 185 member households of a homeowners association that challenged the increase under the terms of a rent justification law that took effect in 2013. That law states landlords cannot hike rents above a change in the cost-of-living index for routine maintenance.
While the company said the increase would cover rehab work beyond "ordinary repair, replacement and maintenance," Arbitrator Ciro Popitti III said December Corp. ignored resident complaints for years about sinkholes, cracked pavement and other unsafe conditions. He stated the community would not now need major rehab work if the landlord had done the routine repairs in a timely fashion.
Meanwhile, as delawareonline tells MHProNews, the December Corp. filed a suit complaining the homeowners association does not have legal standing to invoke the rent justification law. ##
(Photo credit: capegazette/RonMacArthur–Rehoboth Shores near Long Neck, DE)

  Article posted by Matthew J. Silver to Daily Business News-MHProNews.