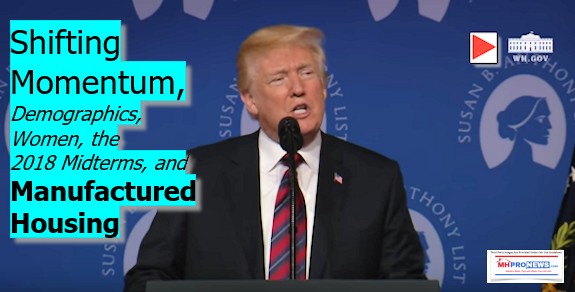 If one takes candidates at their word – which is never a given once they are elected  – it must be noted that candidates Secretary Hillary Clinton, and businessman, builder and media maven Donald J Trump each made a range of stated policy positions.
Last night, the House passed S. 2155, see that report linked below. The bill gives manufactured housing professionals some benefits and relief from Dodd-Frank.  It fulfills part of the 45th presidents pledge to undo what he said was the economic damage wrought by the CFPB and the Dodd-Frank regulatory regime.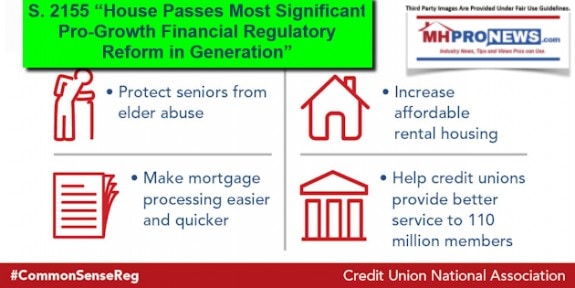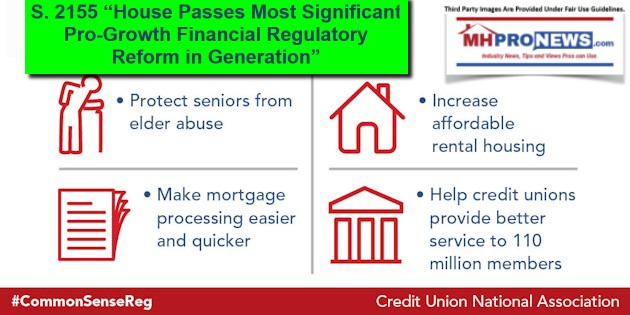 That bill which has now been passed by the House and Senate would not have been signed had Ms. Clinton been the president, per her own statements.
By contrast, there is every expectation that President Donald J. Trump will sign the measure that provides relief for the industry on the MLO rule and other fronts.
Also last night, President Trump, addressed the conservative, pro-life women's group gala, the Susan B. Anthony List. He was welcomed like a rock star.
The video posted will reflect several things that industry leaders, investors, and strategists should consider. Note that the female population is slightly larger than that of men. Note to the charts that will follow.
First, the president is repeating a theme, that the group also spotlighted – "promises made, and promises kept."
Next, the pro-life group is pledging a serious voter mobilization effort for the fall.
Note that the NRA – the National Rifle Association – has made a similar pledge to the president for supporting candidates that he and his party will back. The president and Vice President Mike Pence are signaling that they will be very active on the campaign trail in much of the rest of 2018.
Reuters' latest generic ballot has now tipped the midterm race slightly ahead for GOP candidates over Democratic ones. It is a tidal shift from the end of last year.
According to Vote Run Lead, exit polls reported that 53 percent of voters in the 2012 election were women.
"In every presidential election year from 1980 – 2008 women have outnumbered men in voting Democratic and the same is true for men outnumbering women voting Republican," says Wikipedia.
The U.S. Census Bureau tells the Daily Business News that, "Voting rates have also historically varied according to age, with older Americans generally voting at higher rates than younger Americans (Figure 4). In 2016, this was once again the case, as citizens 65 years and older reported higher turnout (70.9 percent) than 45- to 64-year-olds (66.6 percent), 30- to 44-year-olds (58.7 percent) and 18- to 29-year-olds (46.1 percent). However, in 2016, young voters ages 18 to 29 were the only age group to report increased turnout compared to 2012, with a reported turnout increase of 1.1 percent. All older age groups either reported small yet statistically significant turnout decreases (45- to 64-year-olds and those age 65 and older) or turnout rates not statistically different from 2012 (30- to 44-year-olds)."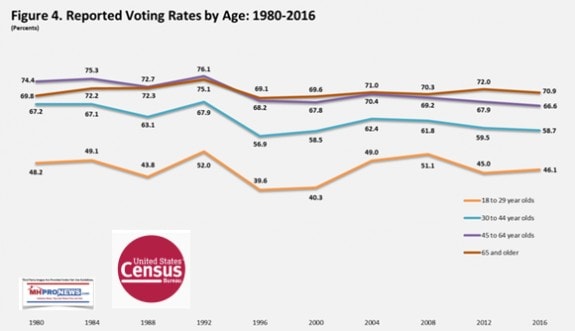 There is every indication that the president's popularity is rising among blacks, Hispanics, and women. He already had a strong lock on Evangelicals, and white men.
MHProNews cited the New York Times polling, our own yard sign straw poll of a Florida manufactured home community, and a straw poll of industry professionals at an MHI event as part of our pre-election projections in 2016 that Mr. Trump would do well among manufactured housing residents and professionals.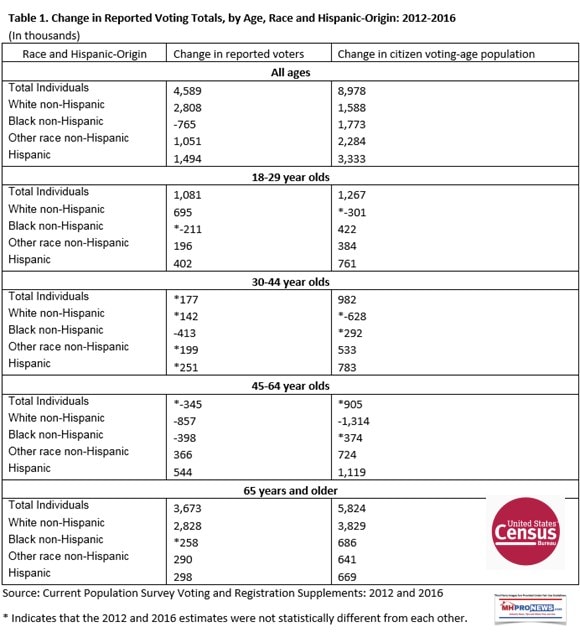 It was part of our MHProNews broader analysis. These were among the reasons for our projecting that he could pull off an upset on election night.
There is no other known group or media in manufactured housing that made similar projections. We editorially supported the Trump candidacy, as being better for business, workers, investors, and our industry.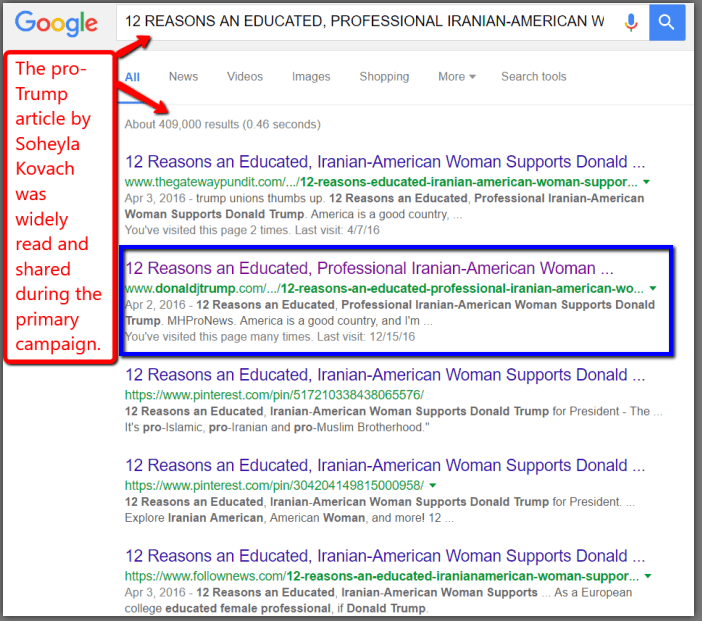 Washington Insider Info
While MHProNews doesn't claim much advantage over anyone else that is willing to dig for data and insights.  We have not yet personally met the president, but we do get several daily media and other briefs from the White House.
There are good reasons to believe that baring the unexpected, the GOP under President Trump's leadership could pull off yet another surprise in the upcoming midterms.
The president himself is predicting it.
When you listen to the enthusiasm of this crowd from last night, does it remind you of the rallies from his campaign? No 'entertainment' was needed.
The theme is "Promises Made, Promises Kept." It's a powerful message for a campaign.
Step-by-step, President Donald J. Trump has undone in less than 18 months, much of the 8 year legacy of President Barack Hussein Obama. The Heritage Foundation claims over 60 percent of his agenda is already accomplished.  While that statistic might be debatable, what is certain is that his steady and relentless pace is getting voters to respond.  
Look for our Daily Business News latest U.S. economic report, and how that will play into the manufactured housing industry's calculations. That surprising snapshot will be published later this morning.   "We Provide, You Decide." © ## (News, analysis, and commentary.)
(Third party images, and content are provided under fair use guidelines.)
Related Reports:
Kanye Controversy, Universal Income, Venezuela, President Trump, Manufactured Housing, First Principles, and You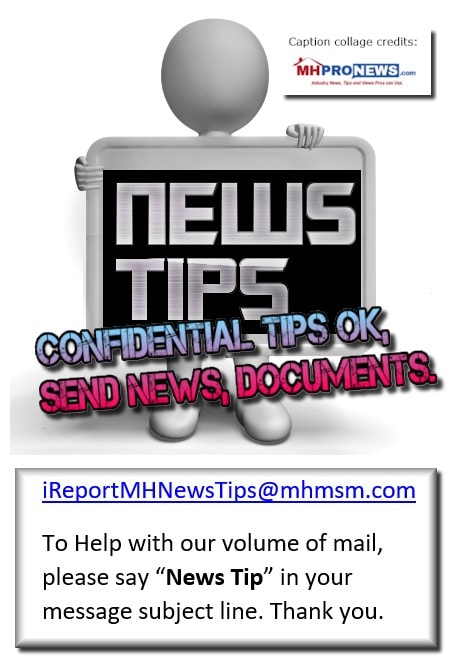 1) To sign up in seconds for our MH Industry leading emailed news updates, click here.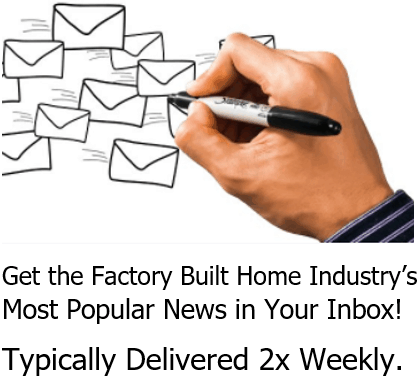 2) To provide a News Tips and/or Commentary, click the link to the left. Please note if comments are on-or-off the record, thank you.
3) Marketing, Web, Video, Consulting, Recruiting and Training Resources

Submitted by Soheyla Kovach to the Daily Business News for MHProNews.com.
Soheyla is a managing member of LifeStyle Factory Homes, LLC, the parent company to MHProNews, and MHLivingNews.com.