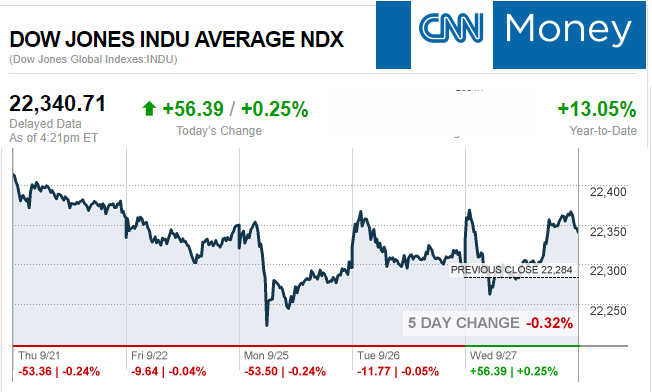 If you're new, already hooked on our new spotlight feature – or are ready to get the MH professional fever – our headline reports' are found further below, just beyond the Manufactured Housing Composite Value for today.
The evolving Daily Business News market report sets the manufactured home industry's stocks in the broader context of the overall markets.
Part of this unique feature provides headlines – from both sides of the left-right media divide – that saves readers time, while underscoring topics that may be moving investors, which in turn move the markets.
Readers say this is also a useful quick-review tool that saves researchers time in getting a handle of the manufactured housing industry, through the lens of publicly-traded stocks connected with the manufactured home industry.
MH "Industry News, Tips and Views, Pros Can Use." ©
Night of desperation in San Juan's airport
There is now record inequality in the U.S.
Who owns Puerto Rico's mountain of debt? You do
Facebook sought exception from political ad rules in 2011
'This Is Us' scores big ratings
Sorry, kids: Apple's new Face ID isn't meant for you
Facebook removed fake accounts before German election
Sonic customer info likely targeted by hackers
Instagram rolls out comment-control
Trump plans to sign executive order on health care
The race is on to restore cell service in Puerto Rico
Selected headlines and bullets from Fox Business:
Wall St gains on financials boost, tax hopes
Trump-GOP tax reform framework: Corporate rate cut, state and local deductions dropped
Trump's tax plan: How the corporate tax cut will benefit pension plans
Small business group applauds GOP tax plan
Ted Cruz: Reagan-style tax cuts will spur China-like economic growth
Rick Pitino out as Louisville basketball coach amid federal probe
Amazon slashes price of new Echo speaker to $100
Peyton Manning run for Tennessee Senate seat is 'possible,' Corker says
Fast-food runner Sonic notified of unusual credit card activity
Trump is stirring the pot over the NFL anthem protests: Dr. Alveda King
Direct-TV offers refunds over the NFL anthem controversy
Baseball owners approve sale of Marlins to Derek Jeter group
Rick Pitino out as Louisville basketball coach amid federal probe
Peyton Manning run for Tennessee Senate seat is 'possible,' Corker says
ICYMI – for those not familiar with the "Full Measure," 'left-right' media chart, please click here. 
Today's markets and stocks, at the closing bell…
S&P 500 2,507.04 +10.20(+0.41%)
Dow 30 22,340.71 +56.39(+0.25%)
Nasdaq 6,453.26 +73.10(+1.15%)
Crude Oil 52.05 +0.17(+0.33%)
Gold 1,286.70 -15.00(-1.15%)
Silver 16.78 -0.10(-0.58%)
EUR/USD 1.175 -0.0043(-0.36%)
10-Yr Bond 2.309 +0.08(+3.59%)
Russell 2000 1,484.78 +27.92(+1.92%)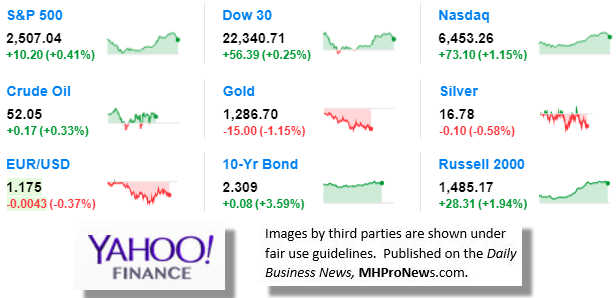 Manufactured Housing Composite Value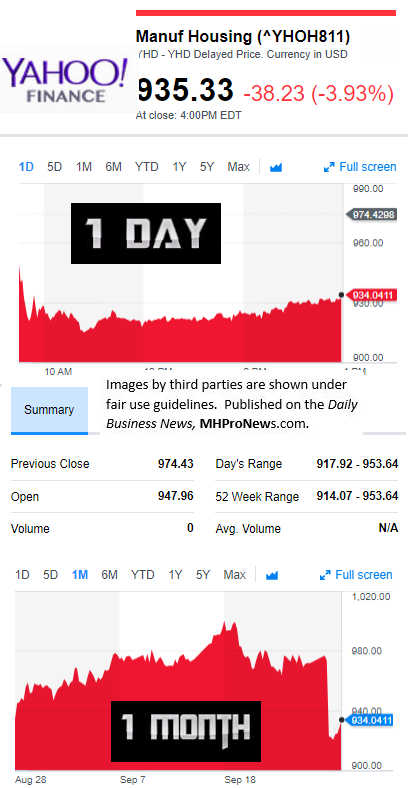 Today's Big Movers
For all the scores and highlights on tracked manufactured home connected stocks today, see the Bloomberg graphic, posted below.
Today's MH Market Spotlight Report –
MH Communities Sinking, as Manufactured Home Connected Markets at Large Rise$
Let's be clear from the top.  The short-term concerns that have impacted the slide in today's MHCommunity sector stocks ought to be a mere blip.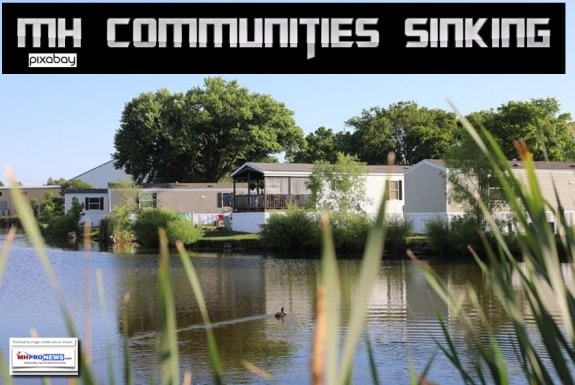 Top Ten Tips for Selling a Manufactured Home in a Community,
Video of Frank Rolfe, by MHProNews.
The manufactured housing industry's communities sector has been hot for several years, and for good reasons.
Among them, in no particular order of importance:
very stable performance and ROI, including during the 2008 housing/mortgage crash;
significant upside opportunities, for those who are aggregating or consolidating communities, since vacancies were an issue for thousands or properties coast-to-coast in from the early 2000s to the mid-2010s. Those with the capital to buy, fix, and fill can earn more than those who are just buying and operating a property;
once the don't rent homes in land-lease communities mantra was broken, dozens of properties were filled more rapidly by those who bought basic, single sectional manufactured homes and used them as infill to 'get the rent meter on a previously vacant site rolling again.'
There's more, but let's hold it right there.
Because the 'dirty little secret,' say some suppliers of the community sector, is that there's several potential hurdles on the horizon.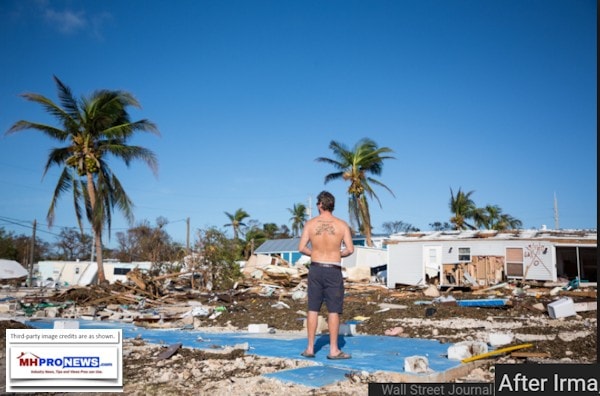 And the impact of major weather events (such as Irma and Harvey, the more proximate cause of chatter for some investors recently) on properties are among the reasons that the community sector isn't far hotter than it already is.
Part of the challenges facing the community sector is (hopefully) inadvertently caused by the Manufactured Housing Institute (MHI); the very people charged with defending and promoting that sector of the industry, say some insiders.
Before Progressing with this Analysis, A Cautionary Tale…
A former client of "Community Investor" George Allen told MHProNews off-the-record that they would periodically have to "walk back" something that Allen would publish on his blog.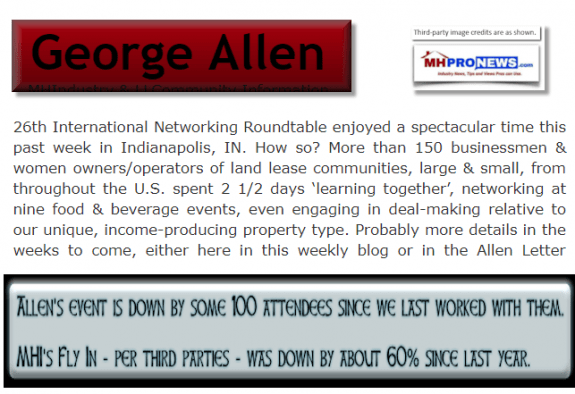 That statement wasn't made yesterday.  But it's mentioned here because Allen would publish some things, per that source, that would from time-to-time cause "heartburn" and some "misunderstandings" among less-informed potential investors.
For a variety of reasons – including that cautionary tale in mind – MHProNews has always strived to keep every audience's interests, accuracy, and balance in mind in our news, commentary, and analysis.
Certainly, it is hard for any thinking party to deny that MHProNews and MHLivingNews – thanks to our industry sponsors – are enthusiastic but reality-grounded true believers in the industry.
That said, the challenges that follow need not be deal killers.  They are not reasons to running away from communities as a solid opportunity for investments.
But the following – while not negating the above and what follows – are genuine issues that MHI, their National Communities Council (NCC) and others are not only failing to address in the public space, they've made statements that have fueled concerns.  An example is the snippet from MHI's SVP Rick Robinson spotlighted in the Washington Post screen capture below.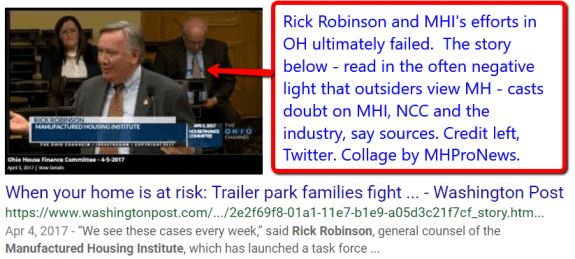 There are several statements being made – and issues going unaddressed, as MHI/NCC member Frank Rolfe has often said – that give careful investors pause.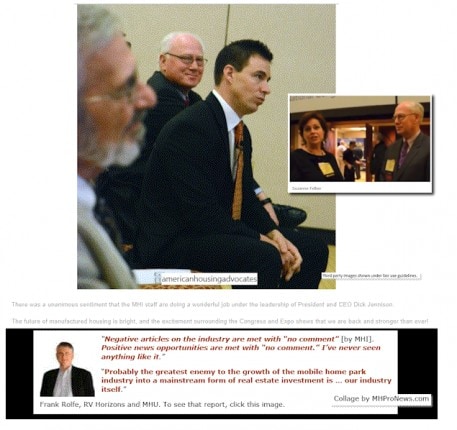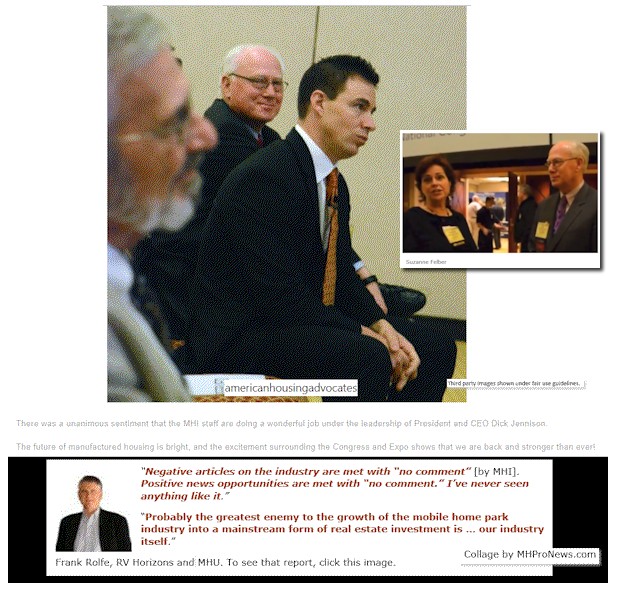 News stories that go unaddressed by the industry's national community sector representatives create issues that either go unanswered, or some of the answers may not prove to be satisfactory.
This, MHProNews knows because of questions and discussions that are fielded here.
If the old rule of thumb holds, then for each raised hand, there are 100 hands that are thinking the same, but those 99 just didn't make the effort to ask.
Warning Signs from the Vantage Point of Some Potential Investors…
Communities are closing at a faster rate than they are opening.
MHI/NCC graphic, shown below, reflects a smaller total number of communities than either Allen (who pegs the total at about 50,000) or Frank Rolfe (who has a database of some 44,000 properties, and thinks it may be closer to 45,000 MHCs) believes exists.
Community closures based on 38,000 (+/-) total properties – MHI's figure, based per sources on their MHVillage/DataComp member's database count – is more problematic than if it were at the 45k to 50k total properties.
MHProNews has brought such errant figures to MHI's attention, yet they persist (some say, for membership/political reasons) in keeping their stated totals/stats, which in some cases are clearly errant figures – or statistics on their website – or as downloads.
As MHI/NCC member Frank Rolfe has said in public, and to MHProNews, reporters and others often get the cold-shoulder from MHI. That leads to doubts about their integrity and dependability as an industry source for reliable information.
Rolfe and others have told MHProNews that lenders and investors want solid data they can rely upon. While operations such as his, or others that are in the list of publicly traded companies shown below, have their own facts and figures. But that doesn't always mean that inquiries will go to them first, or ever.
Some may find MHI, and either find (or not find…) what they want, and they cross manufactured homes and/or communities off their bucket list of investment options.
The bottom line is that there are consequences, per sources, to MHI's problematic communications. Those considerations impact every sector of the industry.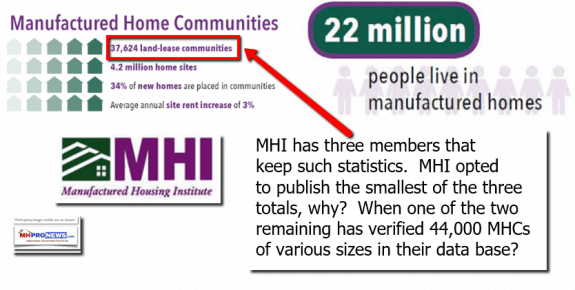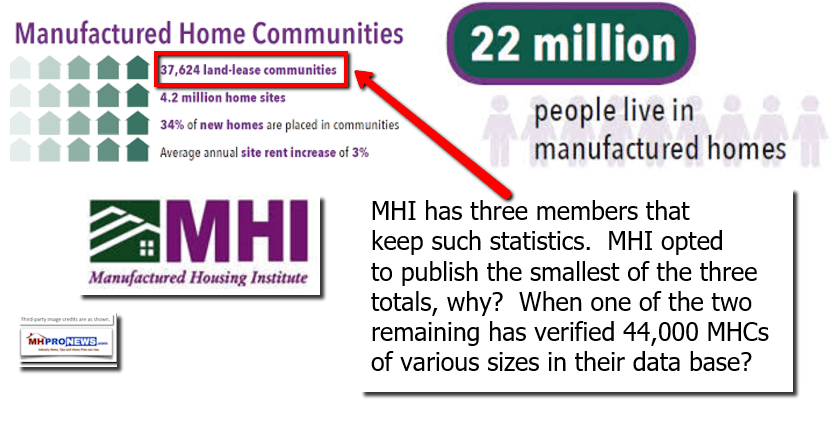 There are consequences to few new communities, and more closures than new start-ups.  That too can be straight-lined to past and current problematic MHI/NCC behaviors.
There are consequences to thoughtful investors and analysts when MHI is not standing up to each and every false or misleading media report.
Or when a senior executive is giving a reply like the one that MHI's Rick Robinson did to the Washington Post, shown above.
And there are consequences to the trends of communities filling up, opportunities narrowing, and looming question marks hanging over the industry, all of which can be traced back at some level to various alleged failures on the part of MHI/NCC.
These and other concerns and/or allegations above and below are hanging over the organization.
They hang like a blanket over the manufactured home industry's otherwise outstanding potential.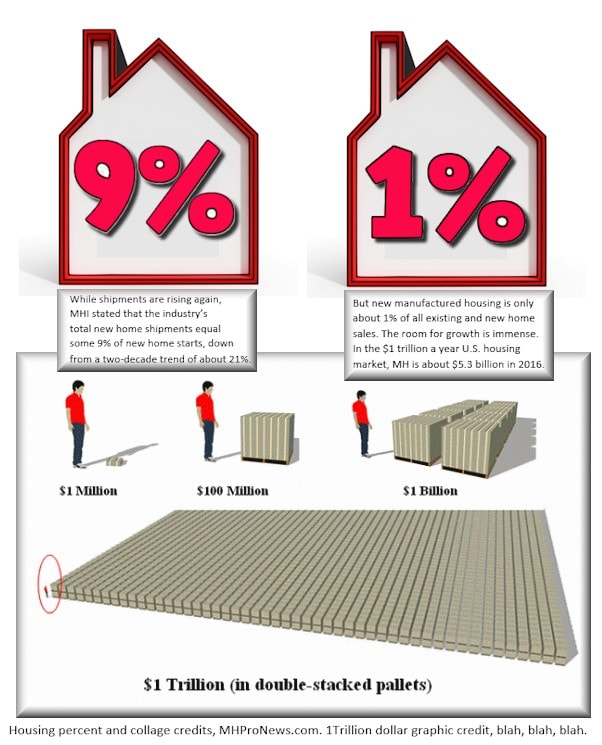 Finally, claims by outsiders (not MHProNews, we are merely reporting what others have alleged) of racism, steering, predatory lending, monopolistic practices, favoritism (tilting the playing field among MHI members who are 'favored' against those who are not insiders) lead to complaints about hypocrisy, corrupt or inept leadership.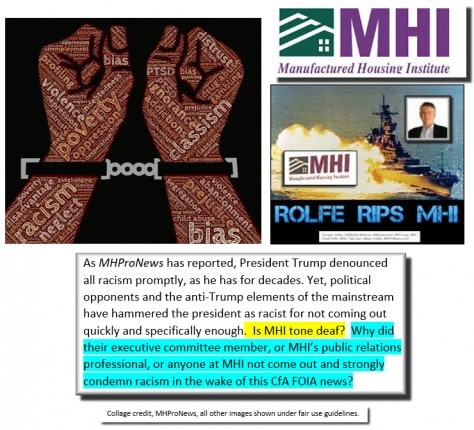 For these and other reasons that impact the industry, investors, and the public, MHProNews has early and often called for the reform or replacement of the industry's 'umbrella' association as an editorial position.
"We Provide, You Decide." ©
See Recent Exclusive 1 Year Snapshot of All Tracked Stocks
http://www.MHProNews.com/blogs/daily-business-news/manufactured-housing-industry-markets-wall-street-reacts-to-trumponomics-1-year-data-snapshot/
NOTE: the chart below covers a number of stocks NOT reflected in the Yahoo MHCV, shown above.
NOTE: Drew changed its name and trading symbol at the end of 2016 to Lippert (LCII).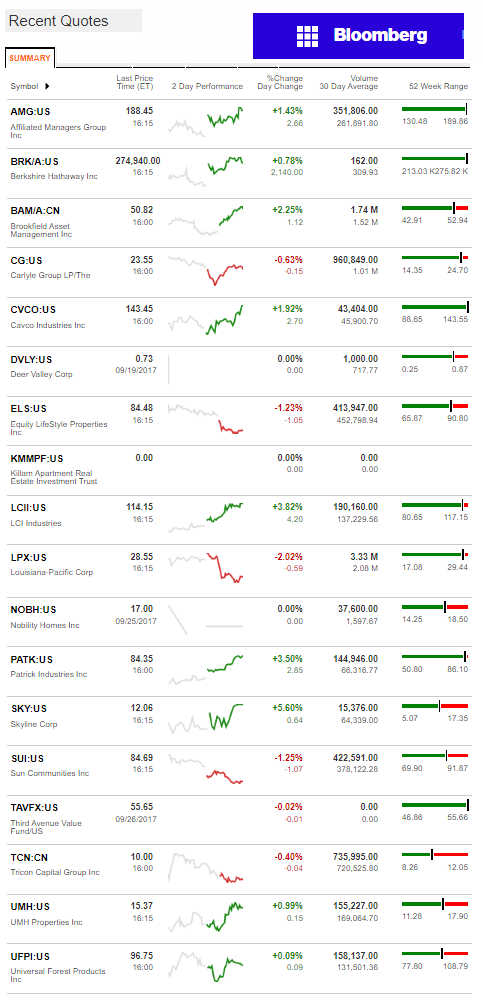 Berkshire Hathaway is the parent company to Clayton Homes, 21st Mortgage, Vanderbilt Mortgage and other factory built housing industry suppliers.
LCI Industries, Patrick, UFPI and LP all supply manufactured housing.
AMG, CG and TAVFX have investments in manufactured housing related businesses.
Your link to a recent round of industry praise for our coverage, is found here.
For the examples of our kudos linked above…plus well over 1,000 positive, public comments, we say – "Thank You for your vote of confidence."
"We Provide, You Decide." © ## (News, Analysis.)
(Image credits are as shown above, and when provided by third parties, are shared under fair use guidelines.)

Submitted by Soheyla Kovach to the Daily Business News for MHProNews.com.