"On Thursday morning, Los Angeles radio host Leeann Tweeden wrote a disturbing article alleging that Sen. Al Franken sexually harassed her on a 2006 USO tour. According to Tweeden, Franken coerced her into "rehearsing" a kiss for a skit, then forcefully stuck his tongue in her mouth. She also provided a photograph of Franken appearing to grope her while she slept," said Mark J. Stern, writing for the progressive, pro-Democratic Slate.
CNN's Jake Tapper, reflecting on the Clinton presidential era, recently said that looking back, the accusers of candidate and then President Bill Clinton were no less believable as those accusing besieged Alabama's Republican Senate candidate, Judge Roy Moore.
Initially, Franken (D-MN), gave a light apology, but has since followed up with a far more substantive admission of guilt.
Slate's Stern says there is no ambiguity, and that Franken should resign immediately if Democrats are to remain credible on this kind of issue.
"For instance, that picture," said Franken. "I don't know what was in my head when I took that picture, and it doesn't matter. There's no excuse. I look at it now and I feel disgusted with myself. It isn't funny. It's completely inappropriate. It's obvious how Leeann would feel violated by that picture. And, what's more, I can see how millions of other women would feel violated by it—women who have had similar experiences in their own lives, women who fear having those experiences, women who look up to me, women who have counted on me."
Franken isn't stepping down yet, but has asked for himself to be investigated by the Senate ethics committee.
Senator Bob Menendez corruption trial has ended in a mistrial.  If you didn't know he was on trial, it's because there's reportedly been 40 times more coverage on as yet unproven allegations against Moore, vs. an 18 count indictment that faced Menendez. 
Double standards in media coverage?
Judge Roy Moore, Allegations Update…
Before diving into the embattled GOP Senate candidate, the Daily Business News notes that we've spotlighted the allegations, attacks, and denials by Moore. MHProNews hasn't and isn't taking a position on this still developing story.
Moore has now issued an open letter to talk radio and Fox News host Sean Hannity, who gave him 24 hours to defend himself, or Hannity would stop backing him.
That document by Moore, from his Twitter feed, is shown below.
No Double Standards
What will be noted by way of Daily Business News commentary is this.  AL Senator Luther Strange's campaign admitted to hearing rumors about Moore.  They reportedly investigated the matter, but stated that they could not come up with an actual accuser.
But once the pro-Democratic Washington Post began leading the charge, there are now up to some 8 accusers of Moore at this point. Valid allegations, or is it a case of good timing?
CNN reports that Moore's attorney has cast doubts about the yearbook claim, and celebrity attorney Gloria Allred representing that accuser has not produced the document for careful examination.
Breitbart's Steve Bannon was reported by left-of-center media to be wavering.  But so far, there's been no strong indication on his own website of anything other than support for Moore.
But many in the GOP have asked Moore to step aside. Those who abuse underage girls were tossed under the bus by Ivanka Trump.  The president has remained largely silent.
Slate, CNN both fall on the left of center, in the chart below.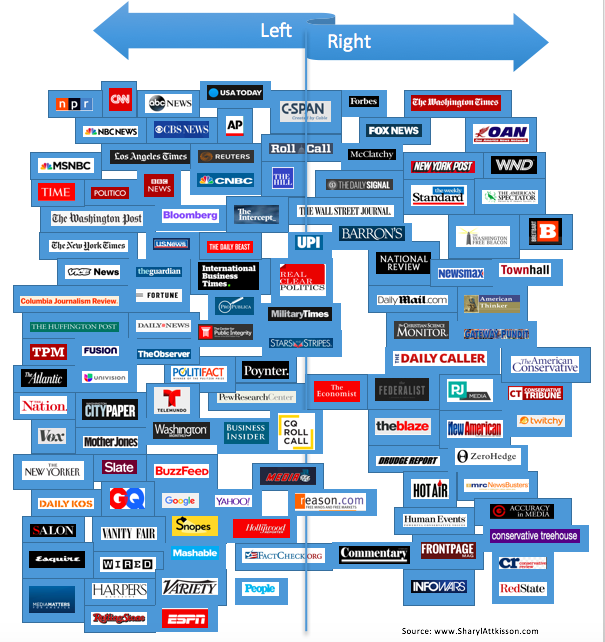 Draining the Swamp and the America First Agenda
Recent market retreats remind businesses that this issue matters, and that justice and prudence are called for in this or any other matter.
The president told Congress today, that passing tax reform would be "rocket fuel" for the U.S. economy.
MHProNews is covering this issue because with razor-thin margins in the Senate could be upset if Moore's opponent wins the special election next month.
With the House voting today to pass tax reform, the focus now shifts to the Senate. With Franken, if he steps down, that state's Democratic governor will doubtlessly appoint another Democrat.  In the Moore case, that will come down to Alabama voters in under a month.
In a press conference moments ago, Moore remained defiant. He insists on his innocence. It would be ideal if the case could be made clear before voting begins.  But this is what so-called "October Surprise" politics are about today.
The need to drain the swamp has never been greater.  The double standards ought to end.  Fairness and honor ought to be allowed to prevail, and rushing to judgment won't accomplish that goal. "We Provide, You Decide." © ## (News, analysis, and commentary.)
Note 1:  Thanks to for those who directly and/or through social media are sharing their appreciation for our pro-Industry, pro-growth, pro-bottom line solution oriented industry coverage.
(Image credits are as shown above, and when provided by third parties, are shared under fair use guidelines.)

Submitted by Soheyla Kovach to the Daily Business News for MHProNews.com.
Related: For communication, marketing, training, and other MH Professional Services, click here.