As part of the Seattle Times' ongoing year-long rant on Warren Buffett's/Berkshire Hathaway-owned Clayton Homes and their affiliated lenders, Mike Baker and Daniel Wagner have succeeded in drawing Washington Governor Jay Inslee's attention and his state's Department of Commerce. This is resulting in a bill to investigate the sales, financing and repossession of manufactured homes.
This latest reprise of their ongoing saga was anticipated by MHProNews, as shown by this link from Jan. 30, 2016.
In a series of previous articles, Baker and Wagner have accused Clayton Homes of discriminatory lending, predatory lending on the poor, and trapping the unsuspected in high-interest loans with an eye on repossessing the manufactured home (MH) once the borrower falls behind on payments.
Steve Lefler, vice president of Modular Lifestyles, Inc. – part of the Newport Pacific family of companies – observed, "Recent defective construction and DOJ investigation on loans I have to say, Clayton may revisit their staff and operations activities. Reputation and public perception are hard to re-claim after these types of accusations."

Lefler is far from alone among industry professionals in his concerns about the the implications and types of consequences from these articles by Baker and Wagner. Long time industry veteran Marty Lavin voiced his observations and concerns in an OpEd, linked here. Numerous off-the-record comments about this topic have come into MHProNews.
Baker and Wagner
What has been described as their brand of "advocacy journalism" has resulted in calls by some Democratic leadership in Congress to investigate the MH industry, and Clayton Homes in particular, since they are the target of the Seattle Times/BuzzFeed News reports and the dominant producer and lender in the MH industry. Clayton Homes and their affiliated lenders are part of Warren Buffett's Berkshire-Hathaway, which in a heated election cycle, makes for a stronger draw in readership.
Washington state Commerce Director Brian Bonlender says the stories could offer some solutions to the state legislature during its long legislative session in 2017.
Meanwhile, the Preserving Access to Manufactured Housing Act, passed by the House and awaiting consideration in the Senate, is referred to by Baker and Wagner as "an industry-backed plan to roll back consumer protections." The duo painted Buffett's Berkshire-Hathaway "mobile home" (sic) units as being the main winners if the HR 650/S 682 becomes law.
In a story picked up by Nanotech News, The Boston Globe, The Miami Hearld  and dozens of other media outlets, MHLivingNews publisher L. A. "Tony" Kovach takes a critical look at how Baker and Wagner, utilizing a wide swath brush, paints Clayton and Buffett as vampires, sucking the life blood from consumers.
"Take one famously folksy billionaire, add a pinch of cherry-picked stats, stir well with a cast of wronged Native American, black and Hispanic homebuyers and you have the latest tag-team assault on the Warren Buffett manufactured home empire.
What could be more clickable holiday fare than the new installment in a yearlong campaign by two reporters who have pretty much made a career of throwing dirt at one of the richest men on Earth?
How about a tale of bilking poor minorities out of billions of dollars amid an atmosphere so steeped in racism it makes kindly Uncle Warren look like an overseer at Tara in Gone with the Wind?
Who cares if it's not true?" The entire Nanotech News item is linked here.
Kovach did an analysis on that issue for MHLivingNews.com, which the Seattle Times and BuzzFeed have yet to address. See that report, linked here.
The Seattle Times video relates the story of one couple who allegedly were taken advantage of by Clayton and their lender. That video is below.

As a thumbnail analysis of their video, as heart-wrenching as this kind of topic may be, carefully reviewing it actually undermines some points Baker and Wagner are trying to make. Many individuals, couples or households have life events that can lead to a default on a house, manufactured or site-built: divorce, job loss, ill health and death. The interest rate wasn't the key factor, based upon the information in their own video.
Another point their dark, somber and one-sided video avoids entirely is that no manufactured home lender wants to pick up a multi-sectional home, save as a last resort.  The losses on a repossession like the one described can be so great, lenders would much rather work it out with the borrower if that is possible. Without question, there are lots unsaid in this Seattle Times video report.
Additionally, the couple's home was in a remote location, as they stated, which could mean there may not have had comps around to support a land/home kind of loan at that time.
The Seattle Times video and related articles are, Kovach and others assert, created to provide an entirely unbalanced view of manufactured home living and lending, as quality affordable lifestyles.  The evidence for this in their own video, because there is no opposing or balancing viewpoint shared.
Yet the Government Accounting Office's 2014 report on manufactured housing graphic below dramatically demonstrates that even with a higher financing rate than conventional lending – which is caused in part by no access to secondary markets, and no federal backing of the loans – the monthly payments for a manufactured home are lower than other forms of housing, because of the dramatically lower cost of the homes.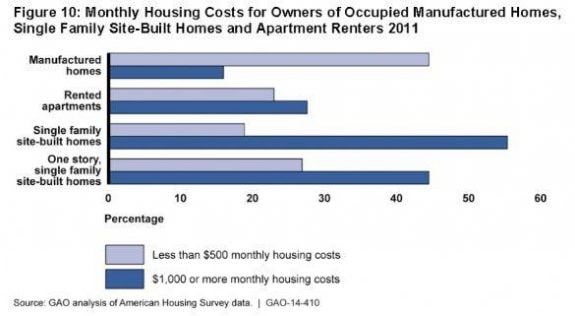 The Other Side of MH Living Baker and Wagner Avoid
A very different image of manufactured home living emerges from videos that Inside MH has produced, which spotlight home owners, professionals, and experts discussing the appeal and value of manufactured home living. Two of many examples are below.  The first is from a couple living in a land-lease, the second is with a realtor who has sold hundreds of manufactured homes and who's husband is a custom builder. 
Advocacy Journalism?
Behind-the-scenes of the Seattle Times/BuzzFeed, PBS NewsHour or related stories are efforts by non-profit groups to derail Preserving Access. An in-depth video interview with Marty Lavin, JD – an award winning MH lending expert – about facts relating to the legislation is linked here.
Informed sources tell the Daily Business News/MHProNews  that another installment of the Baker/Wagner duo is expected soon. ##
(Image credit: Seattle Times logo, which is their property, used here under fair use guidelines. Halloween "Their Back…" lettering, by MHProNews.)

Article submitted by Matthew J. Silver to Daily Business News-MHProNews.