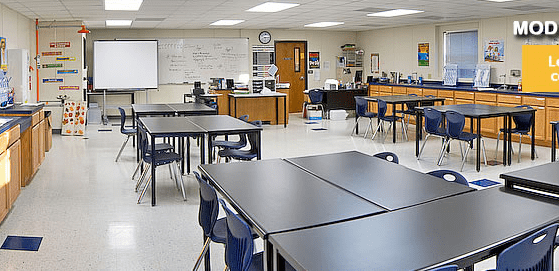 Following a story we last reported on March 25, 2015 regarding the need for additional classrooms in Licking Heights, Ohio, the school board approved $211,000, by a vote of 5-0, to purchase six used modular classrooms for Licking Heights Central Middle School for school year 2015-2016. MHProNews has learned from thisweeknews Board President Brian Bagley said, "We passed the resolution to accept the lowest responsible and responsive bid in connection with the six modular classrooms."
Superintendent Philip Wagner said the cost of installing six modulars at the high school recently cost $392,000, and he expects the complete installation of the units at the middle school to be about the same. Noting the modular classrooms are anticipated to be for seventh grade students, he said the final determination will be made depending upon the number of students enrolled. He added both schools could each accommodate two more modular units if necessary.
The school board also approved participation 5-0 in a tax-increment-financing (TIF) district agreement for a 116-unit apartment complex that will likely cater to seniors who want to be close to family without the responsibilities of household care. The school district anticipates receiving tax revenue from the project but not many more students. ##
(Photo credit:Palomar Building Systems classroom)

Article submitted by Matthew J. Silver to Daily Business News-MHProNews.