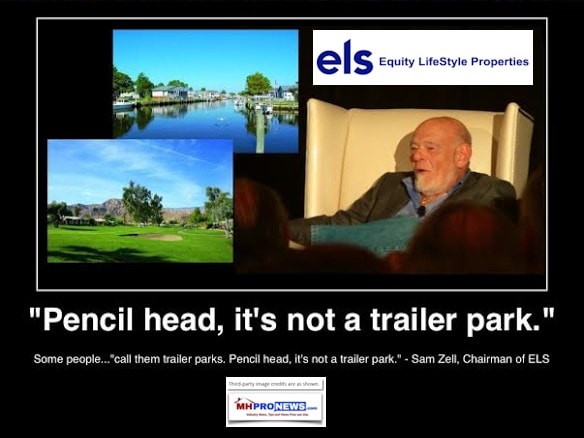 The headline on Crain's Chicago Business quipped, "Zell's mobile home biz courts [sic] new customer: Yacht owners."
It was an editor/writers play on words – "mobile home," "courts" – phrases the Equity LifeStyle Properties (ELS) Chairman would not likely embrace.  Those familiar with the billionaire real estate and investment mogul Sam Zell might recall his words in Chicago a few years ago, "Pencil head, it's not a trailer park."
That said, Chicago Business correctly noted a unique acquisition move by the manufactured home community giant, one that could be as significant as Clayton Homes buying site builders.


ELS – a real estate investment trust, or REIT – has bought into the marina business to the tune of $30 million dollars for a minority interest in 11 Florida marinas.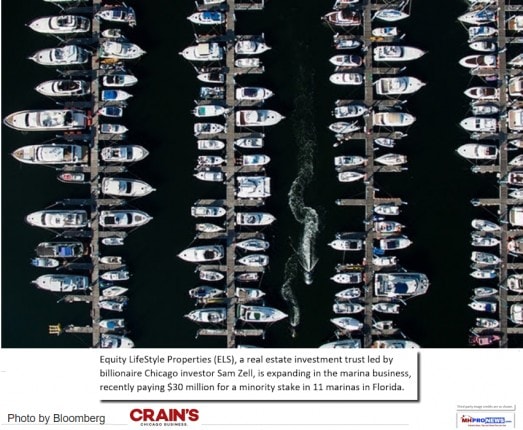 "Sam Zell's mobile home park [sic] company has captured the RV crowd. Now it's going after the yachting set," opened Crain's Alby Gallun.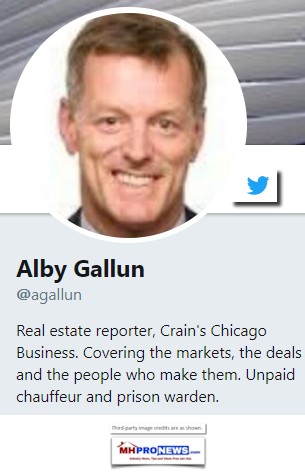 Gallun observes that ELS already had some marina slips, as part of their manufactured home and RV communities portfolio.
Quoting a transcript of ELS' recent conference call for analysts, "There's a lot of opportunities for acquisitions," said Equity LifeStyle President and CEO Marguerite Nader.  There are parallels to RV sites, in that a slip could be rented daily, monthly, or annually.
But the customer of a marina appeals to is different market than some RVers and upscale manufactured home community owners. Yacht owners are routinely in a higher tax bracket.
Sister operations to ELS are REITs Equity Residential (apartments0 and Equity Commonwealth (commercial, offices).  So when Nader noted it's harder to obtain permission to build new marinas, and that the market isn't as vulnerable to overbuilding as other real estate sectors, that's likely because the office/commercial space is suffering by comparison nationally.
"Including dividends, Equity LifeStyle shares have generated a total return of 22.8 percent this year, versus 6.0 percent for Equity Residential, an apartment landlord, and 0.8 percent for Equity Commonwealth, an owner of office buildings. A Bloomberg REIT Index has returned 7.2 percent this year," stated Gallun.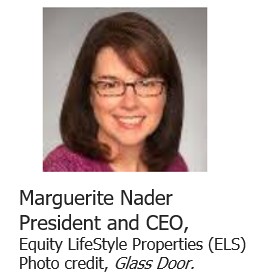 Before its recent marina deal, ELS already owned about a dozen marinas in and around its manufactured home land lease communities and RV parks. That portfolio of RV and MHCs is approaching 150,000 sites, which the company reported revenue of $695.3 million in the first nine months of the year.
In the marina deal, the company bought a 49 percent stake in 11 Florida marinas with more than 2,300 slips operated by Suntex Marina Investors, a Dallas firm that has been on an acquisition spree.
"From an acquisition standpoint, we've been looking at these types of assets for a number of years, and we thought it was a good entry point with an experienced operator," Nader told analysts.
Zell has previously noted that he's careful who he goes into business with.
Suntex reportedly owns 44 marinas around the country, and Equity LifeStyle Properties has the right to increase its investment in that portfolio "based on certain criteria," Nader said.
Irma and ELS
The same conference call noted post Irma impact numbers.
"While the storm impacted a larger number of properties than we have experienced in the past, aside from the time to restore operations at our two properties in the (Florida) Keys, there aren't meaningful differences between Irma and our prior storm experience," Equity LifeStyle Chief Financial Officer Paul Seavey stated during their Oct. 17 conference call.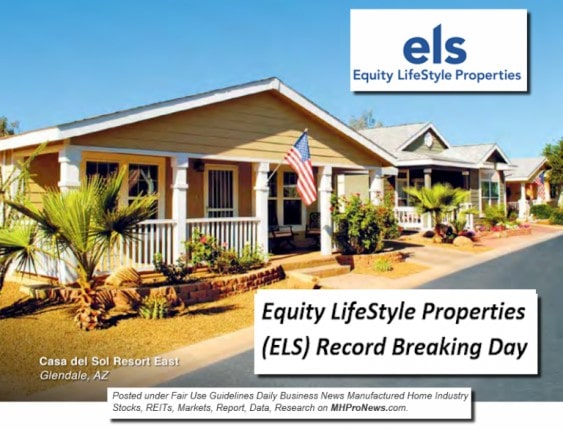 ELS recorded an expense of $3.7 million in the third quarter due to damage from the storm. It also recorded revenue of $3.5 million to reflect expected insurance payments to cover Irma-related damage, per their statement.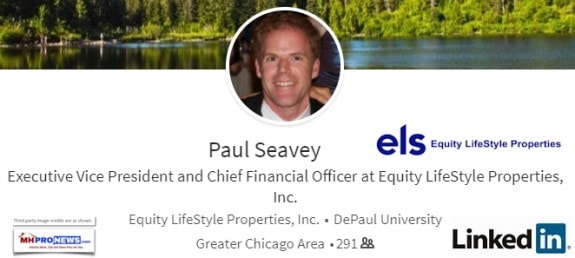 ELS is one of the public traded stocks tracked on the Daily Business News on MHProNews.  Last night's closing numbers can be found at this link here. A follow up report on ELS will be planned, to reflect recent developments.  Stay tuned. ## (News, commentary, and analysis.)
(Image credits are as shown above, and when provided by third parties, are shared under fair use guidelines.)

Submitted by Soheyla Kovach to the Daily Business News for MHProNews.com.