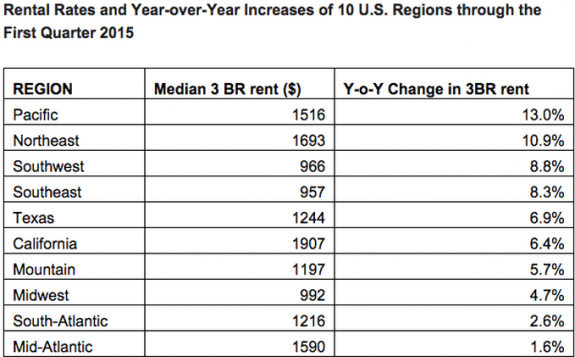 In a survey of 1,000 millennial renters, rent.com discovered while 57 percent rank affordability as the major consideration, 55 percent stated they would pay an extra $150 month to stay in an apartment they really liked, and 24 percent said they would pay $400 more for that same apartment. Given industry trends, they might have to do that, according to housingwire.
Through the first quarter of 2015, data from Real Property Management and RentRange indicates monthly rent for a three-bedroom, single-family home was $1,286, representing a 5.4 percent increase year-over-year. Don Lawby, President of Property Management Business Solutions, says, "Rental rates are up throughout the country and we expect that trend to continue in the near future."
Although millennials say the main consideration is the rent, 22 percent are willing to pay up to 40 percent of their income on rent. Thirty-nine percent receive financial help, with the bulk (24%) coming from families, nine percent getting help from the government, and six percent receiving help from unnamed others.
As MHProNews understands, if rental rates continue rising and wages do not keep up, making it tougher to scrape together a down payment, homebuying will remain farther out of reach for this age-group of the economy that historically were first-time homebuyers who stimulated the mortgage market. ##
(Graphic credit: housingwire)

Article submitted by Matthew J. Silver to Daily Business News-MHProNews.