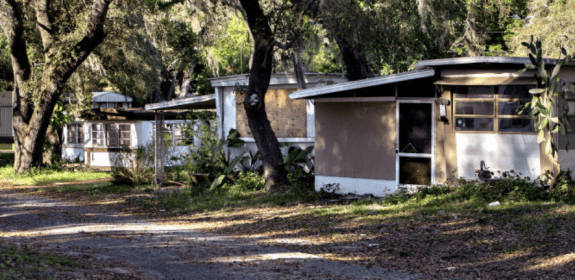 All across Florida many manufactured home communities (MHCs), often filled with pre-HUD Code homes, many of which are too decrepit to move or do not meet construction standards required in other communities, are being re-purposed and developed into more lucrative uses. Some are on scenic waterways that were out of the way places when they were first established in the 1950s and 1960s, but as the population has grown, the land values have risen.
The eight acres with 46 homesites occupied by Rainbow Court and the nearby Brightside Mobile Home Parks in eastern Pasco County north of Tampa, have been acquired by a Dallas developer. The communities are bordered by a Walmart, Arby's and TJ Maxx. Rainbow is destined to become an Aldi's and a movie theatre.
"Now that the housing market is coming back and the commercial market is coming back, there's more pressure to close under-performing or older parks, and replace them with something that provides a higher and better use," says Jim Ayotte, executive director of the Florida Manufactured Housing Association (FMHA).
Affordable housing provided by pre HUD Code homes has been a staple in Florida for may years. Factory-built homes account for 25 percent of all residences in Pasco County, 21 percent in neighboring Hernando, and ten percent in Pinellas (St. Petersburg) and Hillsborough (Tampa), as tampabay informs MHProNews.
Over the past decade, the number of homesites has shrunk by 2,000 to about 320,000 statewide, and the Florida Mobile Home Relocation Trust Fund has paid out over $2 million in the past several years to help move residents from 20 closed communities. Owners of single-section homes receive $1,375 from the relocation fund; multi-section owners receive $2,750.
Several communities have become co-operatives, owned by the residents. Many larger rental communities have been upscaled by corporate players like Chicago's Equity LifeStyle Properties, which owns 87 communities in Florida comprised of 37,000 homesites.
"For the most part, the goal is to build and maintain a park, but you get to the point where the community gets so old, it's very difficult to start replacing homes and the infrastructure needs to be upgraded," Ayotte said. "You're talking about a large investment of dollars and sometimes the economics don't work. We see it all over the place where you get these old mobile home parks built outside of town but with urban sprawl it's now in a commercial zone and highly desirable." ##

(Photo credit: tampabay–closing manufactured home community)

   Article submitted by Matthew J. Silver to Daily Business News-MHProNews.