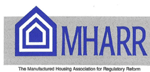 MHARR has confirmed that the stop-work order previously issued to the HUD program contractor – and addressed in the below MHARR October 9, 2013 memorandum — has been lifted as of today. With this reversal, HUD certification labels already in the possession of the contractor can now be issued once again.
However, given the fluid situation in Washington, D.C., with the continuing budget impasse and partial government shutdown, it is not clear whether this renewed authority will continue indefinitely.
Consequently, manufacturers may wish to contact their PIAs now in order to obtain an appropriate supply of HUD labels while they are available.
MHARR will continue to closely monitor this situation and take further steps as necessary.