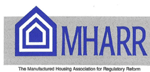 In the context of the ongoing federal budget impasse and resulting partial government shutdown, and in response to inquiries received by MHARR regarding the status of the federal manufactured housing program and particularly the availability of HUD certification labels, MHARR has been engaged on this matter and has taken steps as detailed chronologically below.
Given the fact that HUD is one of only a few federal agencies in Washington, D.C. that is almost totally closed during the partial government shutdown, MHARR communicated with the HUD program monitoring contractor immediately after federal spending authority expired to inquire as to the status of its activities, the availability of HUD certification labels and HUD clearance for the issuance of those labels going forward. Early on October 7, 2013, MHARR was advised by the contractor that it had a sufficient inventory of labels and would be potentially willing – if necessary – to use its own resources to ensure their continuing availability.
The next day, in a further communication with the monitoring contractor, MHARR was advised that a HUD official – not previously known to the contractor – had issued a written stop-work order that it received near the close of business on October 7, 2013. The contractor indicated that it had attempted to reach manufactured housing program officials after receiving the order, but had not been successful in doing so. Again, this is understandable given the fact that most HUD personnel (a reported 96%) have been deemed "non-essential" and furloughed.
As for the existing certification label inventory, PIAs have indicated that they have an approximate two-week supply of certification labels on hand. After those labels are exhausted, however, it appears that they will not be re-supplied without a resolution of the funding impasse or a revocation of the HUD work stoppage order. In this regard, MHARR understands that certain PIAs are also doing their best to communicate with HUD regarding an order directing the continuing issuance of certification labels.
Although the near-total of closure of HUD, as noted above, is making it difficult to contact anyone, MHARR is using its best efforts to press HUD for an order directing the issuance of program certification labels, while simultaneously pursuing contacts with key allies in Congress to assess other possible remedies. Although this is obviously just part of a much larger problem, MHARR will continue to carefully monitor this matter and actively pursue its resolution to the extent that the unique circumstances of this situation permit.